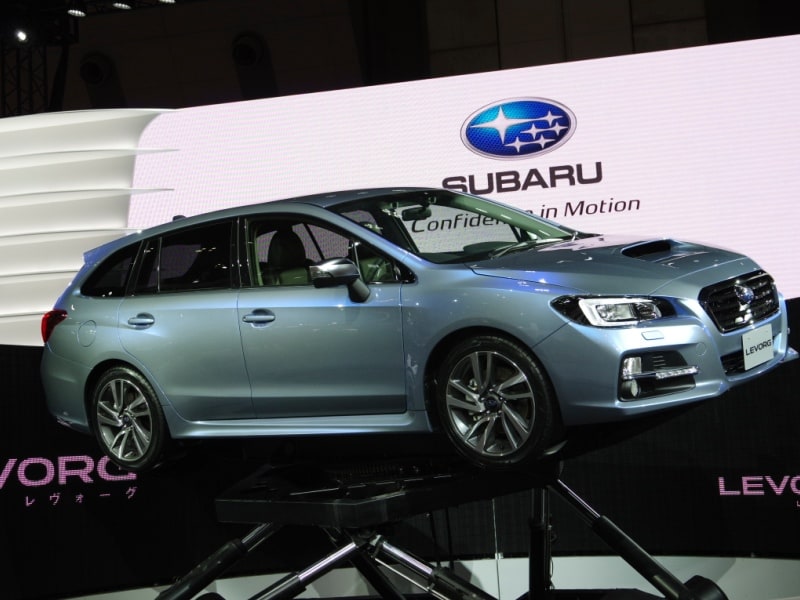 Subaru has introduced a pair of interesting wagon concepts for the Tokyo Motor Show. One was a sneak peek into a production model, while the other is a dream of many car enthusiasts.
We'll start with the Subaru Levorg Concept. As we reported previously, the Levorg name is a mashup of Legacy, Revolution, and Touring. If you're scratching your head wondering how those three words somehow create Levorg, you're not alone.
The overall design of the Levorg Concept isn't that much of a concept. In fact, to our eyes, it looks like it could be sitting at your local Subaru dealership right now. The design is mix of the current Impreza hatchback and the Legacy concept shown at the LA Auto Show. Size wise, the Levorg sits between the Impreza and the Legacy.
Inside, the Levorg is well appointed with piano black trim, metallic-toned accents, a number of LCD displays, and connectivity features.
Subaru says the Levorg has been designed to include a choice of two different engines:
Turbocharged 1.6L Boxer-Four with direct-injection - 168 horsepower and 175 pound-feet of torque
Turbocharged 2.0L Boxer-Four with direct-injection - 296 horsepower and 295 pound-feet of torque
Both engines will be paired with Subaru's Lineartronic CVT. The Levorg will also feature Subaru's SI-DRIVE which adjusts a number of engine components such as throttle response.
The Levorg also showcases some of Subaru's upcoming features in their EyeSight safety system. Those include an active lane keep system which can steer a vehicle back into a lane and a pre-collision reverse throttle management system which can override the throttle if the driver makes a sudden input while in reverse. Subaru says the Levorg will go into production, most likely in Japan, sometime next year.
Now onto the second wagon. This is the Subaru Cross Sport Design Concept and it's a BRZ wagon. Although it's shaped like a Ferrari FF, is 2.6-inches longer, and has a higher ride height, the Cross Sport Design Concept nevertheless retains the same chassis as the standard BRZ. We don't know if the Cross Sport Design Concept uses the 2.0L Boxer-Four engine or not, but it does use Subaru's Lineartronic CVT which is somewhat surprising. Also surprising is a wood-lined cargo bay floor. This is most likely a concept vehicle that will stay a concept. But maybe if we wish hard enough, it could become a reality.