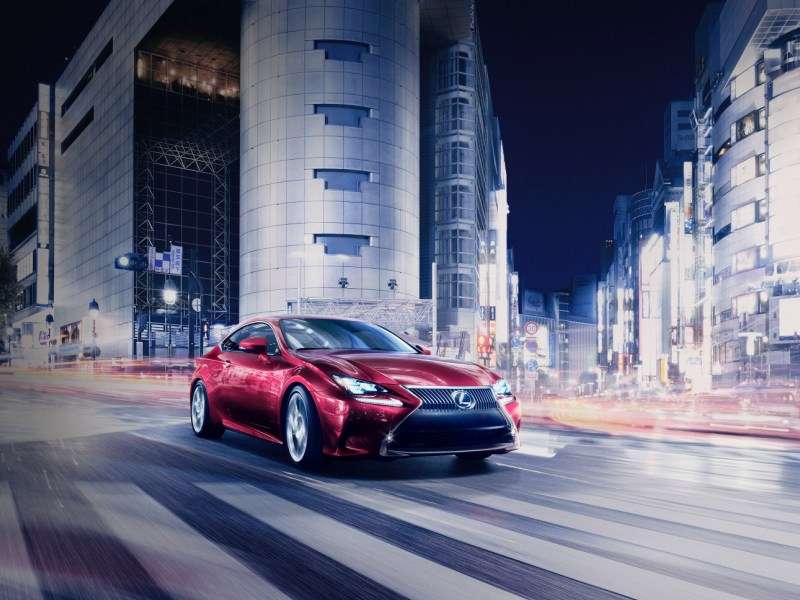 It has been a few years since Lexus pulled the plug on the SC430, leaving the Japanese luxury maker without a coupe. Well at the Tokyo Motor Show this past week, Lexus decided it was time to change that and introduced the 2015 RC Coupe.
The RC Coupe is a very sharp looking coupe. The overall design is a callback to the LF-LC concept shown at the 2012 Detroit Auto Show. Up front is the largest 'spindle' grille that Lexus has ever put onto a vehicle. On either side of the grille are a set of headlights that are signature to the RC. Sharp character lines, a choice between eighteen or nineteen-inch wheels, and two exhaust ports finish up the RC's design.
Even though many will say the RC is the IS Coupe, Lexus will say the RC is very different from the IS. To start, the RC uses the platform from the GS, not the IS. Also, the RC is 1.2 inches wider, 1.4 inches lower, and rides on a wheelbase that is 2.8 inches shorter than the IS.
Inside, the RC shares the same dashboard layout as the IS sedan. The RC also features Lexus' next-generation Remote Touch system that swaps the joystick control for a touchpad.
The RC's powertrain lineup is made up of two engines. The RC 350 uses a 3.5L V6 engine that produces 314 horsepower and 280 pound-feet of torque. This engine is paired with an eight-speed automatic from the IS-F. The RC 300h utilizes a 2.5L four-cylinder and 105 kW electric motor to produce 217 horsepower. All of that power goes through an electronic continuously variable transmission.
Lexus says the RC will be available with rear or all-wheel drive. Availability for either model will depend on the demands of the marketplace.
The 2015 Lexus RC will launch sometime next year.