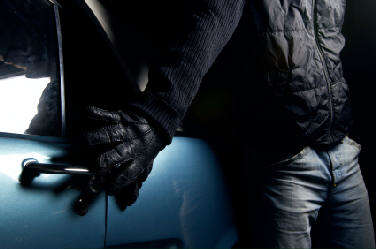 Car theft and car vandalism are both very serious problems in this country and depending on where you live, the car theft levels in your neighborhood can even affect your car insurance rates. There are a number of ways to help prevent auto theft of your car, truck, SUV, crossover or minivan.
While car thieves become ever more clever in the ways and speed at which they can cause your precious ride to disappear, there are still ways you as a car owner can fight back against this crime plaguing our nation. And this issue is now more important than ever given how many more desperate and unemployed people there are currently who would love nothing more than to steal your car or at least steal valuables left out in the often.
Always park your car in well-lit areas when leaving your car in a parking lot to prevent auto theft. It may be tempting to keep your fancy sports car free of dings by parking it far away from other cars in a dark corner of a parking lot but you may return to find it missing.
Install a tracking system that will help the police locate the car should it ever be stolen. These tracking devices are always placed in different locations on the car and are very difficult even for professional thieves to find. Adding a tracking device to your new car can also help you save on your monthly car insurance bills and can prevent car theft. 
Buy a different car. You might be surprised to know this, but the most stolen cars in this country are also the most common models like the Toyota Camry and Honda Civic. Although these cars may not be exciting, expensive exotica, their omnipresence on the roads means that stripping them for parts can be highly lucrative for thieves. Although this isn't always the case, one way to prevent car theft of your ride is to choose a wagon. Usually the least stolen models are station wagons. Check with your auto insurance agent to find out which cars are on their "most stolen" list that year. 
Don't leave valuables like cell phones, your wallet, a laptop or an iPod sitting out in plain sight when you park your car. Often times stolen cars are taken to be stripped of the contents and leaving valuables out in the open merely makes your car seem more appealing to thieves. You can really prevent auto theft by leaving your car empty of electronics.
This may sound like the dumbest advice to give but you would be surprised how many cars are stolen because they are left unlocked and even because someone leaves the car running while they run into a store to go get something. So don't become the laughing stock of all your friends and the cops who come to investigate the crime and always prevent car theft by taking the keys out of the ignition and locking the car when you leave.
Your very financial stability may depend on you following some of these very simple steps to prevent auto theft.