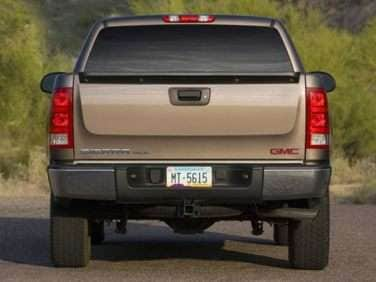 The 2013 GMC Sierra was the fastest-growing full-size pickup in the country in January, with volume expanding by 35 percent on the strength of 12,846 deliveries. At the same time, retail sales of the Sierra 1500—the most popular model—climbed 41 percent, and that helped GM finish last month with truck inventories that were "in-line with the company's sales and production plans for 2013."
True, that's at least partially the result of some serious incentive spending on the part of the General, but truck buyers aren't complaining. In fact, they can currently enjoy yet another bonus from GM's Professional Grade division: From now through February 28, 2013, buyers of the 2013 GMC Sierra 1500 (half-ton) pickup will receive a complimentary routine maintenance package that provides two-year/24,000-mile coverage for regularly scheduled oil changes, oil filter replacements, tire rotations and multi-vehicle inspections.
The Pro Grade Protection program will be extended to both purchasers and lessees, and it will be fully transferable. And remember, all that's on top of standard Sierra protection that also includes a five-year/100,000-mile powertrain warranty and three-year/36,000-mile bumper-to-bumper new vehicle warranty.
"Pickup owners tend to keep their vehicles longer than most, so it's essential that GMC holds the Sierra to the highest standards possible," said Brian Sweeney, vice president of Sales and Service for GMC. "We want potential customers to know that our Professional Grade trucks come with class-leading coverage and an engaged dealership service experience."