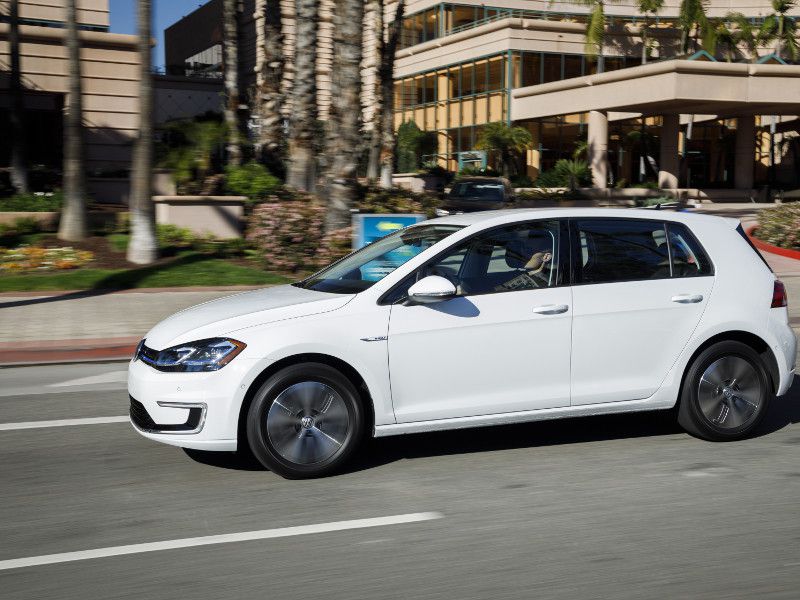 2017 Volkswagen e Golf ・ Photo by Volkswagen
There's a lot to consider when looking for an electric car: range, efficiency, seating capacity, and price. But what about appearance? Beauty is in the eye of the beholder of course, but we have our own opinions on what constitutes a good-looking electric car. Here, in our opinion, are the current 10 Best Looking Electric Cars, ranked from least to most attractive.
10) 2017 Mitsubishi i-MiEV
Beauty is in the eye of the beholder, and while there are some who think the egg-shaped 2017 Mitsubishi i-MiEV is kind of cool-looking (this team included,) most would probably place it pretty far back on this list.Though Mitsubishi has officially discontinued the i-MiEV for 2018, many dealers are still trying to sell their 2017s, which is why we've included it in this list. It also makes it easy to snag an even better deal. The i-MiEV is hobbled by its abruptly short range (just 62 miles) and cheap interior fittings. But there is one thing that is very attractive about the electric Mitsubishi - the price. At $23,845 ($16,345 after Federal tax incentives,) the 2017 Mitsubishi i-MiEV is the least-expensive electric car you can buy. Though charge times with a standard 240V "Level 2" charger are rather long considering the car's short range, the standard-fit quick charge port allows it to be juiced up to 80% capacity in about 15 minutes. If you can do with a short-range electric runabout, the deeply-discounted Mitsubishi is a cheap (if not pretty) way to get into electric motoring.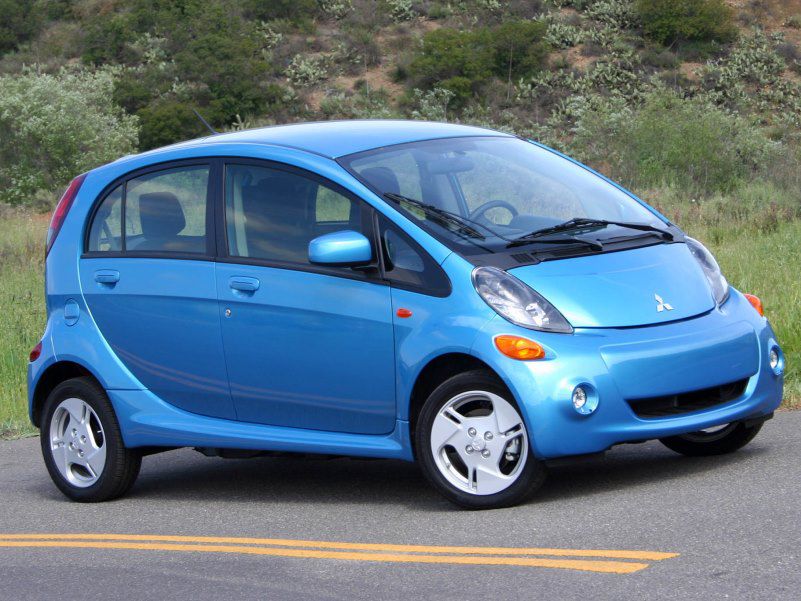 9) 2018 Tesla Model 3
When Tesla announced a 200-plus-mile EV with an after-tax-incentive price of $30,000, people literally lined up to put down a deposit before they had even seen the car. The shortened Model S shape is nice, but the grille-less nose, stark interior, and single-screen display that looks like it came from a deeply-discounted PC make the car look unfinished at best. There's no question that the Tesla brand carries lots of cachets, but the plainness of the Model 3 seems to scream to the world that its owners couldn't pony up the bucks for a Model S.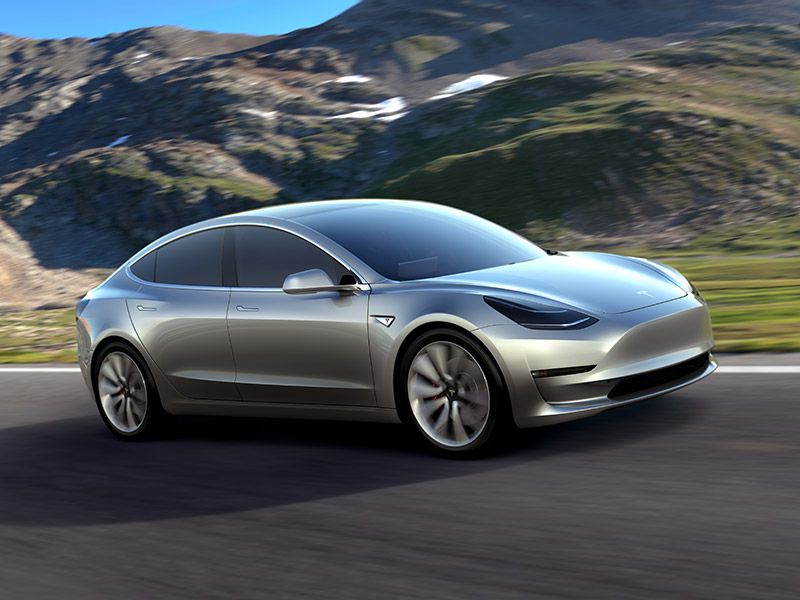 Photo by Tesla
8) 2018 BMW i3
One of the advantages of an electric car is that it doesn't need to be designed to the same form factor as a fuel-powered vehicle. With no bulky gasoline engine and transmission to fit under the hood, designers are free to pen new shapes, and that's exactly what BMW did with the 2018 BMW i3. The results are, well, polarizing. While the i3 certainly stands out, and its tiny size makes it easy to park, aesthetically, it's pretty much the opposite of its plug-in-hybrid sibling, the sexy i8 sports car. Fortunately, the i3 has other charms as it's ridiculously quick and good fun to drive.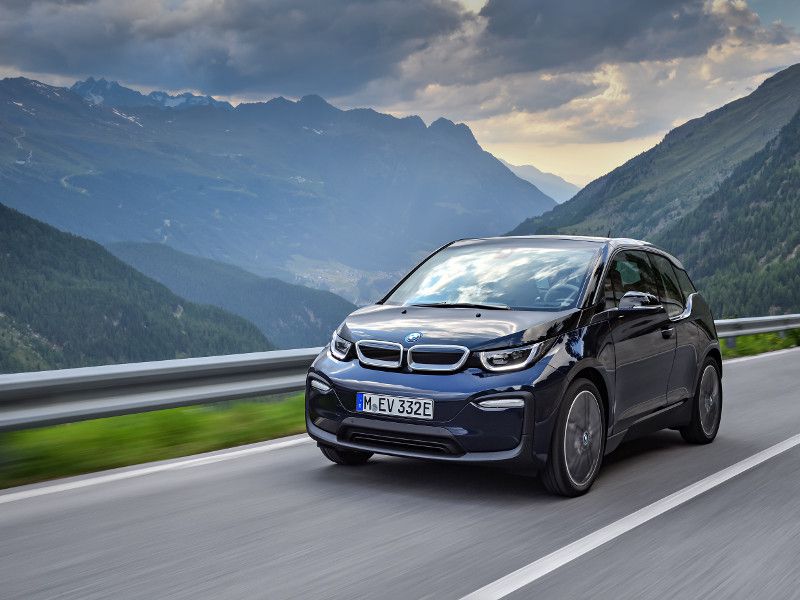 Photo by BMW
7) 2018 Chevrolet Bolt EV
Fortunately for the Chevrolet Bolt EV, beauty is only skin deep. This is arguably one of the best electric cars on the market, with 238 miles of EPA-certified range, a $37,495 price tag ($29,995 after Federal tax incentives,) and a great powertrain with an excellent regenerative braking system. Once you master the Bolt's one-pedal driving system, you'll never go back. The Bolt EV delivers everything the Tesla Model 3 promised, long range and a (relatively) low price, which is more than the Model 3 has done so far.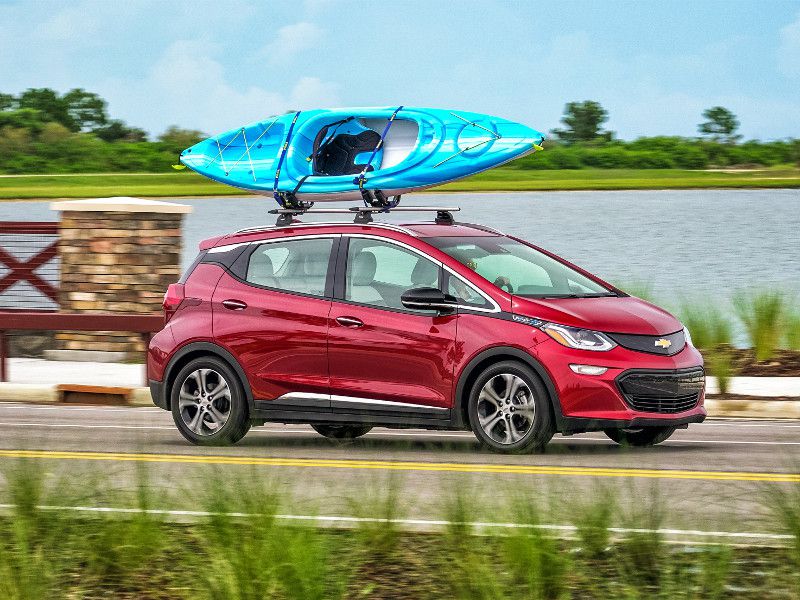 Photo by General Motors
6) 2018 Smart Fortwo Electric Drive
Smart redesigned their two-seat Fortwo runabout last year, and while the redesign has done wonders for the interior room, the Fortwo now actually has a little bit, we're not quite sold on the blocky styling. Still, Smart makes up for it with a plethora of bright color choices, and the 2018 smart fortwo electric drive Cabrio has the distinction of being the only battery-powered convertible on the market. On the downside, the Fortwo's high price ($29k for the hardtop and $32k for the convertible before incentives,) and short range (63 miles) make it a poor value. The Mitsubishi i-MiEV gives you the same range for $5,000 less, and the Volkswagen e-Golf gives you twice as much range for only a grand and a half more (and they'll throw in a back seat and two extra doors for free.) Lucky for Smart this list is based on appearance, not value.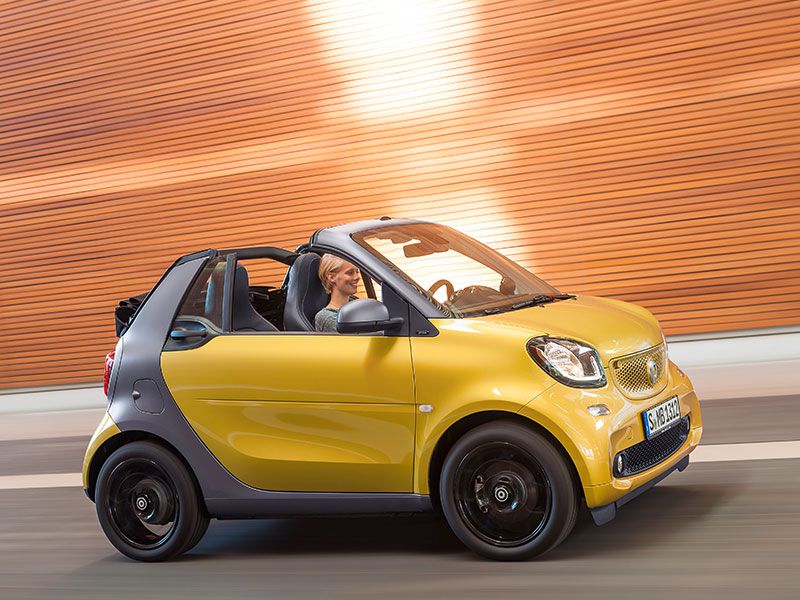 5) 2018 Nissan Leaf
The Nissan Leaf was the first mainstream electric car to make it big, and Nissan has just restyled it. The old Leaf was designed to stand out, and while the new 2018 Nissan LEAF is a bit more conventional, there's no mistaking the French influence it shares with other Nissan vehicles. (Though Nissan is a Japanese automaker, their parent company, Renault, is French.) We like the look of the new Leaf, which manages to be both conventional and futuristic. It looks different, but not that different. We do wish the interior had a bit more pizazz, though, it's not much different from Nissan's gasoline-powered cars. The Leaf's 150-mile range falls short of the 238-mile Chevrolet Bolt EV, but Nissan has priced the Leaf at $30,875 ($23,375 after Federal tax incentives,) which is very reasonable for an electric car. And value like that always looks good.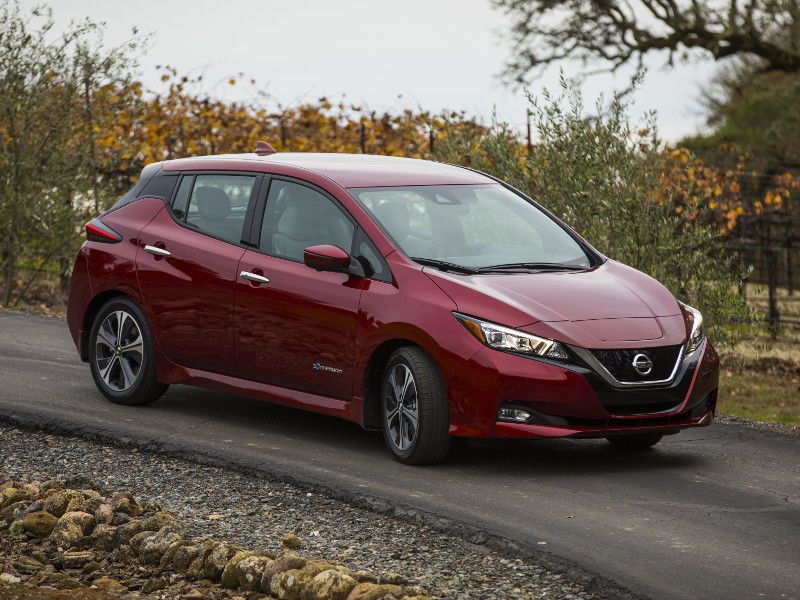 Photo by Nissan
4) 2018 Fiat 500e
It's hard not to smile when you see a Fiat 500. It's styled to look like the company's classic pint-sized 500 from the 1950s, which was Italy's answer to the Volkswagen Beetle. The battery-powered 2018 Fiat 500e cranks up the cute with optional orange-trimmed exterior details (though you can also get plain monochromatic paint if that's your thing.) Like the BMW i3, the Fiat 500e is very quick and big fun to drive, more so even than the gasoline-powered 500. Now the bad news: availability is limited to only a handful of states, so buying a 500e may not be an option for you. But super-cheap lease deals have made the electric Fiat extraordinarily popular in California, where we seem to see nearly as many of these as we do Teslas.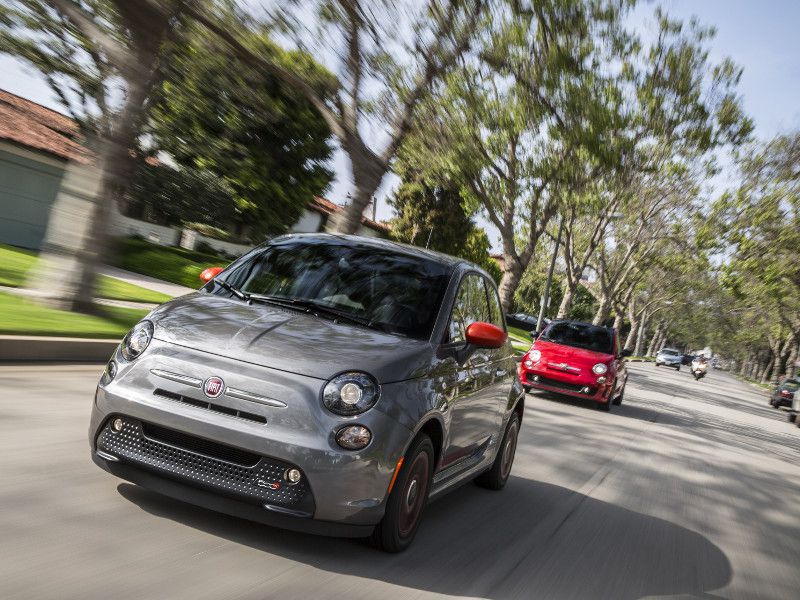 Photo by FIAT
3) 2018 Kia Soul EV
Visually, there is a lot to like about the 2018 Kia Soul EV. It shares its body with the boxy-and-hip Soul, and Kia offers it in a funky electric-blue-and-silver paint scheme that really stands out. Combined with the plated-over grille, it looks a bit like a Soul that stepped out of a time machine. If futuristic isn't your thing, you can also get your Kia Soul painted in more subtle shades that don't stand out quite as much. Either way, it's a good-looking EV. The Soul's sub-100 mile range puts it towards the back of the pack, and the price, around $35,000 before tax incentives, is a bit on the high side. Still, if you're looking for an EV with style, the Soul is worthy of your consideration.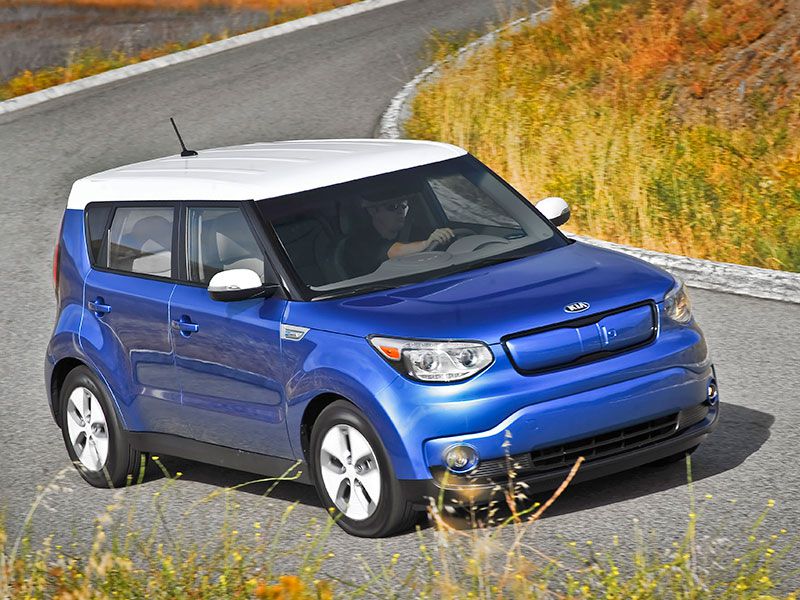 Photo by Kia
3) 2018 Tesla Model X
Yes, it's ridiculously expensive. Yes, it's electronics are more complicated than NASA's Mission Control. Yes, we know its build quality is on par with a 1975 Plymouth. Still, we agree with what most owners think: the Tesla Model X is one of the coolest looking electric vehicles you can buy. From its wedge-shaped front end to its "falcon wing" rear doors, the Tesla Model X is dripping with cool, and the view on the inside is equally stunning, not least of all because of its windshield, which wraps clear into the roof. Sure, there's a lot to complain about the Model X, but its appearance is not one of them.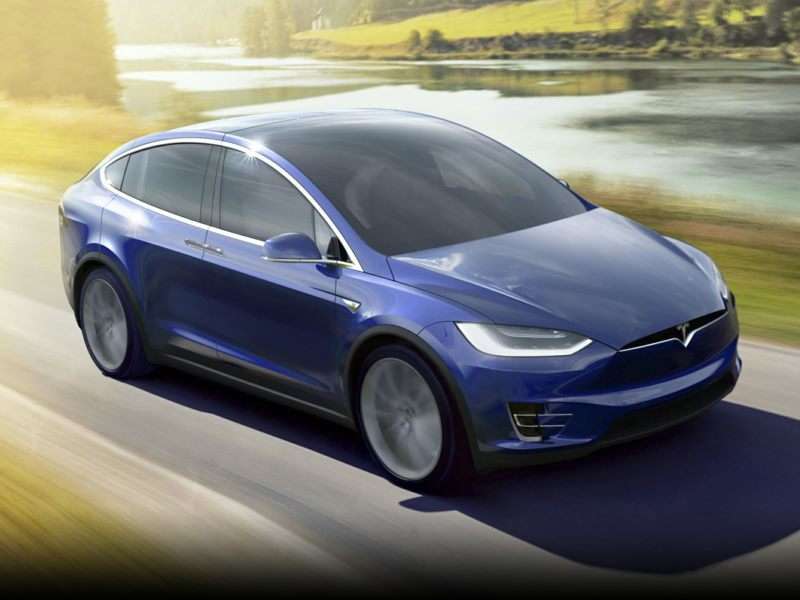 Photo by Tesla
1) 2018 Volkswagen e-Golf
Sometimes subtlety is best, and that's why we like the 2018 Volkswagen e-Golf. This is the electric car that doesn't scream that it's an electric car. It even has the same grille as fuel-powered Golfs. But we don't think it's pretty merely because it's understated, this is a design classic, a simple looking car with styling that will age gracefully. When you factor in all the other things there are to like about the 2018 Volkswagen e-Golf, its roomy interior, healthy range, and affordable price, you'll see that there's a lot to like about this car beyond its good looks.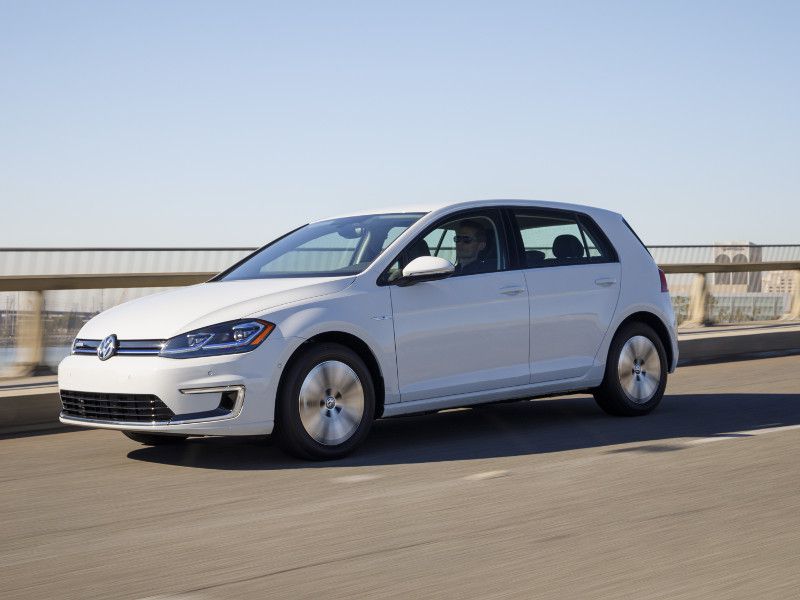 Photo by Volkswagen