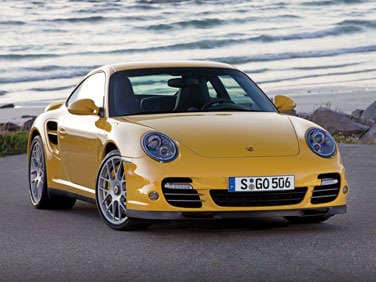 Most of us think of the Porsche 911 as that rounded, rear-engine sports car we wish we could afford. Few, if any, realize the 911 represents a rather large and well-rounded lineup that offers a version for every sporting taste. In fact, there are a total of 21 models with prices ranging from $77,800 to $245,000. Of those 21 models, 12 can be viewed as distinctly different from the rest, either in power or body style, while the other nine are repeats of engines, body styles or drive systems. I've had the good fortune to drive several of these models. Let's take a look at what makes each one different. When appropriate, I also add a few words to describe each driving experience.
911 Carrera
$77,800
4.7 seconds 0-60 mph, 180 mph top speed
The basis of the brand, the Porsche 911 Carrera is a rear-engine sports car whose roots and design language go back to 1965. Though technically a four-seater, the 911's rear seat is really just a concession to insurance rates and is best used as a package shelf. Located entirely behind the rear axle, the engine is a 3.6-liter flat (boxer) six-cylinder that produces 345 horsepower and 288 pound-feet of torque. Transmission choices include a six-speed manual and a seven-speed dual-clutch automated manual, known as the PDK.
Even in base form, the 911 Carrera is an amazing sports car. Built like a brick house, the 911 has the brakes and suspension to handle the rigors of a racetrack and the rough roads of your neighborhood. The base engine is impressively tractable, providing willing punch at all speeds. While the heavy rear end had a tendency to swap ends during performance driving in previous generations, this generation, dubbed 997-2, is far more balanced.  That makes it easier to drive, but takes away some of the wild and wholly character of 911s past.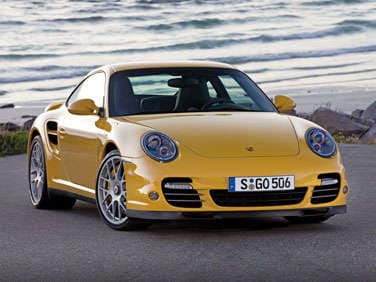 911 Carrera S
$90,500
4.5 seconds 0-60 mph, 188 mph top speed
The 911 Carrera S model gets a 3.8-liter flat six that turns up the power to 385 horses and torque to 310 pound-feet. Starting with the 2009 model year, both the 3.8- and 3.6-liter sixes were all-new, with 40 percent fewer parts and the addition of direct injection, which improves power and fuel economy while reducing emissions. The S model also adds Porsche Active Suspension Management, which comes with Normal and Sport modes. It features a 10 mm lower ride height, electronically controlled dampers and different settings for the springs and roll bars. The Carrera S gets 19-inch wheels, compared to 18s for base models, as well as larger brakes.
While the base suspension offers a flat, controlled ride, PASM's Sport setting keeps the car even flatter during cornering, braking, or even when taking off. The extra power is welcome, providing a bit more grunt off the line and more willing midrange response.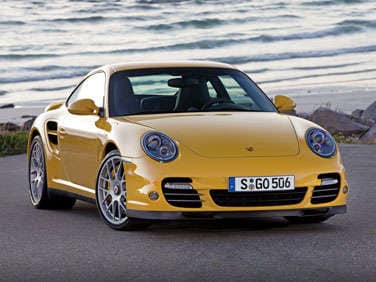 911 Carrera 4
$84,100
4.8 seconds 0-60 mph, 177 mph top speed
Porsche has offered an all-wheel-drive system for the 911 since 1989. Porsche calls it Porsche Traction Management. The system usually runs with two-thirds of the power going to the rear wheels, but it can also vary up to 100 percent of the torque to the axle with traction. It comes with a limited-slip rear differential. The 911 Carrera 4 also gets a wider rear body with a rear track that is increased. In addition to the standard Carrera 4, Porsche offers the more powerful Carrera 4S.
The Carrera 4's all-wheel-drive system makes it an all-weather sports car, though buyers in northern climates should make sure to choose snow tires if they intend to drive their cars in winter. The extra weight of the AWD system saps a bit of performance, but makes it easier to put the power to the pavement.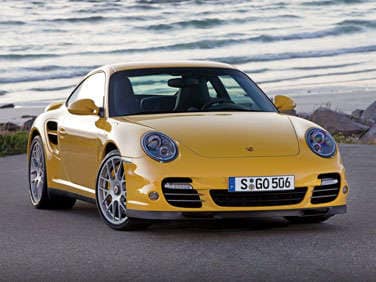 911 Carrera Cabriolet
$88,800
4.9 seconds 0-60 mph, 177 mph top speed
The 911 Carrera Cabriolet features a power convertible soft top that can be opened or closed in 20 seconds. It comes with a wind blocker and automatic roll bars that pop up in case of a rollover crash. The convertible body style is 188 pounds heavier, adding a couple of tenths to the 0-60 mph time. Porsche also offers Cabriolet S, 4 and 4S models.   
To the sports car fanatic, a coupe body style is always best due to its inherent structural rigidity. convertibles are certainly fun, but they don't usually provide as much performance because the body structure is weaker. While the 911 Cabriolet may not be as stiff as the coupe, it is rock solid, with no notable cowl shake. In this instance, the slight loss in handling is more than made up for by open-air fun.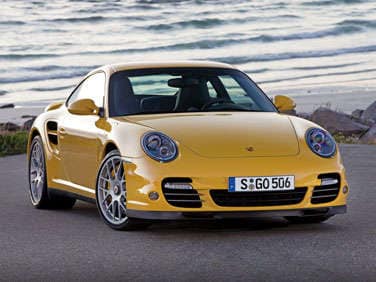 911 Carrera Targa 4
$92,100
5.0 seconds 0-60 mph, 177 mph top speed
The Targa traces its roots back to 1967, when Porsche introduced a coupe with a removable roof panel and a band-style roll bar. The Targa name came from the Targo Florio road race, where Porsche enjoyed a lot of success. Today's Targa features two glass roof panels that run the full width of the top. The front panel, which rests over the front seat, can slide back like a sunroof, creating a convertible top feel. The rear panel runs all the way to the rear engine cover. It acts as a rear window and a hatch for access to the rear seat. The Targa is offered in all-wheel-drive Targa 4 and more-powerful Targa 4S models. 
All that glass adds 298 pounds up high, where sports car buyers want it least because it raises the center of gravity. Not surprisingly, the Targa's performance suffers, as handling isn't as sharp, and the added weight makes it slightly slower.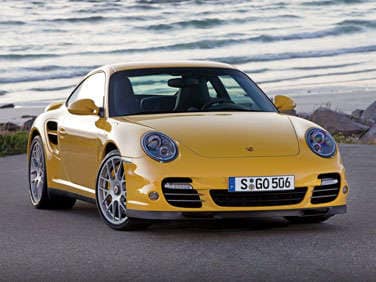 911 Turbo
$135,500
3.2 seconds 0-60 mph, 194 mph top speed
Introduced in 1974, the 911 Turbo took at proven formula and added more power, gobs of it. The heart of today's 911 Turbo is a twin-turbocharged 3.8-liter flat six that makes 500 horsepower and 480 pound-feet of torque. Torque increases to 516 pound-feet for short bursts in overboost mode. Standard all-wheel drive helps tame the power. The Turbo adds larger brakes than S models, plus unique suspension settings. As you can see by the stats above, performance is in supercar territory. Despite the amazing performance numbers, the Turbo isn't the ultimate performance model. It is heavily contented, giving owners luxury with power. The 911 Turbo is offered in coupe and Cabriolet body styles.
The 911 Turbo's amazing engine is amazingly flexible. It will toddle along in city traffic at one moment, then roar to life delivering an endless well of power the next. The turbo lag that plagued previous versions is gone thanks to direct injection, but it still builds thrust best above 3000 rpm.
911 Turbo S
$160,700
3.1 seconds 0-60 mph, 196 mph top speed
Introduced earlier this year, the 911 Turbo S is an even higher-performance version of the 911 Turbo. Thanks to an additional 2.9 pounds of boost (for a total of 14.5), output is increased to 530 horsepower and 516 pound-feet of torque. The Turbo S is offered only with the PDK transmission. To help it stop and turn better, it comes standard with Dynamic Engine Mounts, carbon ceramic brakes, and Porsche Torque Vectoring, all of which are optional on the Turbo. The active engine mounts stiffen during performance driving to make the structure more solid and loosen during relaxed cruising to reduce vibration. Porsche Torque Vectoring applies braking pressure to the inside rear wheel in turns to help rotate the car through bends. Exterior styling cues consist of wheels with central locking and an available new Ice Blue Metallic color. Inside, the Turbo S gets a three-spoke sports steering wheel with shift paddles, adaptive sports seats, and two-tone leather upholstery in Black and Cream or Black and Titanium Blue. The Turbo S is available as a coupe or convertible.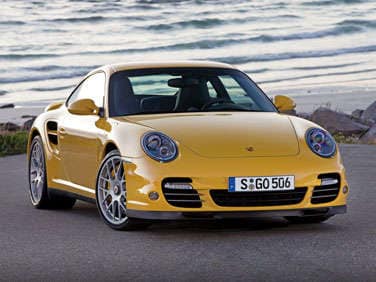 911 Carrera GTS
$103,100
4.4 seconds 0-60 mph, 190 mph top speed
The Carrera GTS may be the best deal in the 911 lineup. Porsche says it fills the performance niche between the S and the GT3. It features rear-wheel drive, but has the wide rear bodywork and correspondingly stretched track from the AWD models. The 3.8-liter flat six makes 408-horsepower thanks to a two-stage air intake (a $16,900 option on S models). Most of the rest of the equipment can be purchased from the Porsche catalog. Exterior mods include a SportDesign front apron, GT2 side skirts, center lock wheels, and sport exhaust. Inside, it gets alcantara on touch points. Porsche says these options would cost $15,495 more if purchased separately. As a special, more powerful model, the GTS should maintain a higher collector value. It's offered as a coupe or a convertible. 
The GTS's wide rear track helps it build more traction and stay more stable in turns. The dual-stage air intake raises the top of the rev range 800 rpm, and it emits a menacing whine, along with an extra boost of horsepower, when the second stage kicks in at about 6300 rpm.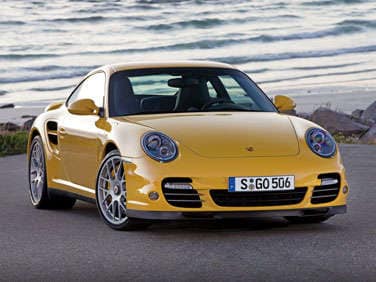 Page 10
$204,000
4.4 seconds 0-60 mph, 189 mph top speed
Porsche is only offering 356 911 Speedsters worldwide and fewer than 100 will make it to the United States. Porsche touts this as the fourth Speedster, with the others being the 1953 356 Speedster, the 1988 911 Speedster with a double-bubble rear deck, and another double-bubble 911 Speedster in 1993 and '94. The 2011 model features a windshield that is 2.36 inches shorter and raked at a steeper angle, the signature double-bubble rear hardcover for the convertible soft top, the wide rear body and track, retro Fuchs-style wheels, and exclusive Pure Blue paint. It has black trim on the headlight rings and windscreen surround, as well as tinted fog lights. Carbon ceramic brakes save weight and improve stopping power, especially when hot. Inside, the Speedster is hand-finished in smooth black leather and it gets just about every option Porsche can throw at it. It also boasts the same 408-horsepower power package as the 911 Carrera GTS, but not nearly the same price advantage.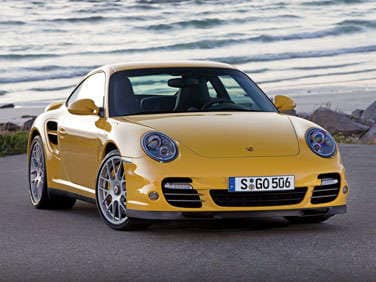 911 GT3
$115,700
4.0 seconds 0-60 mph, 194 mph top speed
The GT3 is raw and race ready. Its 3.8-liter flat six benefits from VarioCam Plus variable valve lift and timing for both the intake and exhaust camshafts, while other versions have VarioCam only for the intake cam. It also uses a variable intake manifold and a low-restriction exhaust. These changes produce 430 horsepower and 317 pound-feet of torque, all of which is routed exclusively through a six-speed manual transmission. Exterior cues include a large fixed rear wing, unique front air vents, and aluminum doors and front hood. A lithium-ion battery that saves 22 pounds is optional. Inside, Porsche save weight by removing the rear seat and applying less sound deadener. Alcantara is used on the headliner, door panels, lower dash and steering wheel. Both GT3 models come only in the coupe body style.