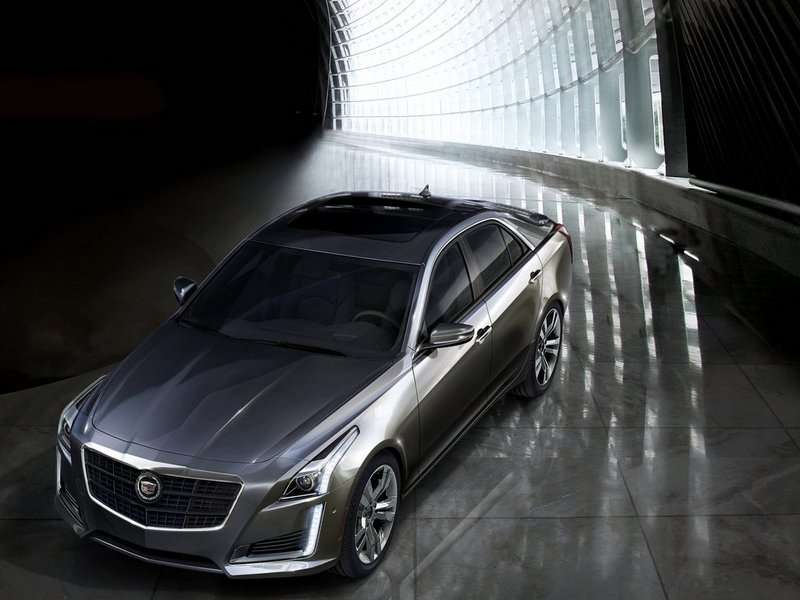 Although today's cutting-edge powerplants—like those found in the brand-new 2014 Cadillac CTS—can leverage the latest technologies to deliver more power from fewer cylinder than did past engines, as well as better fuel-economy ratings, engineers still haven't found a way to get those units to deliver the same unmistakable soundtrack as a large-displacement V8. So they've done the next best thing: the 2014 Cadillac CTS (and its hi-po Vsport variant) will feature an "integrated electronic sound enhancement system" to create an aural environment that's more in keeping with the CTS' actual performance.
Now, a number of other companies have done the same sort of thing previously, including names like BMW and Porsche, but GM's lux brand is taking things to ye olde next level by developing unique soundscapes for each of the selectable driving modes offered offered in the CTS sedans. As for the differences among them, it's probably best to let the brand speak for itself:
In Tour mode, the 2014 Cadillac CTS "purrs with refinement."
Change to the Sport mode and the CTS "growls with power."
With the Vsport-only Track mode, the car "roars even more aggressively."
"The sound enhancement system acts like a choir conductor, calling forth certain engine sounds to sing the loudest depending on the driving mode," said Dave Leone, CTS executive chief engineer, Performance Luxury Vehicles. "We used our ears to tell us what sounded the best and programmed the system to listen for those tones. It is Cadillac's Art and Science design philosophy applied to engine sound."
Yet it's not like the 2014 Cadillac CTS "needs" an aural upgrade to boost its performance credibility. As noted on the next page, the brand's mid-size sport sedan offers a trio of athletic engine choices, and that's before the inevitable V-Series version makes its debut.
2014 Cadillac CTS: Powertrain Preview
The completely redesigned 2014 Cadillac CTS is expected to reach dealerships next month with wider, lower and longer proportions for a more aggressive stance, significant weight savings, and three engine choices. As a starting point, the new CTS will rely on a turbocharged 4-cylinder engine that features direct injection and continuously variable valve timing, as well as outputs of 272 hp and 295 lb.-ft. of torque. That power is then routed through a six-speed paddle-shifting transmission to either the rear or all four wheels, and enables EPA marks of up to 20 mpg city/30 mpg highway/23 mpg combined.
Providing the next step up is a 3.6-liter V6, also with direct injection and variable valve timing, and this naturally aspirated engine can make 321 hp and 275 lb.-ft. of torque. Again, the V6 can be had in rear- or all-wheel-drive models of the 2014 Cadillac CTS, which results in an EPA line of 18/29/22.
At the top of the 2014 Cadillac CTS roster—so far—is the Vsport edition that packs the brand's first twin-turbo engine. It's a major performance enhancer for the just-mentioned V6, providing drivers with the benefit of 420 hp and 430 lb.-ft. of twist. EPA ratings are not yet available for this model, but, by employing Cadillac's first eight-speed automatic transmission, the rear-wheel-drive Vsport is still projected to reach 17 mpg city/25 mpg highway.
Then there's the 2014 Cadillac CTS V-Series Sedan. Although remaining on the same platform as the 2013 model for the time being, the most powerful member of the CTS family is configured with a supercharged 6.2-liter V8 that holsters 556 hp and 551 lb.-ft. of torque, with owners able to choose either a six-speed automatic or six-speed manual transmission.
Enthusiasts can look for the V-Series Sedan to make the leap to the new CTS platform some time next year.