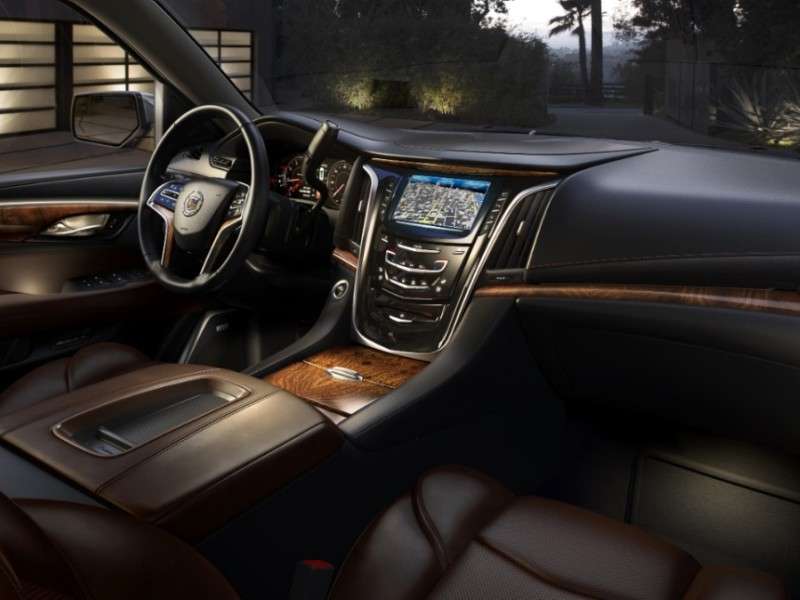 Even though the global debut of the 2015 Cadillac Escalade is only a few days away, designers apparently couldn't wait before showing some of their work to the public: They recently released a fresh image of the vehicle's luxurious cabin to help whet folks' appetites even further for the full-size luxury SUV. The party line here is that: "The all-new interior combines luxurious handcrafted elements with state-of-the-art advanced technology. The new design takes advantage of Cadillac's cut-and-sew interior craftsmanship technique, enabling precisely elegant surfacing of the instrument panel and door areas.
"Advanced technical features and controls are designed to add a boldly modern element to the design, as well as offering the latest features in luxury, connectivity and safety for up to eight occupants."
Beyond the fluff, a quick visual comparison between the cockpits of the 2015 Cadillac Escalade and its immediate predecessor shows a significantly more premium environment in the former, with flowing lines and a better integration of upscale trim materials. The new center stack is particularly sharp as well, incorporating visual echoes of the Cadillac shield along with the more intuitive controls of the latest CUE connectivity/media system. Speaking of controls, the new steering wheel in the 2015 Cadillac Escalade integrates plenty of them, and in a much more organic fashion than displayed by previous models.
It's also clear from the photo that push-button start will be offered on the 2015 Cadillac Escalade, which adds an important lux cue that had been notable for its absence in the present Escalade.
And remember, it's not too late to make your reservations for the livestream of the vehicle's introduction in New York on October 7; just visit the Cadillac YouTube channel at www.YouTube.com/Cadillac.