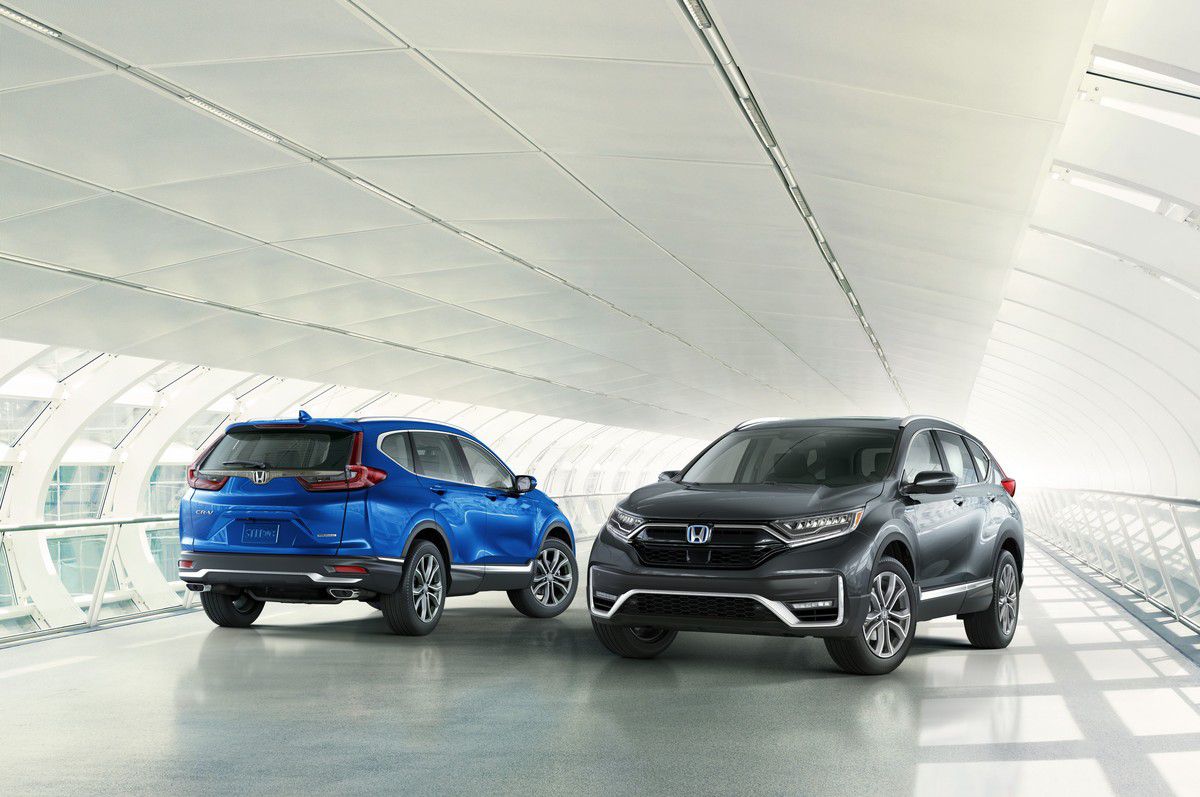 2020 Honda CR-V: Stylish, compact and with impressive performance. ・ Photo by Honda
The Honda CR-V, one of the most popular and well-known compact crossovers on the market, is getting some big upgrades for the 2020 model year. With plenty of new styling updates and a slew of standard safety features, this CUV is sure to impress, but the biggest news is the addition of a hybrid variant.
Since the CR-V has been the top seller for over 20 years, the addition of a gas-electric hybrid to the lineup should be very exciting for consumers. Currently, just two hybrid CUVs are available: the Toyota RAV4 and the just-introduced 2020 Ford Escape. "The CR-V Hybrid signifies our direction to bring Honda hybrid-electric technology to all core models and to invest in the production of electrified vehicles in America," says Henio Arcangeli, Jr., Senior Vice President of Automobile Sales at American Honda Motor Co. That means Honda fans should be prepared: The brand is targeting two-thirds of its global automobile sales to come from electrified vehicles by 2030.
The CR-V Hybrid will share the same powertrain as the Accord Hybrid: two electric motors combined with a 2.0-liter, 16-valve DOHC Atkinson-cycle engine, making 212 horsepower. It will also be the first time this Honda hybrid powertrain includes all-wheel drive.
In addition to special hybrid badging, the new CR-V Hybrid will also feature unique interior touches, such as a new push-button gear selector and instrument panel. The CR-V Hybrid also receives deceleration selector paddles on the steering wheel that can increase the amount of regenerative braking when you're coasting.
Finally, as with all 2020 CR-V's, the Honda Sensing suite of safety technology will come standard. Features include lane-keeping assist, adaptive cruise control, a forward collision warning, and a collision mitigation braking system. A new Acoustic Vehicle Alerting System (AVAS) is also new for the hybrid model. This system has been designed to alert and make pedestrians aware of the vehicle when it's operating in electric-only mode. Often times, the quietness of an electric vehicle makes pedestrians unaware of its presence, so the AVAS system generates an audio alert from the front bumper that gets louder as speed rises. The brand says the sound will be nearly inaudible to the driver and should prevent accidents between the vehicle and nearby pedestrians.
Fuel economy numbers are not yet available for the upcoming hybrid, but the brand says it anticipates a 50 percent increase in city fuel economy ratings when compared to the regular gas-powered CR-V. More information will be available closer to its launch date in early 2020.