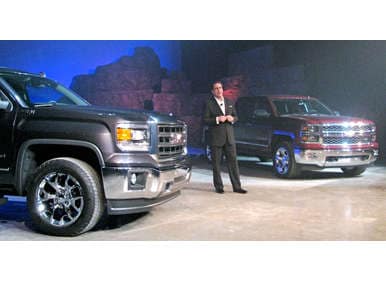 After first reaffirming that trucks remain at the core of GM's business, Mark Reuss, president of GM North America, revealed the all-new 2014 Chevy Silverado and 2014 GMC Sierra this morning in metro Detroit. The pair will share an equally fresh family of EcoTec engines, designed specifically for truck applications, as well as some nifty new touches like an integrated rear-bumper step for easy bed access. But what they won't share is much in the way of looks, as the 2014 Chevy Silverado and 2014 GMC were explicitly—and effectively—developed with two very disparate audiences in mind.
"The new Sierra and Silverado are more differentiated than ever in unique features and materials, in their standard content and in their design and details," according to Reuss. "These are two strong and distinct brands—each one appealing to a different kind of customer."
Speaking of details, however, it is true that some of the important ones, like the trucks' pricing, power outputs and expected fuel-efficiency ratings, are slated to be released at a later date. To learn more about what we do know, just keep on reading.
GM's 2014 Full-size Pickups: EcoTec3 Engines
To power its pickups, GM will unleash a new EcoTec engine family that features three members and a combination of three powertrain technologies that is exclusive to the automaker. The engines include a 4.3-liter V6 as the standard choice, with enough power to handle a "substantial" trailer; a 5.3-liter V8 that will deliver increases in both power and efficiency as compared to the trucks' current 5.3-liter V8; and a massive 6.2-liter V8 that GM claims was "engineered to be the most capable engine in the light-duty, full-size pickup segment."
As for the technologies, they include cylinder deactivation, continuously variable valve timing and direct injection—all of which will be standard on all trucks.
According to GM, the decision to continue relying on large-displacement small-block engines instead of more complicated powerplants with features like twin-scroll turbocharging—used in Ford's EcoBoost units—was a conscious one, taken to provide customers with the kind of traditional truck performance and durability they prefer in a big pickup. Yet that trio of just-mentioned technologies also will ensure drivers enjoy the kind of modern-day fuel-economy ratings they demand in a next-gen vehicle.
The party line from Jordan Lee, chief engineer and program manager for GM's small-block engine program: "We believe these engines are the most technologically advanced engines ever offered in light-duty pickups, and they are specifically designed for the way customers use trucks in the real world."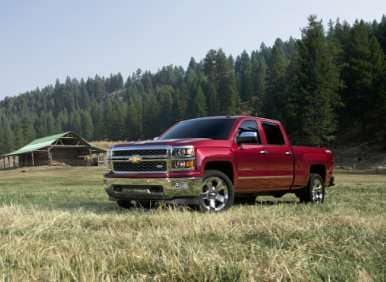 2014 GM Full-size Pickups: Exterior Design
Now, there's no getting away from the fact that the 2014 GMC Sierra and 2014 Chevy Silverado have a certain family resemblance from certain angles, but designers really were able to refine the details to create two fairly distinct vehicles that both express their brands' positioning. Thus, the Sierra presents a more technical, Professional Grade appearance, particularly from the front, that's highlighted by its unique headlamp treatment. The housings are rectangular, and hold LED accent lights, and the unit as a whole integrates with a prominent three-bar grille that subtly echoes some of the Sierra's interior shapes.
The Bowtie offering draws its inspiration from Silverado's long lineage of innovative trucks, with a particular nod to the third-generation "rounded line" pickups with their stacked headlights and extremely vertical grille. In addition, Chevy designers revised the height of the new truck's hood to give it some of the same kind of presence one usually expects from heavy-duty pickups.
Exterior changes to both trucks also were informed by a desire to improve their aerodynamics for improved fuel efficiency. Examples of this include a more steeply raked windshield—that also improves wiper functionality—and an inlaid door design that better blends the trucks' doors with their flanks. Both vehicles also feature their own versions of a dual powerdome-style hood, large and angular wheel arches, and, to fill them, an assortment of wheels ranging in size from 17 to 20 inches.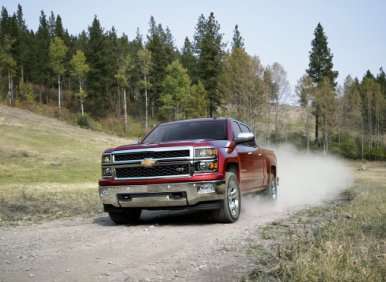 2014 GM Full-size Pickups: Interior Design
It's also worth noting that many of the same design highlights that allow the 2014 Silverado and Sierra to slip through the air more smoothly also result in quieter cabins. In fact, the goal here was to achieve the quietest, most refined interiors in the segment, and while a check of the decibel levels will have to wait for a test drive, the cockpits of even the early vehicles that were on display today did indeed show plenty of attention to detail, craftsmanship, and premium, soft-touch materials.
Much effort clearly went into the trucks' ergonomics, too. The controls and switchgear have been grouped in easy-to-locate and logical clusters, and all have been redesigned to allow drivers to use them even when wearing gloves. But what truly elevates the interiors of the 2014 Chevy Silverado and 2014 GMC Sierra are the little things: The eight-inch color touchscreen for their available connectivity/infotainment systems has been moved to the top of the center stack, where it's easier for the driver to reach and see; in recognition of their likely use for family trips and what not, there is an incredible amount of storage, including a dual glovebox and multi-level storage pockets built into both the front and back doors; and in an especially welcome move, entry-level pickups don't just have blank plastic in place of the feature controls only found on top-of-the-line models. Instead, they get practical touches like an extra coin tray and a slot for holding toll receipts and whatnot.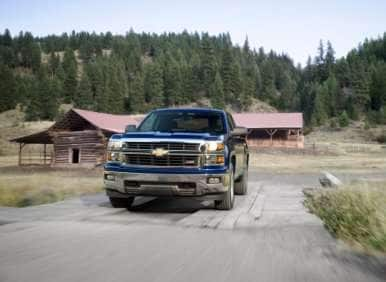 2014 GM Full-size Pickups: Innovations
Way back at the top of this story, I introduced the 2014 Chevy Silverado and 2014 GMC Sierra as "next-gen" pickups, but truck owners aren't going to see the same kind of revolutionary leap between the generations that has become so common on the car side of the business. But they will benefit from a plethora of incremental improvements that will push the pickup bar a few inches higher. Among them:
In-bed LED lighting to help load/unload after the sun goes down or with a tonneau cover in place
Steps integrated into the trucks' rear bumpers to help owners reach the bed
A new generation of Chevy MyLink and GMC IntelliLink connectivity/infotainment systems
Exclusive Duralife brake rotors that can last twice as long as conventional rotors while providing quieter stopping performance
The EZ Lift and Lower tailgate system, which relies on a torsion bar and dampers to make opening and closing the gate easier
A new 6'6" bed for crew cab trucks, offered in addition to the returning 5'8" box
Cutting-edge safety measures including forward-collision and lane-departure alerts, as well as a Driver Alert Seat that uses vibrations to reinforce the audible and visual warnings of the other safety systems
Larger rear doors on crew-cab models and new, front-hinged door on extended-cab trucks
A notably electronics-friendly interior that provides a 110-volt outlet, four 12-volt outlets, as many as five USB ports, an SD card reader and mobile WiFi capabilities