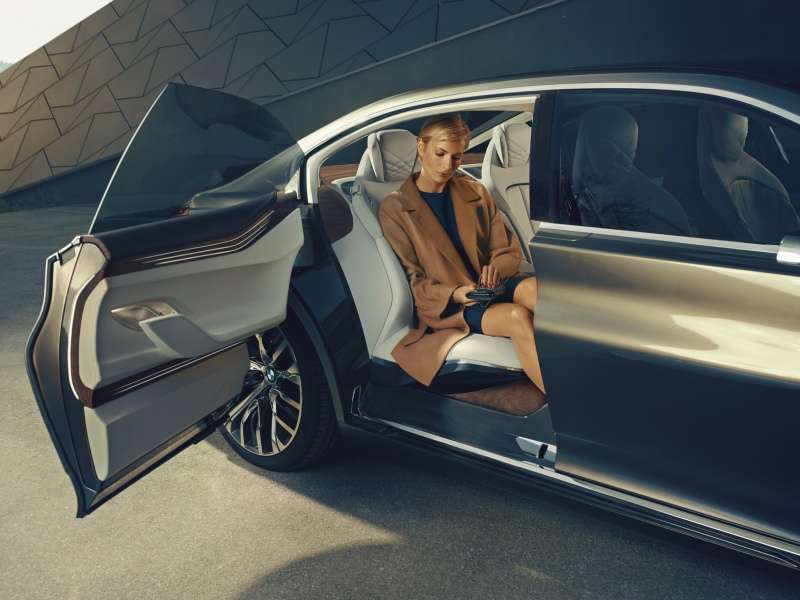 BMW chose the Beijing Auto Show this weekend to show off their Vision Future Luxury concept, which gives us a possible sneak peek into what's in store for the next flagship from the automaker. Why Beijing? Mostly likely it comes down to the rapidly growing luxury marketplace in China that made BMW realize that showing off this concept would be a good idea.
The Vision Future Luxury concept's design follows in the footsteps of the Gran Lusso Coupe that was shown at last year's Ville d'Este concours in Italy, but it's a bit more tame. The front end features a oversized kidney grille and slim headlights. Along the side are air breather apertures behind the front wheel wells, a distinctive shoulder line, and rear doors that are rear hinged. The back finishes up the design with a short decklid and wraparound taillights.
However, much of the focus on the the Vision Future Luxury is on the interior. Materials inside the cabin range from deep-pile silk carpeting to layered wood and aniline leather on the seats. The dashboard is completely void of buttons, and the driver looks at three integrated displays that make up the instrument panel. Back seat passengers sit in contoured seats and get their own retractable table and infotainment screen.
BMW doesn't list any details about what powers the Vision Future Luxury concept, but does say the concept is built on a lightweight platform that utilizes aluminum and carbon fiber.
"Innovative technology and modern luxury have always been an important part of BMW's brand DNA. We use visionary concept vehicles like the BMW Vision Future Luxury to show where we may be going with these themes in the future, and to give us new inspiration and motivation. The BMW Vision Future Luxury – with its innovative technologies and with meticulous precision and quality in every detail – takes our thinking on modern luxury a logical stage further," said Adrian van Hooydonk, Senior Vice President of BMW Group Design.