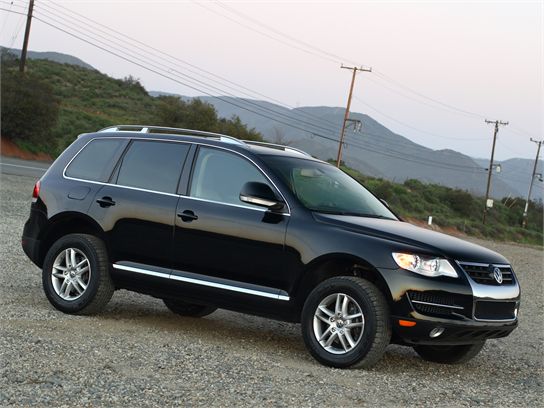 Vehicles with serious off-road capability have something of a reputation for handling like a wet dishrag on pavement, and that includes the Touareg's same-platform sibling, the Porsche Cayenne.
Volkswagen has managed to instill the little SUV with good road manners to match its off-pavement prowess. The nimble size doesn't hurt either. It's not perfect, there are some squeaks and rattles over imperfect pavement. Comfortable seats and ride, relatively low road and wind noise and good quality materials make the Touareg a vehicle that's easy to live with every day. What's not easy to live with is the price: $40,000, a lot of money for a vehicle even these days. In its defense it should be noted that there are other crossover SUVs that don't match the VW on or off road, aren't as comfortable a daily driver and that cost nearly as much. If price isn't your first consideration, the Touareg is worthy of a spot on your list.
Bob Beamesderfer MyRide.com Road Test Editor
The 2008 Volkswagen Touareg accomplishes what few other SUVs manage to do, balance utility and comfort without detrimentally sacrificing either. Whenever a manufacturer tries to merge off-road prowess with interior comfort, compromises are made, tilting the scale toward either performance or comfort, usually the latter. However VW has done a fine job of walking the line and producing a vehicle that should make everyone happy.
On the street the Touareg is torquey and zips through traffic with ease. Body roll is at a minimum, allowing the unibody SUV to careen around corners that would leave most other SUV drivers slowing to 15 mph. It will still leave your passengers queasy if you race it up a mountain road, but it does do a good job of keeping in its own lane within reason. Imperfections in the road are readily transmitted to the passenger cabin in the form of thumps and rattles, which were usually only heard, and seldom felt. 
The V-6 offers ample power and accelerates with ease. Unfortunately, the automatic transmission's shifts are slow and on more than one occasion, when backing off under hard acceleration just prior to a shift point, it took several seconds to decide if it should upshift or not, leaving the engine howling at high rpm.
While kicking up dust in the hills of the Angeles National Forest, the Touareg performed admirably. We were able to find spots that would cross up the suspension and caused the traction control to kick in, but unlike many utility vehicles that rely on applying brake pressure to the free spinning wheel to maintain traction where tires are touching the ground it did not become intrusive. In fact little compromise was made in the 4WD VW's abilities other than the use of unibody construction as opposed to a frame, a decision which has us wondering how well it will hold up over time if it ventures off-pavement frequently.
Inside, compromises are the lack of a navigation system, no power adjustments on the passenger seat and the lack of a latching mechanism for the center console, to name a few. On sticking point we found particularly annoying was the glare from the sun reflecting into our eyes when it came into the passenger cabin from over our left shoulder; inset the gauges instead of a flat display would alleviate this. These are all minor complaints, but ones that if addressed, would surely elevate the Touareg in our eyes.
Vernon Heywood MyRide Associate Editor