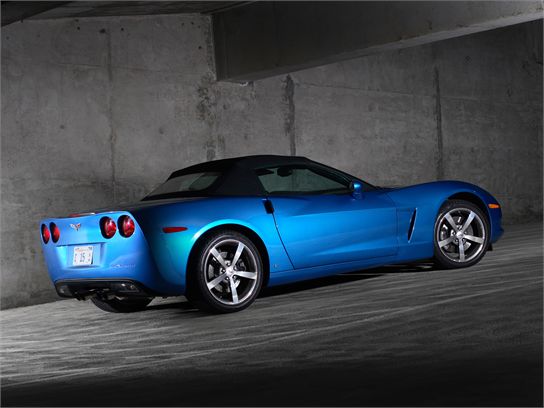 Being the son of an automotive journalist, my boy is a bit spoiled when it comes to the excitement of a new car. He's used to being picked up from school and climbing into a different car every other day, and he has been in quite a variety, from the most basic of compacts to $100K-plus luxury sedans, and has pretty much liked them all. But he's seven-years-old, so his requirements are simple: A DVD player, a nav system, and that it goes fast. That's not to say he doesn't know what he likes. The first car he could readily identify on his own without any prodding from dear old dad was a 1963 Split Window Chevrolet Corvette. Yeah, I say that with pride.
So, on this particular day, I was really looking forward to see the expression on his face as we walked from the school gate past the other parked cars in search of the auto du jour. As we neared a Jetstream Blue 2008 Chevrolet Corvette, his exact words were, "Cool a Corvette! How come you never get Corvettes at work, Dad?" After a pause and realizing we were running out of cars to choose from, his face lit up with a huge smile and he asked, "Is that our car today?"
That was pretty much the same reaction I had when I spotted the Corvette when it was delivered to our parking lot at work. That's the emotion a Corvette brings to anyone who knows what four tires and a steering wheel are for. It promises fun, performance, open road freedom, look-at-me styling, and the 'Vette doesn't balk on any of them.
Every boy who walked by the Vette had to make a deliberate effort to avoid walking into the chain link fence along the sidewalk as they gawked at the curvaceous Chevy. Pretty girls, young and old, smiled at us; no wonder so many mid-life crisis victims fall under the Corvette's seductive spell. With the top down and the rumble of the 430 horsepower engine we were off. Two guys out for fun and adventure in the California sunshine...to the optometrist's office. OK, it's not carving canyons in Malibu, but even an eye appointment is fun in this car.
Acceleration is rocket fast, bringing you to Ticket Town faster than you can say jelly donut. Braking is just as superb enabling you to stop quickly, before you interrupt the sheriff of Ticket Town from enjoying his own raspberry filled pastry. The Vette's traction control makes sure every ounce of power is transmitted to the road in an effort to launch the car forward instead of turning rubber into a useless – but juvenilely entertaining – cloud of smoke. The transmission is smooth and reacts quickly, especially when a stomp of the go pedal tells it a downshift is necessary.
Straight line acceleration is fun, but to really enjoy the Corvette's full capabilities you have to pitch it hard into a series of turns. The steering is responsive, providing plenty of feedback to the driver at the wheel. As it attacks fast corners with the same ease most cars handle a long freeway sweeper, you begin to realize this car is capable of handling feats many drivers don't have the nerve – or skill – to try.
The interior is nice, with seats that hold you in place as you watch the g-force gauge rise while winding around corners. All the switches are within reach, but a little hunting is required until they are all found and memorized—especially the switch for raising and lowering the top. The head up display is neat, but is washed out in the daylight which is disappointing as it is the only place you are given an indication for what gear you are in. Navigation is rendered useless with the top down as my son was quick to point out. "Dad, can we put the top up on the way back so I can see the map?"  
But these are minor complaints. I have the top's switch location memorized and if you're driving a sports car, the sound of the engine tells you whether you need to shift up or down, not a luminescent numeral on a dashboard. All things I could definitely live with, because this is a car designed for one purpose, to make its occupants smile, and the only thing that could make that smile go away would be handing the key fob over to the next driver. So smile we did, eating up every moment as we enjoyed our turn with the original American sports car. So much so, my son never asked, "Where's the DVD player?"
Vernon Heywood MyRide Associate Editor
With the long work day over, sometimes the last thing I want to do is spend my evening evaluating a test car. Sure I'm always excited about the opportunity, but there are times when chilling out on the couch with my dog sounds much more enjoyable. It just happened to be one of those nights when I got the keys to our 2008 Chevy Corvette Convertible tester. What a dilemma – sack out at home to my heart's content or suck it up and stretch the legs of a 430-horsepower sports car.
After rushing home to let the dog out and chucking some food in her dish, I made tracks for the highway before the sun set. With the top down, the seats heated and the radar detector plugged in, the 'Vette and I cruised from Orange County toward San Diego. En route to I-405, I found the ride to be comfortable around town and the revised steering a lot less clunky than in previous models. The extra 30 horsepower are definitely welcome, but with 400 ponies on tap to begin with I failed to notice a big difference in the 6.2-liter V-8's output. Consider it a move from "more power than you'll ever need" to "even more power than you'll ever need." The six-speed automatic is usually smooth in its operation, but when you drop the hammer there's a rather abrupt downshift as the engine opens the corral and the rear tires hook up. Having your necked snapped never felt so good. Along with the auto gearbox come paddle shifters that are quick to react and within easy reach for drivers with short fingers. Drivers of all shapes and sizes will like the leather-wrapped steering wheel, the supportive and well-bolstered seats, the large padded center armrest, and if they get a model equipped like ours, a fully-trimmed leather interior with the Corvette name stitched into the passenger's side dash. If you're looking for the cheap Corvette cabin of old, you'll need to take your search elsewhere.
As you can probably surmise, my few hours with the iconic Chevy were spent mostly in town and driving along the coast. I didn't hit the track, didn't go drifting in an abandoned parking lot, and didn't race every young punk in a ratted-out Honda Civic. Instead, I simply enjoyed the ride, and except for one little unintentional mishap with a right-foot spasm that had the 'Vette's heads-up display reading triple digits, there were no exciting events on which to report. Unless you consider discovering admirable top-up visibility an exciting event, that is. And aside from the performance it packs, that's what makes the Corvette such a great car. It's comfortable and practical enough to legitimately serve as a daily driver, yet its 430 horses are ready to gallop at a moment's notice. Factor in the 'Vette's sub-$50,000 starting price (for the coupe), and you've got the makings for one heck of a bargain.
By Thom Blackett MyRide.com Senior Road Test Editor