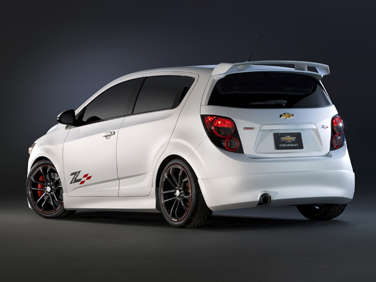 The annual aftermarket blowout known as the SEMA show is set to open on November 1, and GM's choice of lead vehicle for the event is none other than the all-new Chevy Sonic. It's an interesting choice, because SEMA usually lives up to its Las Vegas setting by putting the spotlight on wildly garish style and insane power upgrades, neither of which—at first glance—seems to be at all related to the General's new subcompact. Although the Sonic was introduced with the requisite nod to having some kind of sporting aspirations, the car originally was hyped more for its increased fuel efficiency (and quality) as compared to its Aveo predecessor than for its potential as an enthusiast's car.
But as a symbol of how much the market has changed this summer, GM's press release for the Sonic's SEMA debut doesn't even have the words "fuel efficiency" in it, and there's nary a mention of its ability to deliver 40 mpg highway. Now, Chevy isn't the first brand to bring a high-efficiency small-car to the event—even hybrids like the Toyota Prius and, more expectedly, the Honda CR-Z have been tuned for SEMA in the past. The difference is that these kinds of vehicles usually get at least some kind of boilerplate copy that explicitly reminds folks of their fuel-friendly roots.
As mentioned, Chevy skips that angle entirely, instead pointing out that the Sonic is available with the only turbocharged engine in its segment. And while that's certainly the case, you have to remember that the primary motivation for forced induction on the Sonic, as well as the Chevy Cruze, was to boost EPA numbers. Thus, you'll note that the former's 40 mpg highway mark, as well as the latter's segment-leading 42 mpg in its Eco configuration, are achieved with the same turbocharged 1.4-liter engine.
Chevy's shift in positioning for the Sonic's SEMA appearance is a pretty canny move, though, because it plays right into customers' continuing shift in demand away from fuel-efficiency and toward the more typical SEMA-esque attributes.
2011 Customer Preferences: Year to Date
Some recent data from CNW Research—a noted industry follower—puts some numbers on what's been happening with customer demand. The company has been tracking the vehicle attributes that buyers consider most important when it comes to purchasing a new ride, and using year-to-date numbers, we can see that, more and more, what they want is what gets in the spotlight at SEMA.
For example, getting right down to the nitty-gritty, "Higher horsepower" jumped up by 17.38 percent and moved from being the 31st highest-ranked attribute to the 25th spot. That percentage increase is particularly eye-catching because only 10 attributes increased their popularity by double digits, and only four saw a bigger jump: "iPod/MP3 link," +31.75 percent; "Cellular phone/OnStar or similar," +26.21 percent; "Spoiler," +18.9 percent; and "Wood or wood-like trim (interior)," +24.87 percent.
Cherry-picking some of the numbers, other SEMA-type attributes that have seen notable increases in attractiveness to customers include "Handling and performance," +6.26 percent; "Cast alloy or special wheels," +3.66 percent; "Entertainment center," +12.23 percent; "Sport or handling suspension," +13.34 percent; "Sunroof/moonroof," +11.14 percent; "Four- or all-wheel-drive," +5.13 percent; and, naturally, "Chrome exterior trim/accents," +10.88 percent.
Conversely, while "Environmental design/engineering" and "Hybrid gas-electric powerplant" moved up by 8.29 percent and 6.11 percent, respectively, "Overall fuel economy" actually fell by 3.6 percent.
Also particularly surprising, while "Low monthly payments" became slightly (+.1 percent) more important, as did "Low down payment" (+.45 percent), all other economics-oriented metrics became less critical to the purchase decision. Take a look at these numbers: "Low price compared to competition," -.79 percent; "Resale value," -2.47 percent; Low sticker price or MSRP," -4.35 percent; and "Low APR," -13.79 percent. In fact, "Low APR" saw the biggest decline among any of the attributes except "GPS," interest in which fell by 18.86 percent.
So, What About the Sonic at SEMA?
For Chevy, the story goes a bit like this: Coming out of the global automotive meltdown—and its own bankruptcy—GM put significant resources into creating the kind of fuel-efficient small subcompact that was supposed to be part of a new, greener approach to the auto industry. But by the time the Sonic went on sale, much of that "green" focus had become fairly diffuse, especially among customers. The solution? Reposition said car to meet current (true?) U.S. customer preferences, starting by leveraging the ne plus ultra of mainstream American automotive excess—SEMA—as the springboard.
Well played, Chevy, well played.