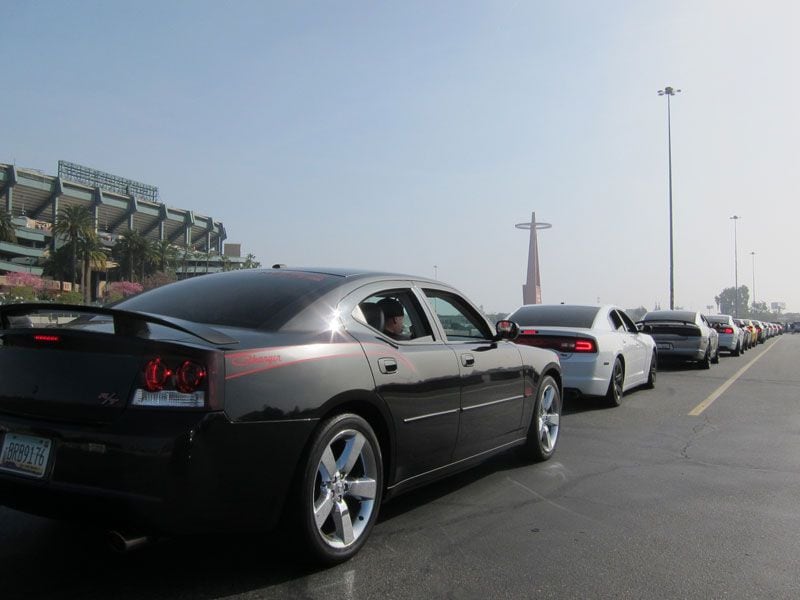 The Best of Chrysler and Dodge American Muscle at 2017 Spring Festival - Challenger ・ Photo by Scott Oldham
The annual grassroots celebration of full-size Chrysler and Dodge vehicles is only getting bigger and better. What started as a small community of online Chrysler and Dodge "LX" owners and forum users, has grown into one of the largest "viral" automotive owner events in the country. LX was the original vehicle platform code for Chrysler 300, Dodge Charger, Dodge Magnum and Dodge Challenger. The event, now a 3-day happening, has become a homecoming for the owners, giving them a chance meet face to face and celebrate the cars they love. 
This year, the 12th Annual Spring Festival of LXs took place in the parking lot of Angel Stadium in Anaheim, California, for the second year in a row. It was the largest ever, attracting 1,500 cars and 4,000 people from 22 states and Canada. The line to get in stretched around the stadium.
Beautiful blue skies greeted participants to Southern California, including large groups from Arizona, Texas and Northern California. People brought cars from as far away as Massachusetts and New Jersey.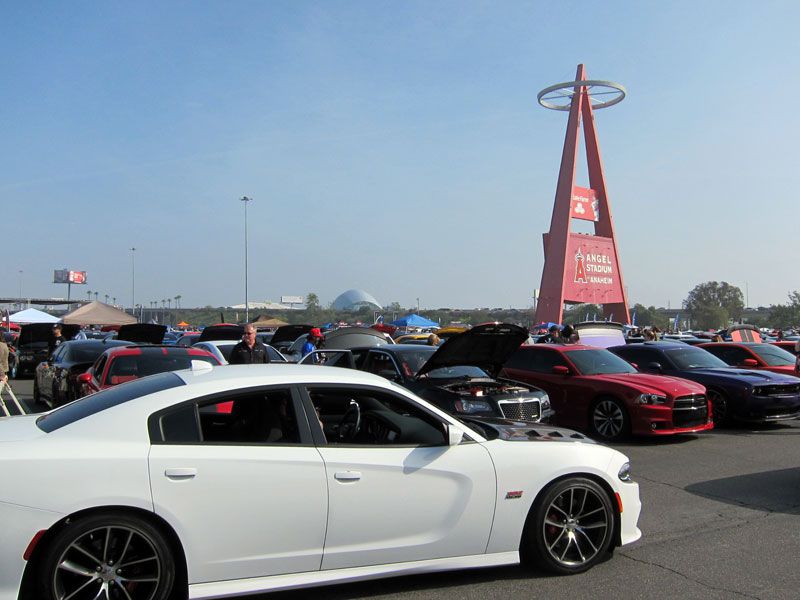 Photo by Scott Oldham
After outgrowing three other venues around Southern California, organizer John Fortuno, with the unwavering support of FCA and its executives and communications team, has found a wonderful location for the event. Angel Stadium in Anaheim is one of the most beautiful ballparks in the country and its parking lot can handle as many vehicles as Fortuno could ever hope to gather. Plus, Disneyland is just down the street.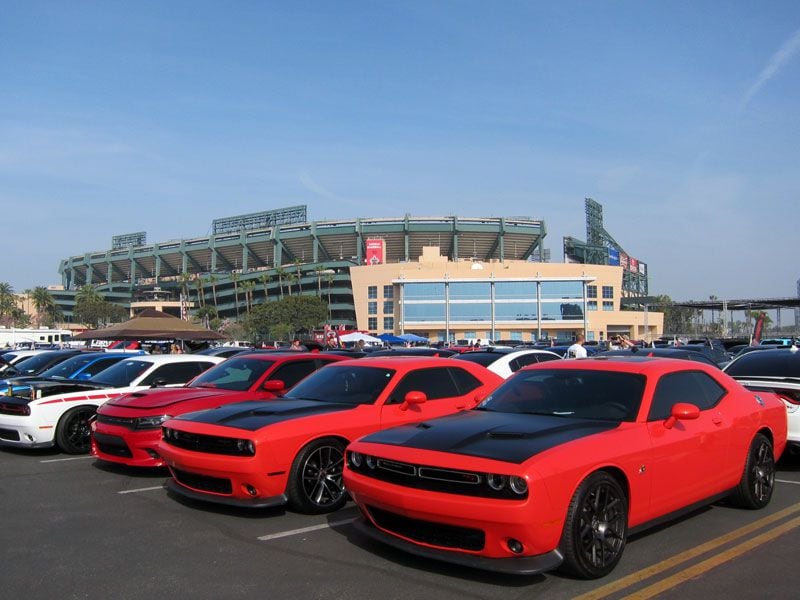 Photo by Scott Oldham
More than two dozen car clubs from around the country come out every March to support the event and the enthusiasm club members have for these cars.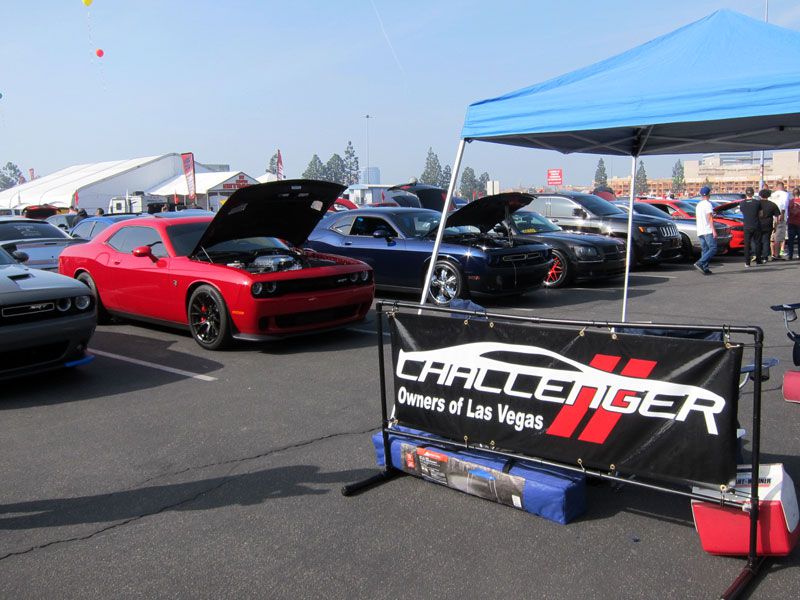 Photo by Scott Oldham
You see a little bit of anything and everything at the SoCalLX Spring Festival, from stone stock cars to heavily modified machines to this Dodge Challenger SRT8 with Lamborghini-style doors.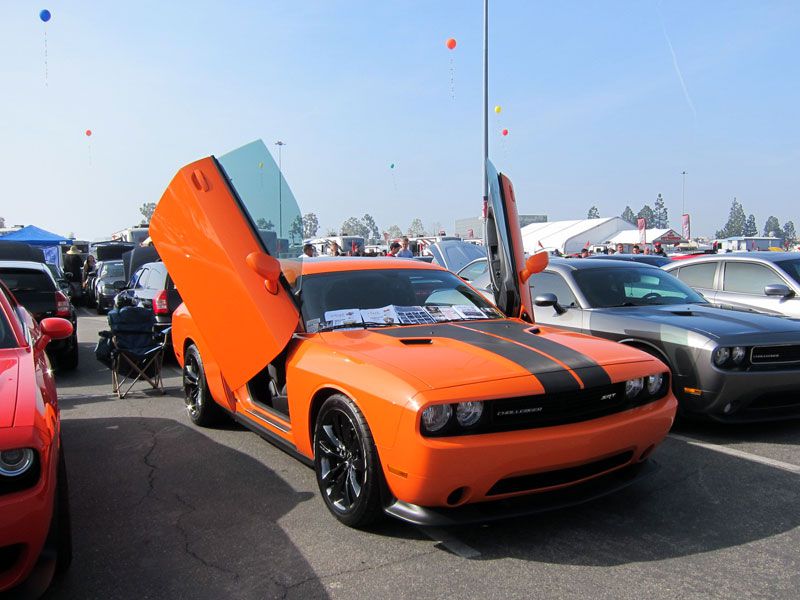 Photo by Scott Oldham
Sold from 2005 to 2008, the rear-wheel drive Dodge Magnum wagon was one of the original LX-platform vehicles, along with the Dodge Charger and Chrysler 300 sedans. The Challenger coupe would come later. This lowered, but otherwise stock, Magnum SRT drew a crowd all day.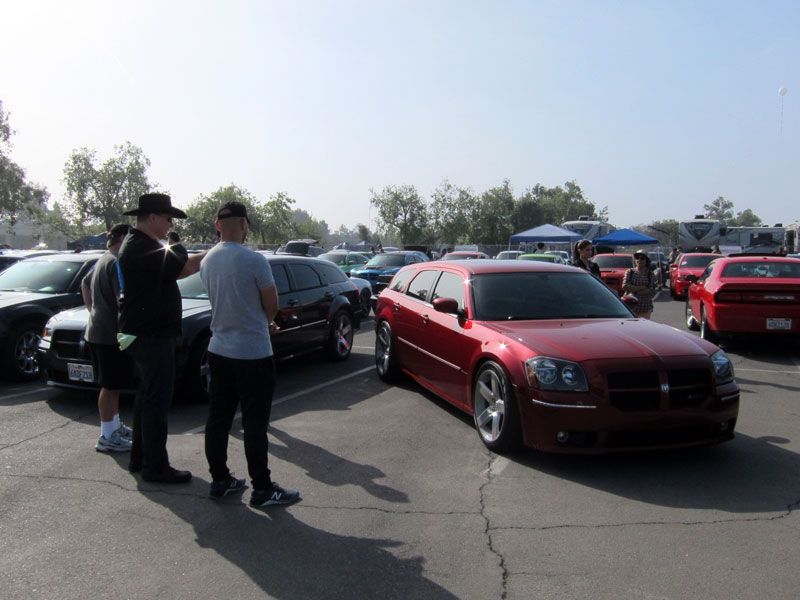 Photo by Scott Oldham
As expected, Dodge's 707-hp Hellcat Chargers and Challengers were well represented this year. This Challenger Hellcat owner proudly displayed his supercharged Hemi V8, but asked onlookers not to pet his kitty. We didn't dare.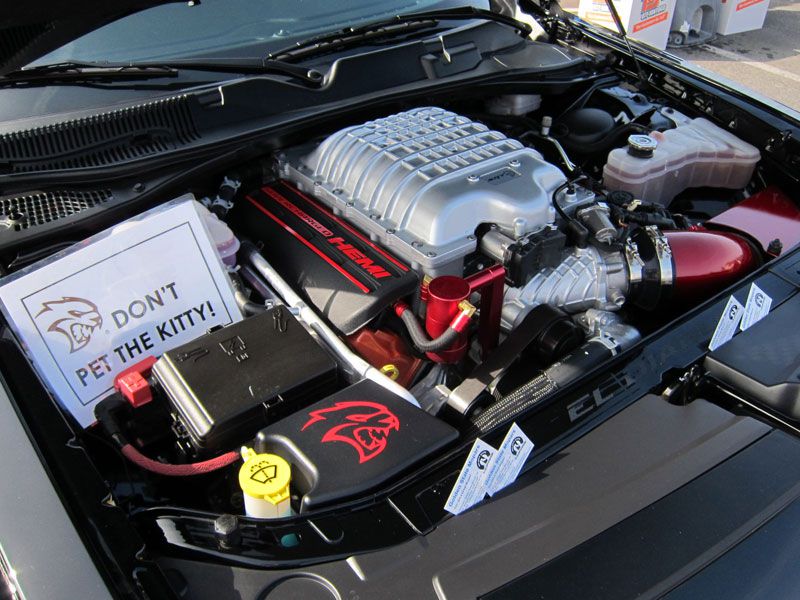 Photo by Scott Oldham
Not every Magnum at the event was near stock. This Hemi-powered Magnum from Southern California was a full custom with modifications to its engine, suspension, brakes, body, and interior.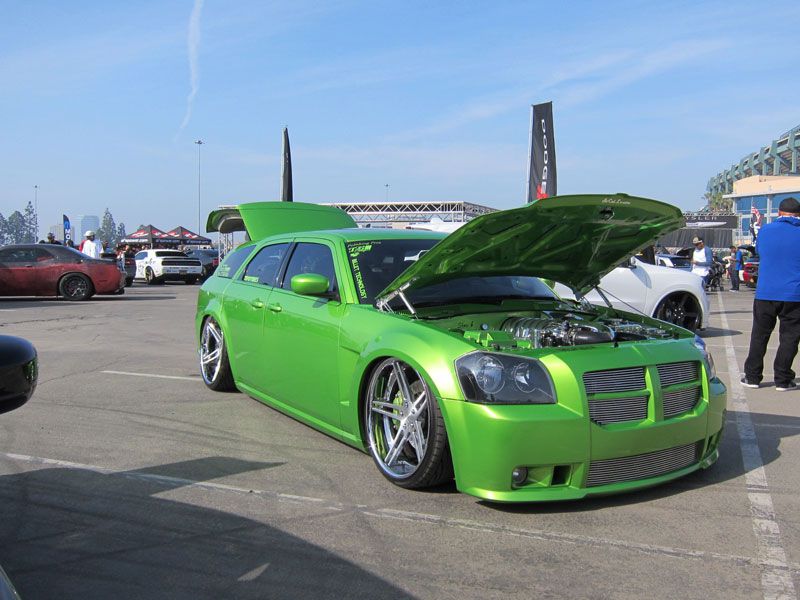 Photo by Scott Oldham
We spotted two Sublime Green Challengers with Hulk-themed vanity plates. One read HULK SRT and this one, SRT HULK. This guy, however, took it a step further and brought out his action figure.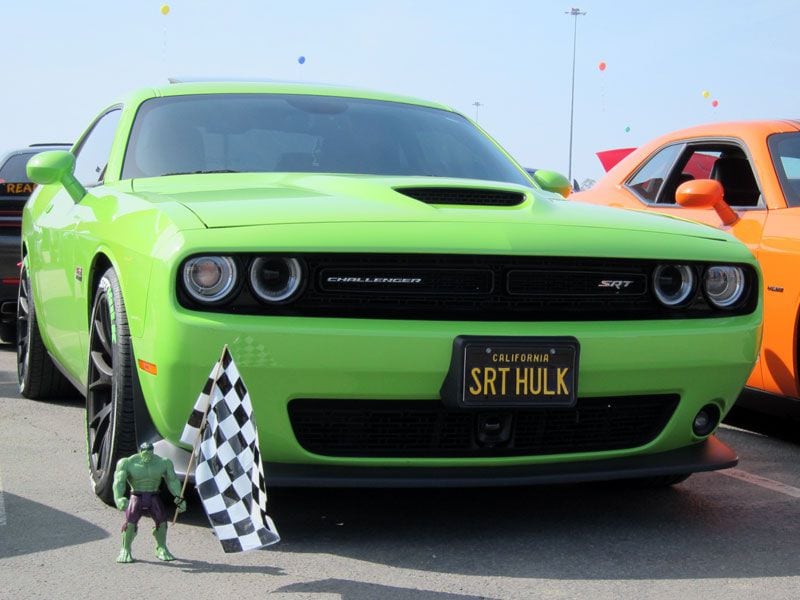 Photo by Scott Oldham
Also welcome into the extended family of LX vehicles is the Jeep Grand Cherokee, which was well represented at this year's event. This mild custom, with a lowered suspension and oversized body-color wheels and fat tires, was a hit.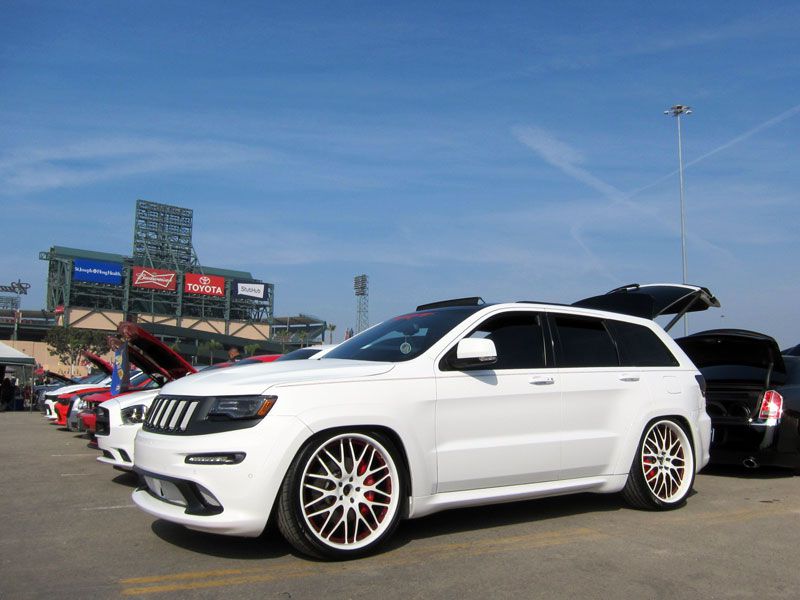 Photo by Scott Oldham
This Star Wars fan combined his two loves into one memorable display. His white and black seventh-generation Hemi-powered Dodge Charger was the only Stormtrooper-themed ride at the event.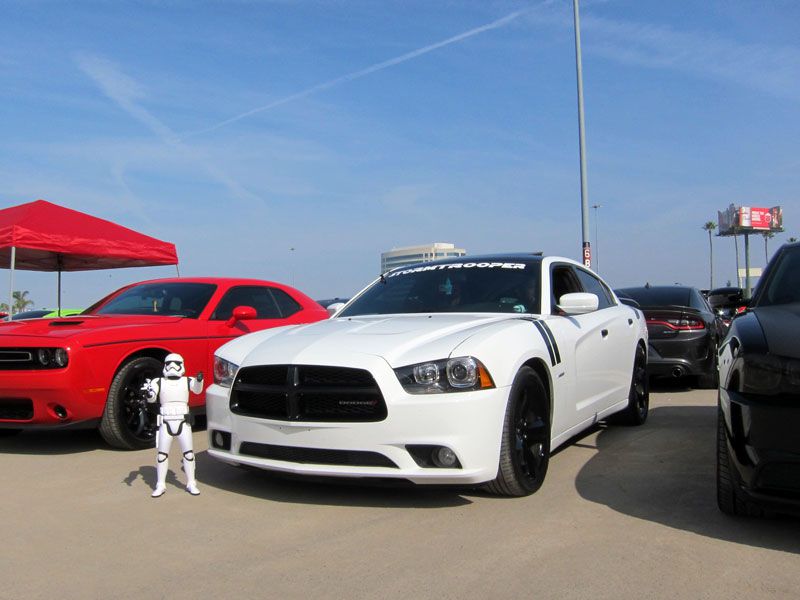 Photo by Scott Oldham