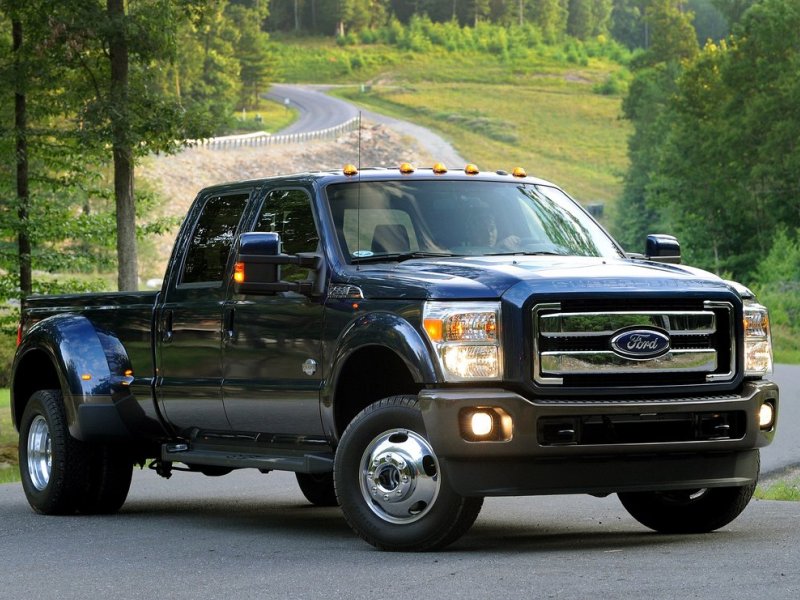 If you're seriously considering one of the best dually trucks, you must have some exceptionally heavy hauling to do. We're talking the need to tow in excess of 20,000 pounds and transport payloads in the 7,000-pound range. Truth be told, if we're talking consumer issue rather than commercial, there are but five models on the market capable of stepping up to the plate and cracking off a solid hit here. Well, actually four, as two of them are virtual clones of one another. Thing is, with so few models to choose from, the competition here is as heavy as the loads they are designed to master. And further, brand loyalty in this arena is huge. If you think the Mac vs. PC thing is contentious, get into a conversation with true truck people about the best dually trucks. A word of advice; be prepared to do more listening than talking.
Chevrolet Silverado 3500HD
A new bull in the pen, Chevrolet's Silverado 3500HD is fresh off a redesign, and the folks at Chevy pulled out all the stops. You'll find new high quality cabin décor, huge touchscreens for infotainment functions, handsfree functionality where appropriately applied, a raft of cutting edge safety features and something else – remarkably low levels of noise, vibration, and harshness. Three cab styles are offered with dual-rear-wheel configurations, all of which pair with eight-foot beds. Power comes from a choice of two engines. The 360-horsepower, 6.0-liter gasoline-fired V8 makes 380 ft-lbs of torque and uses a six-speed automatic transmission. The 397-horsepower, 6.6-liter turbodiesel makes 765 ft-lbs of torque, which is fed through a more robust version of the six-speed. Four-wheel drive is offered with both (or in this case, six-wheel drive). Silverado 3500HD dually trucks max out at 7,180 pounds of payload and 23,200 pounds of trailer. Pricing starts at $35,355.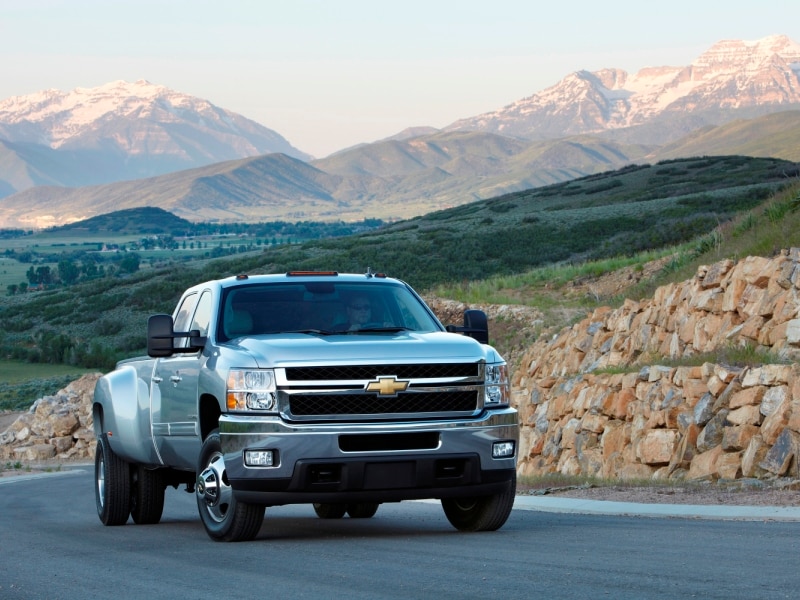 Ford F-350 Super Duty
For the 2015 model year, Ford engineers reworked the F-350's 6.7-liter turbodiesel; getting it to crank out 440 horsepower and an absolutely awe-inspiring 860 ft-lbs of torque. With this engine and fifth-wheel gear in place, the F-350 Super Duty dually will let you pull 26,500 pounds of trailer. Three cab designs are offered with the dual-rear-wheel axle and you'll get the eight-foot long bed with all of them. The F-350 Super Duty uses a 6.2-liter gasoline-fired engine as its base powerplant, making 385 horsepower and 405 ft-lbs of torque. Four-wheel drive is offered as an option with both engines. Both also use six-speed automatic transmissions – the diesel's being suitably reinforced. While F-350's interior lags a bit behind the Chevy, GMC, and Ram's, this is largely a factor of age. It'll catch up when the all-new F-350 arrives (probably in 2017) reflecting the redesigned 2015 F-150's. Dually pricing starts at $33,910.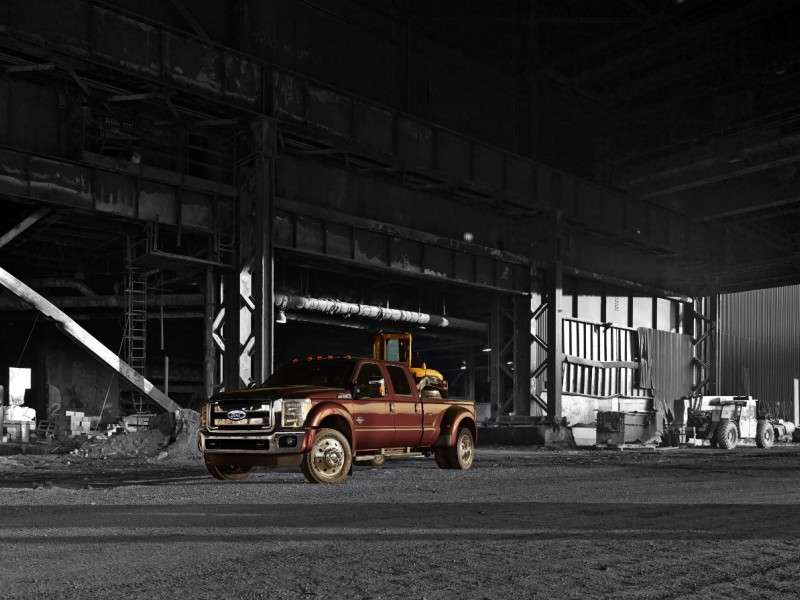 Ford F-450 Super Duty
Going into the 2015 model year, Ford's engineering team has reworked the suspension system and upgraded the engine to boost the F-450 Super Duty's towing capacity to 31,200 pounds. Dearborn's big brawler is also one serious hauler, boasting a potential payload of 7,260 pounds. As far as cabs, beds, and powertrains go, you got one choice of each. The four-door crew cab is paired with an eight-foot cargo bed, four-wheel drive, dual rear wheels, and Ford's earth moving 6.7-liter turbodiesel, which is good for 440 horsepower and 860 ft-lbs of torque. Engine exhaust braking is standard equipment to help the F-450 keep those massive loads in check on downgrades. A six-speed transmission and a limited-slip diff complete the powertrain. Keep in mind though; this Ford is a big baller shot caller world-class maxi-mass hauler. You're looking at 22 feet in length and 9 feet of width. Pricing starts at $52,484.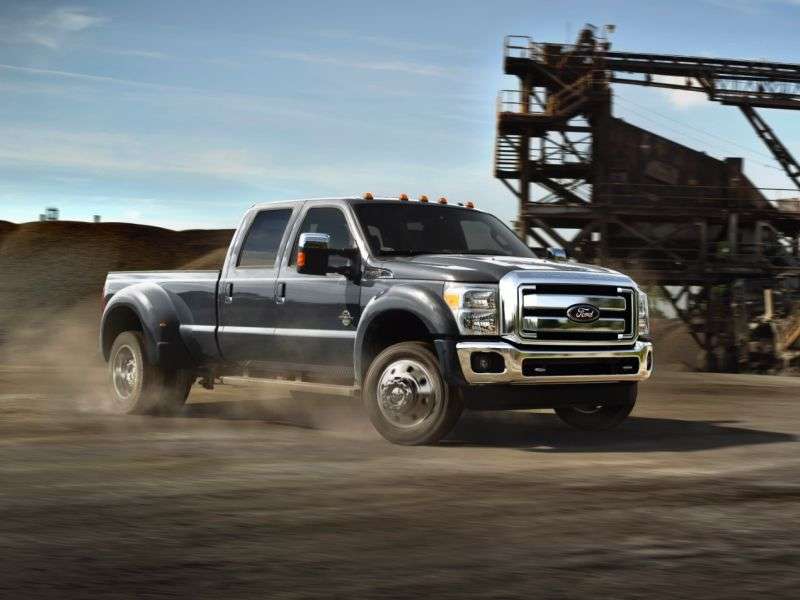 GMC Sierra 3500HD
All new for the 2015 model year, GMC's Sierra 3500HD pickup truck is as close as it gets to state of the art dually these days. We're talking strong capability, easy handling (for what it is), luxuriously refined interior treatments, and cutting-edge safety features. Three cab styles (regular, double, and crew) are offered with an eight-foot bed in dually configuration. Power comes from a choice of two engines. The gasoline powerplant displaces 6.0-liters to deliver 360 horsepower and 380 ft-lbs of torque. The turbodiesel gets 397 horsepower and 765 ft-lbs of torque out of 6.6 liters. Both are teamed with six-speed automatic transmissions – the diesel's gearbox being more robust to handle the additional torque. Four-wheel drive is offered as an option with both engines. With a fifth wheel, Sierra 3500HD is up to towing 23,200 pounds. Maximum payload is 7,180 pounds. The GMC Sierra 3500HD dually's pricing starts at $35,921.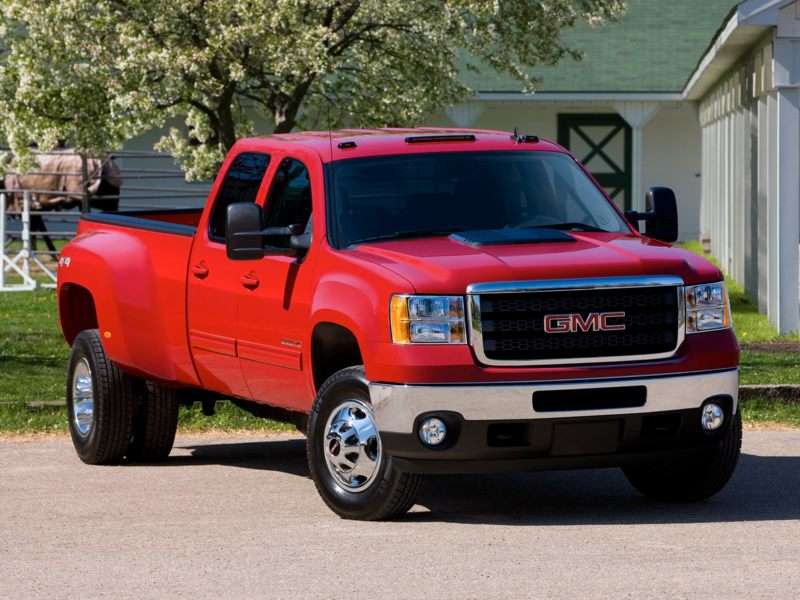 Ram 3500HD
If you're looking to get it all; outstanding towing and hauling capacity, refined ride quality, and a nice interior treatment, the undisputed 3500 series heavy duty dually pickup truck class leader in every one of those categories is the 2015 Ram 3500HD. Let's start with towing capacity; 30,000 pounds dwarfs the Chevy, Ford, and GMC offerings in this category. Further, the 7,390-pound payload potential means you could actually haul one of those other trucks in the Ram's cargo bed (if it'd fit). Further, the Ram is the only truck in the class to offer a six-speed manual transmission. The three engines range from 400 ft-lbs of torque with gasoline power, to a best in class 865 ft-lbs of torque with diesel. Yes, four-wheel drive is offered too. Did we also mention the load leveling rear air suspension system, exceptionally quiet operation, comfortable ride, and confident handling? Pricing starts at $34,225.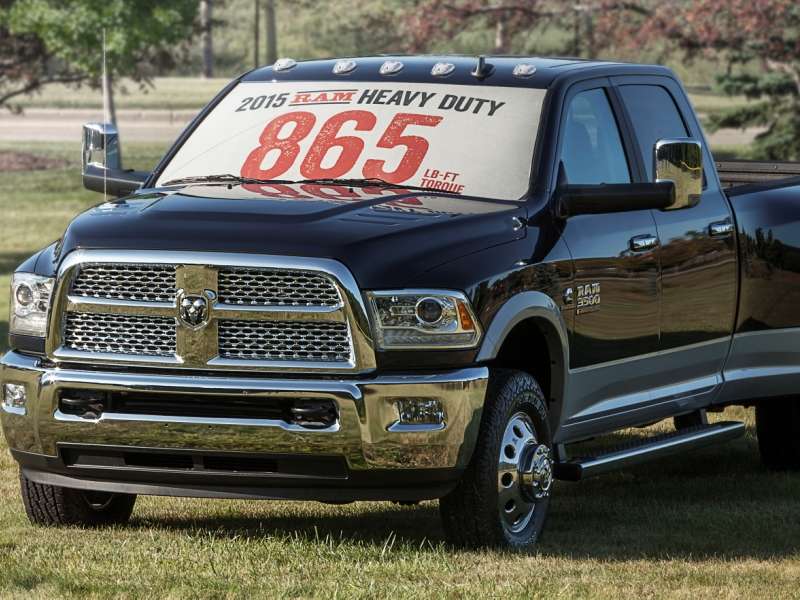 Conclusion
As we said at the top of this post, brand loyalty runs exceptionally strong when you start talking about heavy-duty pickup trucks. Well, actually, pickup trucks in general (as Nissan and Toyota have discovered). Americans love pickup trucks, and within that universe, for the most part, a Ford person is a Ford person, a Chevy person is a Chevy person, and so on and so on and so on. If you're feeling a bit bummed because we've pronounced the Ram 3500HD dually the best of the best dually trucks in the 3500 series category, don't despair. As competitive as this segment is, your truck's turn will be coming soon, just be patient. Until then, if you're someone who doesn't care one whit about comfort or the logo on your truck's tailgate – you just want the most capability you can get – Ford's F-450 Super Duty is the one to beat overall.