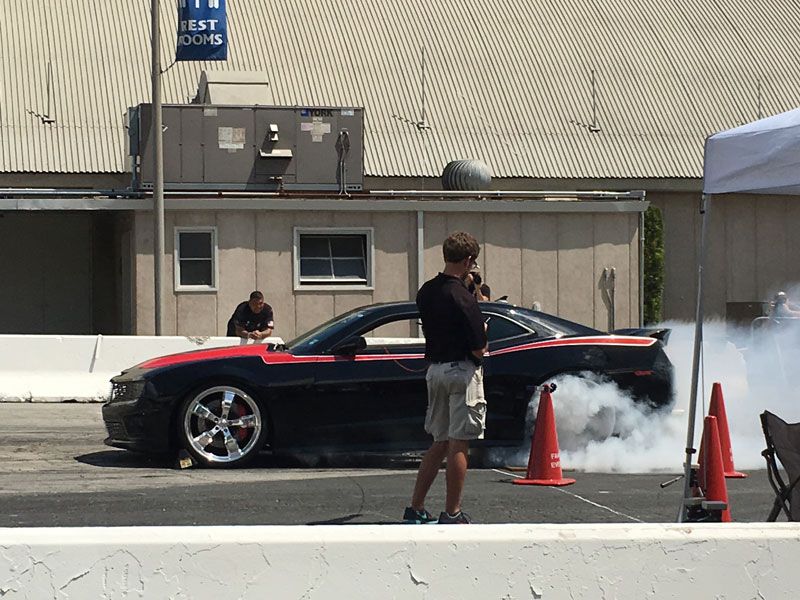 2017 Street Machine and Muscle Car Nationals - page 42 ・ Photo by Scott Oldham
Just pulling into the parking lot of the Street Machine and Muscle Car Nationals gets my adrenaline pumping. There are cool cars everywhere and I can hear the angry roar of high-performance engines and screeching tires from the autocross course.
The event is a two-day festival of horsepower. It's open to any type or year of vehicle. The car just has to be cool. It's a great opportunity for the owners of these machines to meet up and celebrate the cars they love. And the fans of modern muscle cars came out enforce to show off their new Camaros, Mustangs, Challengers, Chargers and Corvettes, as well as compete in the autocross, dyno and burnout contests.  
This year, the fourth annual event took place at the Fairplex in Pomona, California, home of NHRA (National Hot Rod Association) drag racing since the 1950s and the Wally Parks NHRA Motorsports Museum. And it was huge, attracting cars and enthusiasts from all over the country, including the east coast. Everyone had a blast.
The Anderson Composites booth
Many aftermarket parts manufacturers brought out cool cars and displayed their products. The Anderson Composites booth was one of the best. This Southern California company has made a name for itself making lightweight composite and carbon fiber products for all modern muscle cars, and brought out a couple of new 5.0-liter Mustangs and a Corvette Z06 to draw attention. They also ran the Corvette through the autocross course.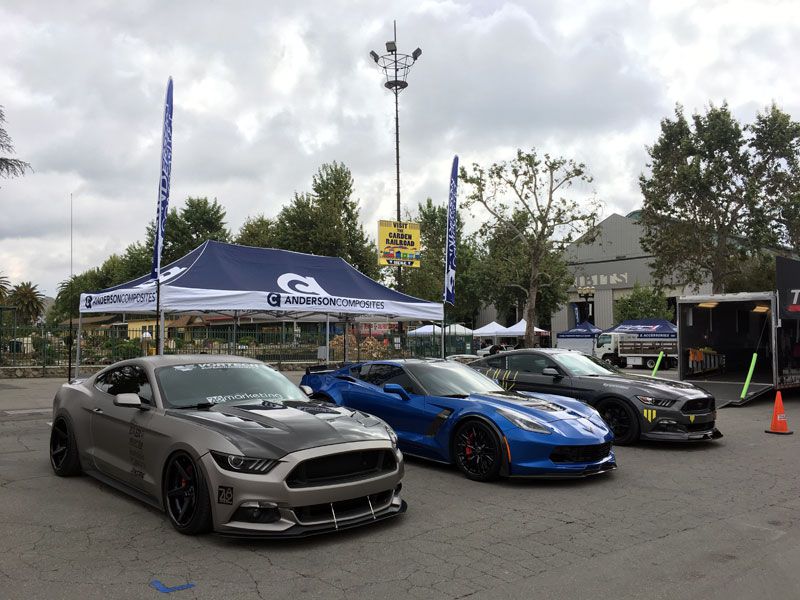 Photo by Scott Oldham
Modified Boss 302 Mustang and 1965 Corvette
Although Saturday started a bit cloudy and cool, by lunch the California sun was shining and it stuck around for the rest of the weekend. The crowd around the autocross course was deep and the grandstand was forever full. This heavily modified Boss 302 Mustang with enormous rear spoiler and that orange 1965 Corvette, which was powered by a modern Corvette LS6 engine, were fast crowd favorites.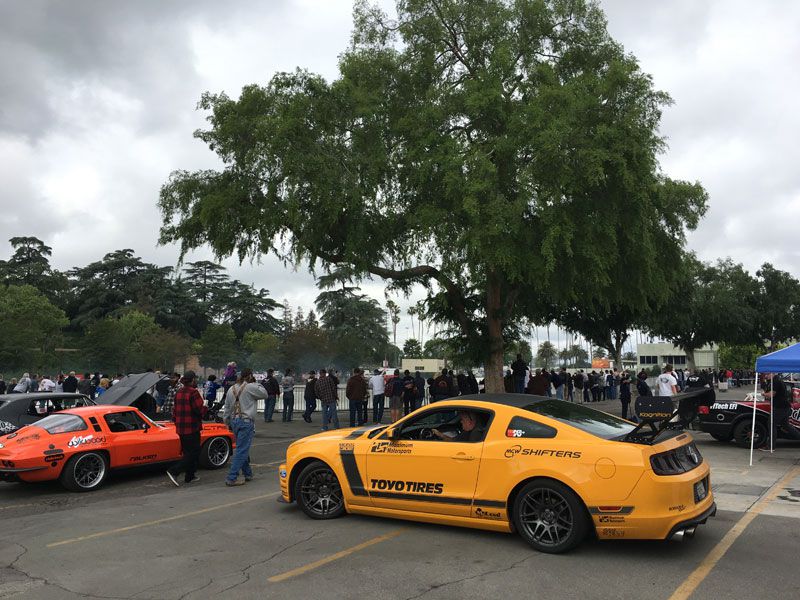 Photo by Scott Oldham
Camaro SS on the autocross course
The autocross course was short but challenging. Participants were allowed to make as many runs as they desired or as many as their tires could live through. Quick runs were in the 27-second range. The quickest time we saw recorded was a 26.022 second run by a heavily modified older Chevy Nova. This silver Camaro SS was consistently quick.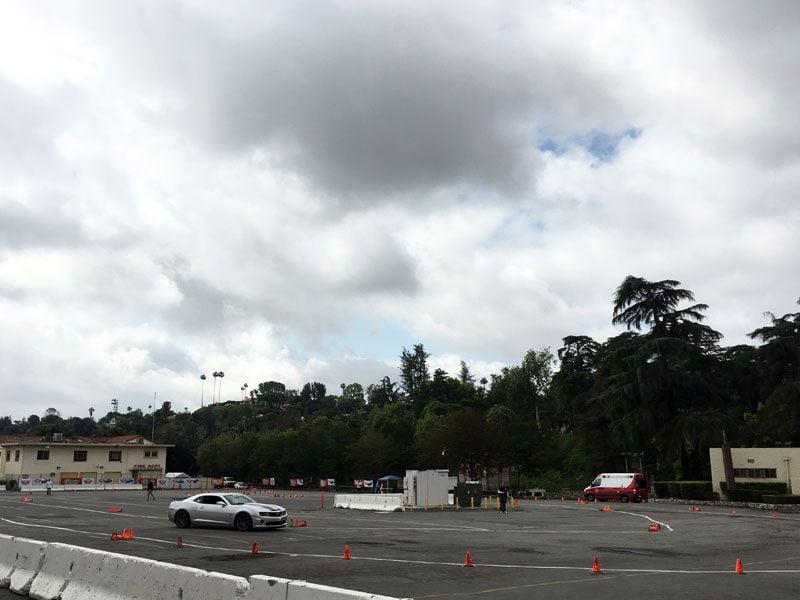 Photo by Scott Oldham
The more grip you have, the faster you go.
Vanity license plates were everywhere. Some were funny. Some described the vehicle's engine size. I found this one at the autocross. It was one of my favorites. The more grip you have the faster you go.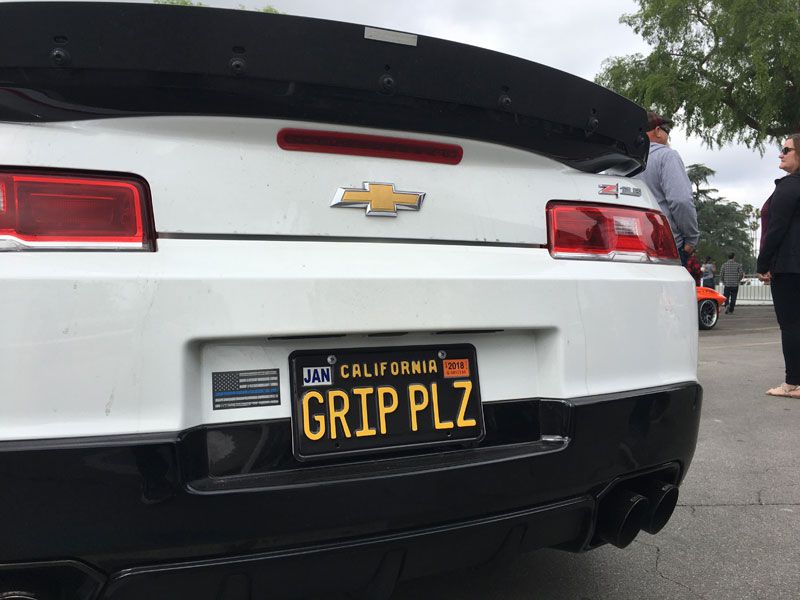 Photo by Scott Oldham
Camaro Z28s
Camaro Z28s have been special since 1967, but the most recent Z28 (sold in 2014 and 2015) are the best. More than 300 lbs lighter than a ZL1, these cars are powered by a 505 hp 7.0-lier V8 mated to a 6-speed manual transmission. Unique suspension and 19-inch wheels and tires are also part of the package. They are the best performing Z28s ever produced and there were several, including this slightly modified example, competing in the autocross competition.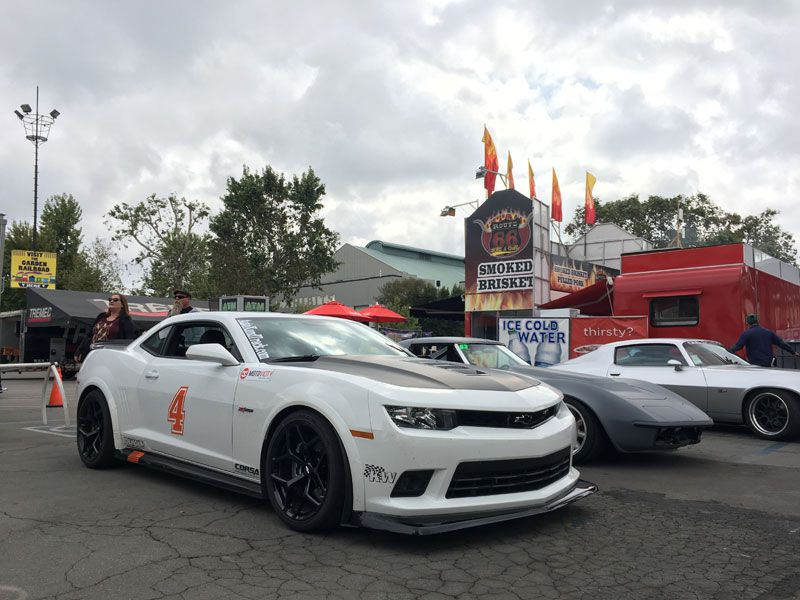 Photo by Scott Oldham
2017 Camaro ZL1
Meaner still is the just released 2017 Camaro ZL1, which is the fastest and most powerful Camaro Chevy has ever made. It's available as a coupe or convertible, and it's powered by a 650-hp supercharged 6.2-liter V8. This one sounded great, and was ripping up the autocross course all day.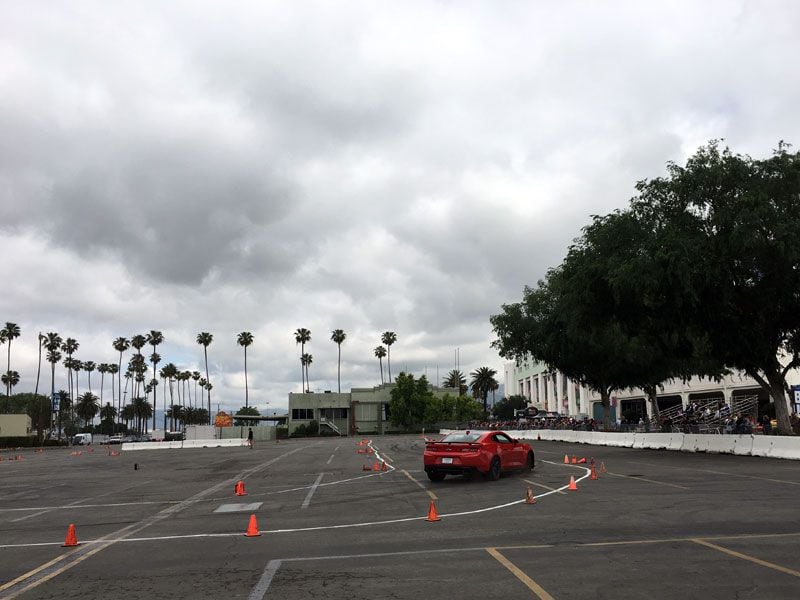 Photo by Scott Oldham
Modified 5th Generation Camaro SS
Some buy it, others build it. This modified fifth-generation Camaro SS was keeping up with the new more powerful versions of the muscle car thanks to aftermarket suspension parts and impressive driving. It sat lower than stock and wore very sticky tires.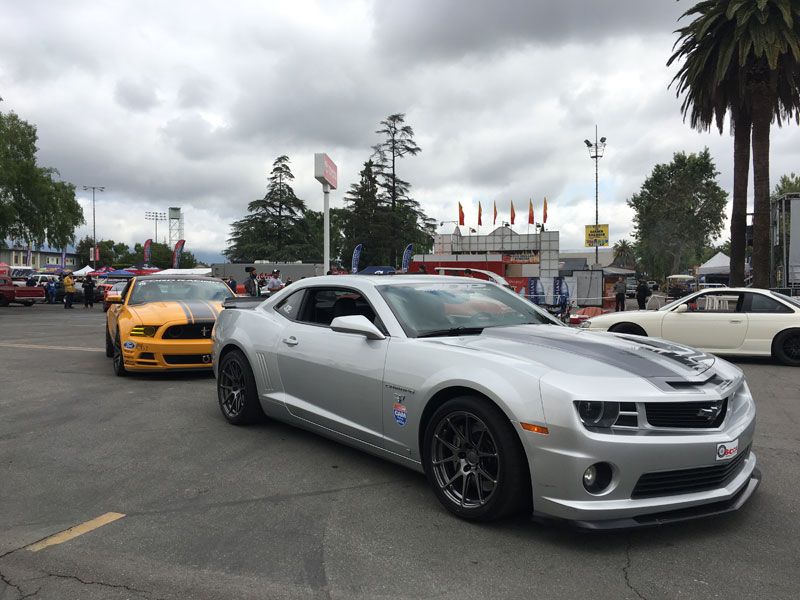 Photo by Scott Oldham
5th Generation Camaro SS 1LE
Another killer Camaro SS on the autocross was this stock looking fifth-generation 1LE. You can always tell a 1LE by its blacked-out hood. These cars combine the better-handling suspension of the supercharged ZL1 Camaro with the normally aspirated V8 of the SS. Some think this is the greatest Camaro ever made.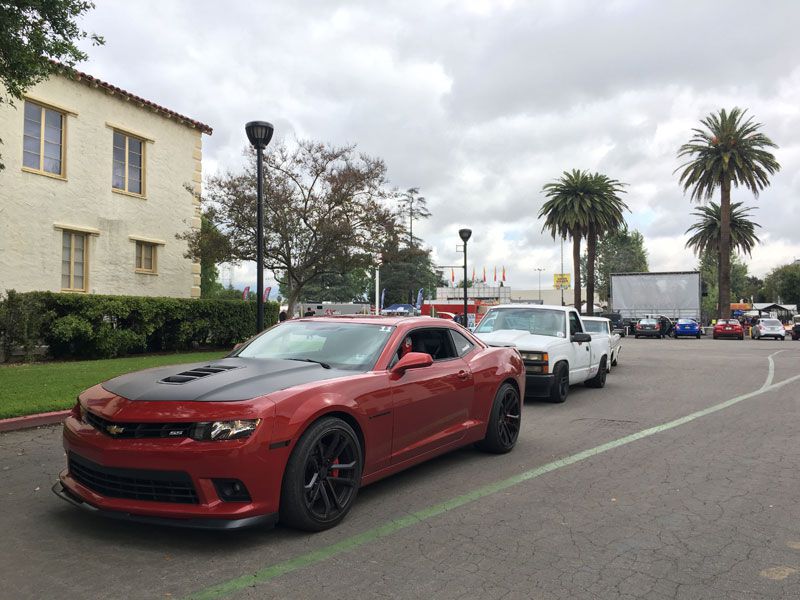 Photo by Scott Oldham
Custom Wide-Body Ford Mustang Convertible
This custom wide-body Ford Mustang convertible wasn't tearing up the tarmac in the autocross, but it was drawing a crowd all weekend in the car show. This was the widest modern Mustang we've ever seen. Its rear tires were massive. That supercharged Model A Ford hot rod was one of the more extreme cars in attendance.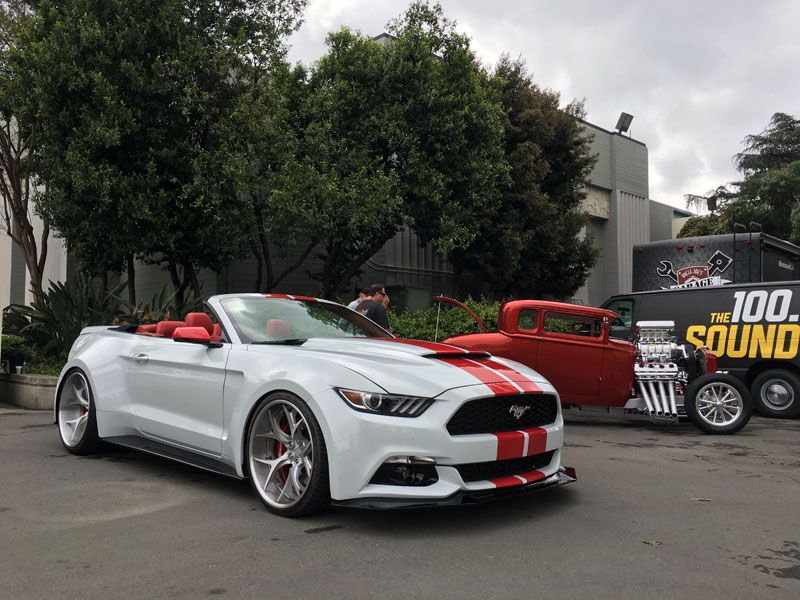 Photo by Scott Oldham
Ford Mustang GT 5.0
Slammed. The lowered stance on this fresh Ford Mustang GT 5.0 adds to its attitude. I also like its unique graphics, black aftermarket wheels and the old school white letter treatment on its BFGoodrich tires.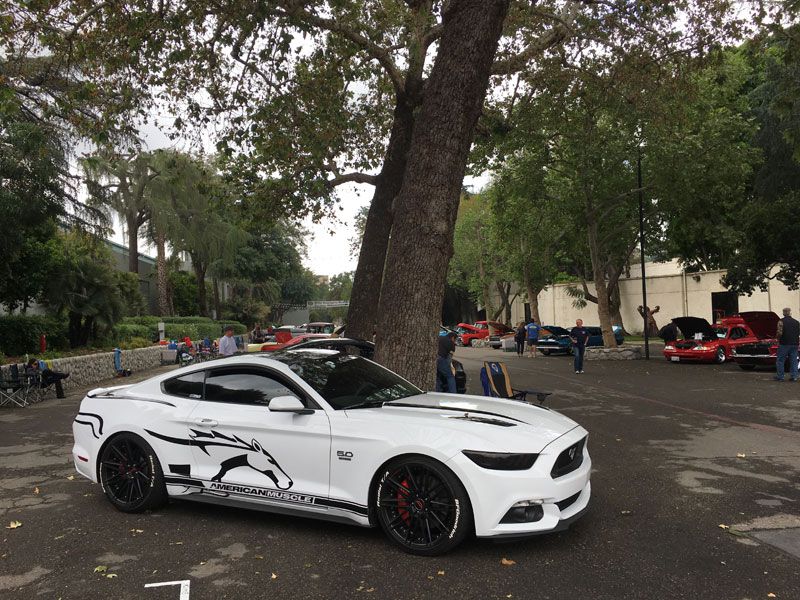 Photo by Scott Oldham