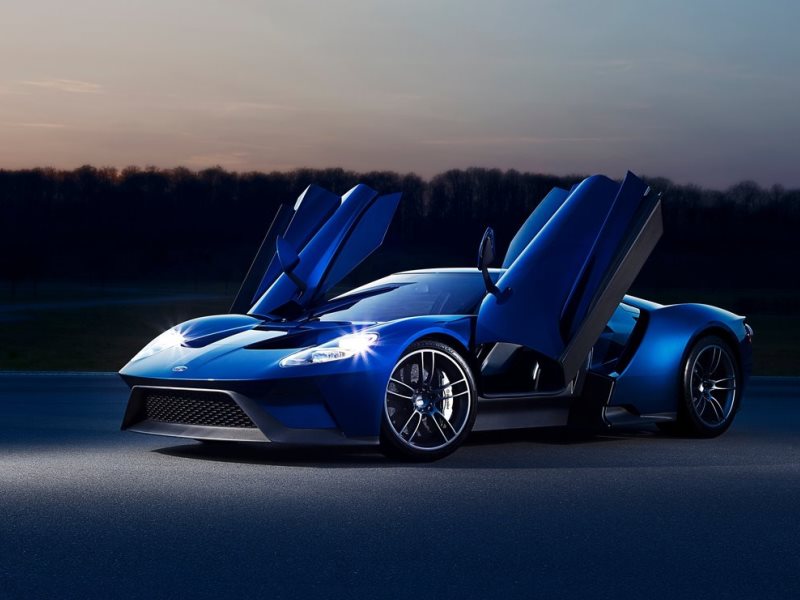 While our brains have been conditioned to conjure images of Ferraris, Lamborghinis, and McLarens whenever the term is bandied about, the truth of the matter is exotic cars (also referred to as supercars) are defined as very expensive and high performance sports cars or grand tourers. They are generally limited production, typically offered by elite manufacturers, and can be standard looking cars modified for exceptional performance. They can also feature unique and distinctive styling, though this isn't always a requirement for qualification for super car (or exotic) status.
As for American exotic cars, the first model to be advertised as such was the 1957 Rambler Rebel, considered to be the first American car to apply the formula of fitting a manufacturer's most powerful engine to its lightest car. As you'll see on the accompanying list of the best American exotic cars for 2016, this formula has been put to very good use over the ensuing years. And yes, we know exists an abundance of intensely powerful cars from well-respected aftermarket manufacturers. However, for this list, we've focused on cars offered by mainstream manufacturers, built in their factories, and sold in their dealerships.
Cadillac ATS-V
One of the things all the cars on this list have in common is that they are relative rarities. You simply won't see many Cadillac ATS-V models on the street in either coupe or sedan format. Primarily because of their cost, but also because the market for such a car is pretty small. Which of course begs the question; why do they even build it then? If Cadillac wants to be taken seriously as a competitor to brands A(udi) B(mw) and M(ercedes-Benz), it has to have a car capable of competing with the most potent models from across the sea. In this case, the ATS-V is equipped with rear-wheel drive, a carbon fiber hood, Brembo brakes, magnetic ride control, a limited-slip differential, and most importantly, a 464-horsepower twin-turbocharged V6 with 445 ft-lbs of torque. Zero to 60 is quoted at 3.8 seconds. Pricing starts at $60,465 for the sedan and $62,665 for the coupe.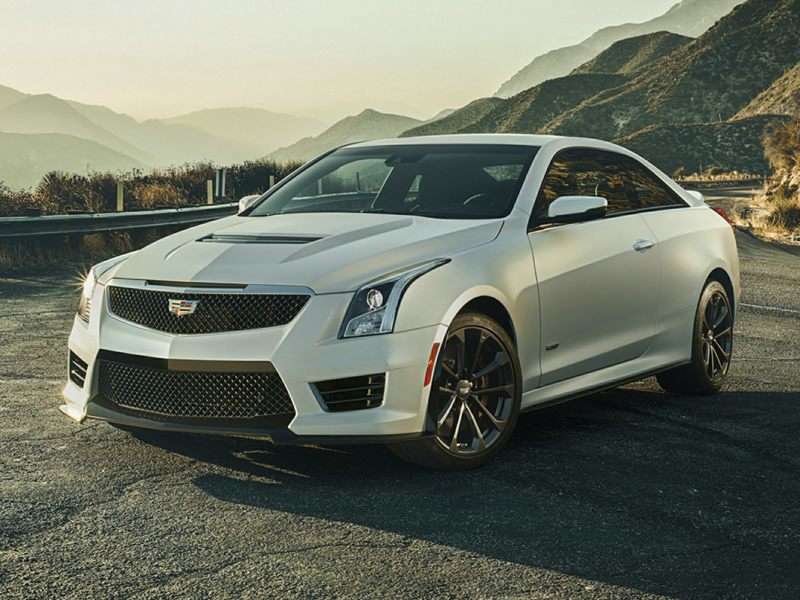 Photo by General Motors
Cadillac CTS-V
The most powerful vehicle Cadillac has ever offered in its 112 years as an automaker, the 2016 Cadillac CTS-V is a highly formidable automobile. When you consider the fact Cadillac has V16 engines in its heritage, this is a significant statement. Easily one of the best American exotic cars for 2016, the new rear-drive Cadillac CTS-V houses a 6.2-liter supercharged V8, capable of generating a tire-melting 640 horsepower and 630 ft-lbs of torque. The 2016 Cadillac CTS-V is a genuine 200-mph car, and is capable of accelerating to 60 from rest in 3.7 seconds. This stands it in good stead against the M5, RS6, and E63 AMG. Like its ATS-V little brother, the CTS-V boasts a carbon fiber hood with heat extraction vents, Brembo brakes, magnetic ride control, and a limited-slip differential. Pricing starts at $83,995, which makes it something of a bargain in its competitive set.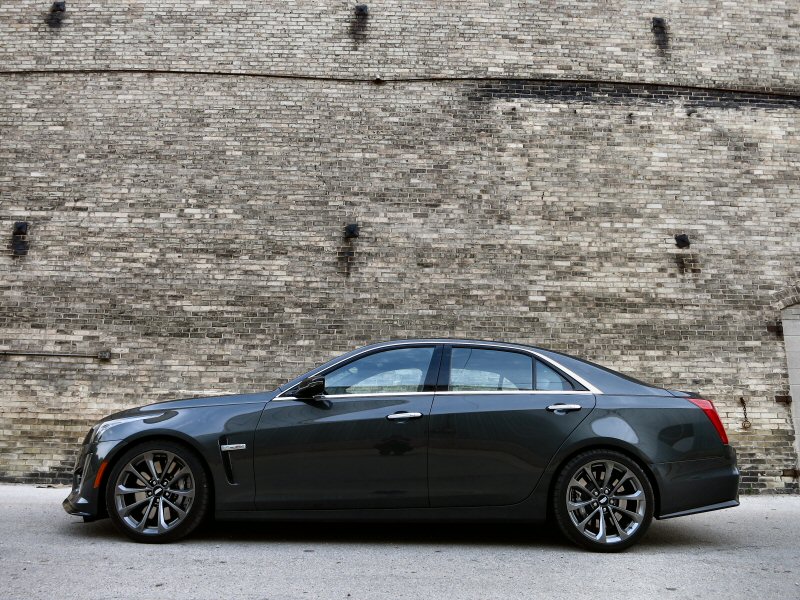 Photo by Benjamin Hunting
Chevrolet Corvette Z06
The 2016 Chevrolet Z06 is capable of accelerating to 60 miles per hour from a dead stop in three seconds flat. Further, it can run the quarter mile in 11 seconds flat. Its top speed is in excess of 200 miles per hour and you can buy it at any Chevrolet dealer in the country with a full factory warranty.
But wait, it gets even better.
For the first time since Chevrolet has been offering this incredible American exotic car, the Z06 can be had in a convertible body—marking the first-ever open Z06 variant. Sporting larger brakes, a more aggressive suspension system, wider tires, and a slipperier aero package than the "standard" Corvette (itself an outstanding sports car in every measure), the rear-wheel drive 2016 Chevrolet Corvette Z06 takes everything about the base Corvette and cranks it up to 12. Pricing starts at an incredibly reasonable $79,400.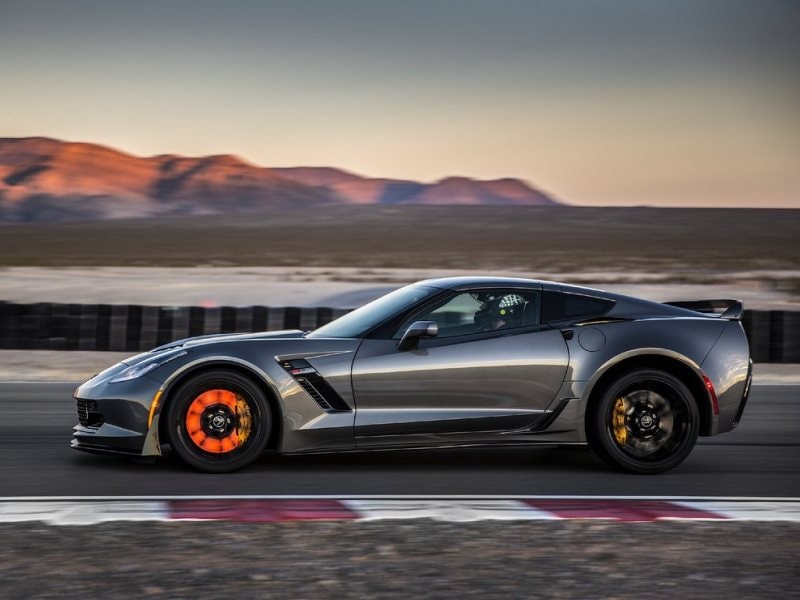 Chevrolet Camaro ZL1
While an all-new Chevrolet Camaro was recently shown, we're still a bit away from seeing the next ZL1 Camaro. Still, though, the car definitely rates a spot on the list of the best American exotic cars for 2016 because Chevy will still build one if you order it going into the 2016 model year.
The most powerful factory Camaro ever offered, the ZL1 uses a supercharged 6.2-liter V8 to churn out 580 horsepower and 556 ft-lbs of torque. When you start looking beneath the ZL1's shapely bodywork, things get exceptionally exotic pretty quickly. We're talking an adaptive suspension with magnetic dampers, Brembo brakes, 20-inch alloy wheels fitted to high-performance summer tires, and power steering calibrated specifically for high-performance applications. The Camaro's body has been fitted with additional aerodynamic aids to keep this bad boy on the ground, and a heat extractor in the hood helps the 6.2 maintain its cool. Pricing starts at $55,505.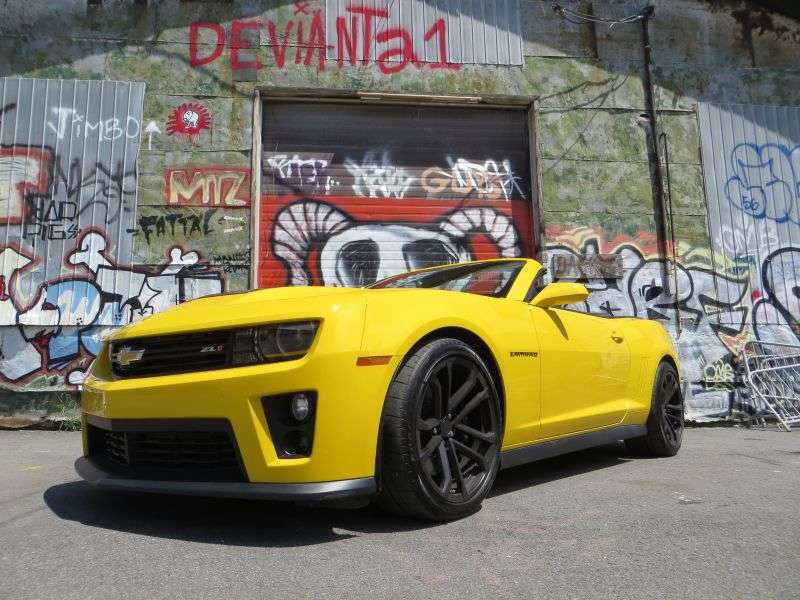 Dodge Viper ACR
Yes, we know as soon as you clicked on the link leading to this posting, you knew you were going to find a Viper among the best American exotic cars. In fact, it could well be argued the Viper is one of the two most exotic of the super cars on this list. For the 2016 model year, the ultimate Viper iteration is the Viper ACR—the fastest street-legal Viper track car ever offered. Power comes from a 645-horsepower 8.4-liter V10 with 600 ft-lbs of torque. A six-speed Tremec T6060 transmission routes engine output to the rear wheels. As for cornering, the Viper ACR is said to be capable of holding 1.5g in high-speed turns. The Viper ACR's 15.4-inch front brake rotors are larger than the wheels on many economy cars. Viper ACR pricing starts at $117,895.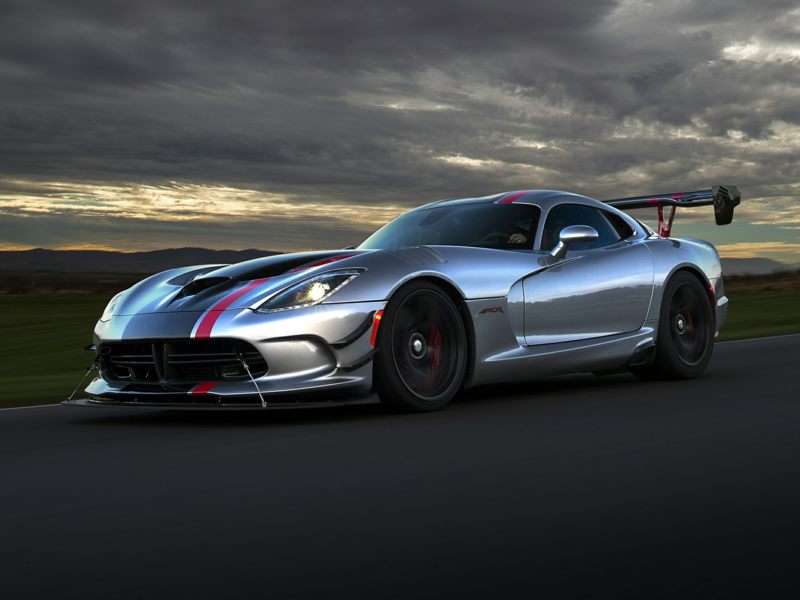 Dodge Challenger SRT Hellcat
Dodge introduced its astoundingly powerful supercharged 707-horsepower V8 in 2014 in the 2015 Dodge Challenger Hellcat—instantly making it the fastest, quickest, and most powerful of the best American exotic cars. Sitting quite comfortably atop the American super car heap, the Challenger Hellcat has captured the hearts and imaginations of every American performance car enthusiast out there. In addition to fitting the Challenger with the insanely powerful 707-horsepower 6.2-liter supercharged engine, Dodge also endowed the Challenger with a number of interior upgrades for the 2015 model year. These changes finally gave the Challenger a nice interior treatment to go along with its exceptional performance prowess. Going into the 2016 model year, the Dodge Challenger, while currently the oldest of the American high performance coupes (Mustang and Camaro were recently refreshed), is still the fastest and most powerful. Challenger Hellcat pricing starts at $59,995.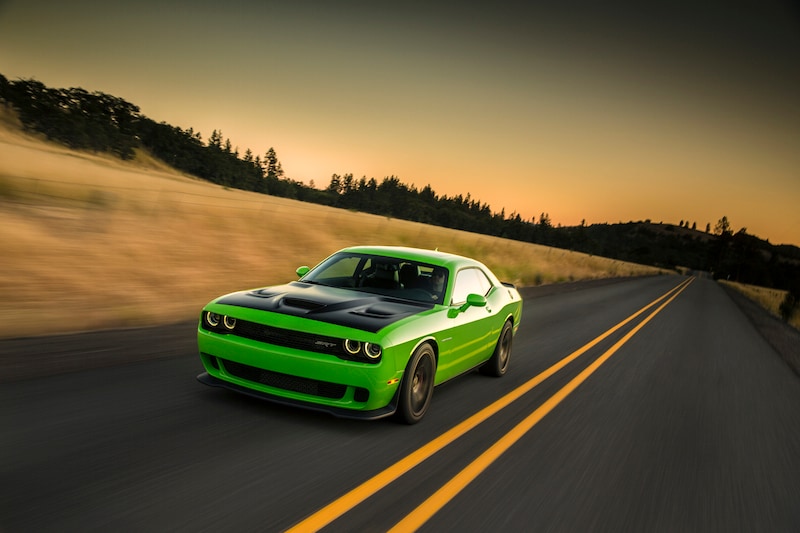 Dodge Charger SRT Hellcat
Coming hard on the heels of creating the most powerful production two-door coupe ever offered for the street, the Dodge Boys continued on their horsepower crazy bender with their 707-horsepower supercharged 6.2-liter V8 "Hellcat" engine. With 650 ft-lbs of torque erupting from the powerplant like a mechanical Mount Vesuvius, anything the Hellcat engine is bolted into instantly becomes the most powerful whatever it is on the road today.
In this case, we're talking about the Charger. Capable of running to 60 in 4.1 seconds, the Charger SRT Hellcat is one seriously quick four-door sedan. Yet, it's also capable of transporting your family or your clients in outstanding comfort. For the 2016 model year, the most powerful four-door sedan ever offered gets an upgraded interior treatment and high definition radio as standard equipment. Pricing starts at $63,995.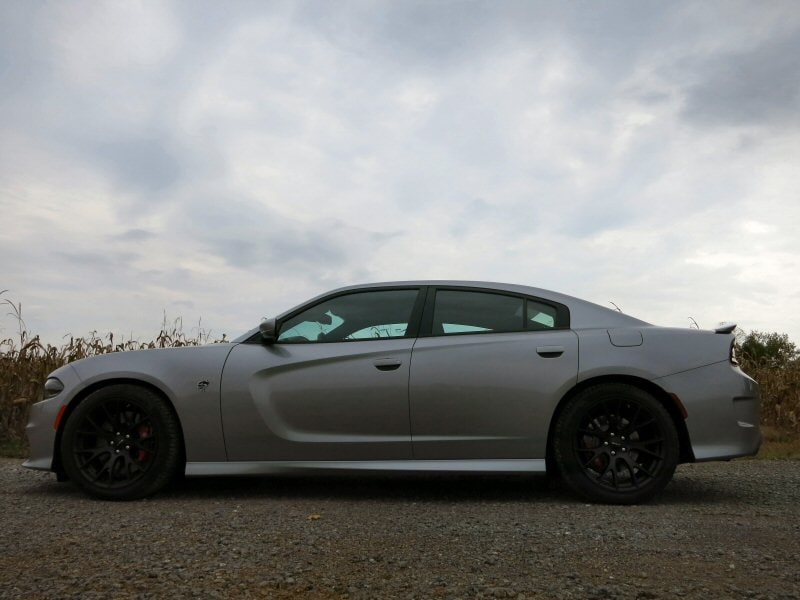 Photo by Benjamin Hunting
Ford GT
The highly anticipated new Ford GT will definitely qualify as one of the best American exotic cars for 2016. The ultra lightweight car has been reputedly engineered to offer the best power to weight ratio of any road car ever offered. Horsepower estimates are well north of 600. The rear spoiler is designed to create both downforce when desired, and extra drag when needed—as in heavy braking situations. The car's active suspension system will lower itself automatically at speed to improve stability and aerodynamics, while it will also permit raising the car's nose to negotiate driveways and speed bumps without leaving expensive shards of carbon fiber on the ground. On the subject of aerodynamics, the styling of car is also designed to make it function bas a rolling airfoil. Pricing has yet to be announced.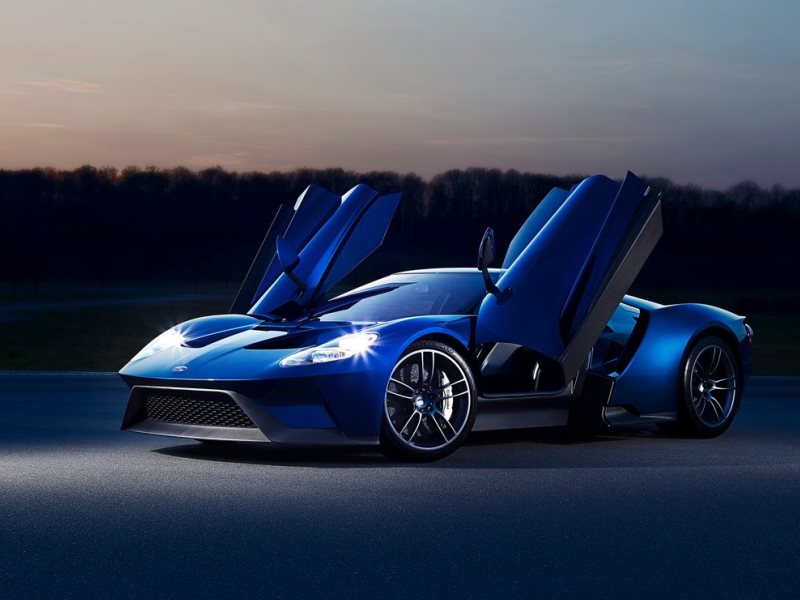 Ford Shelby GT350/GT350R
As soon as we saw the svelte new Mustang, we were itching with anticipation for the new 2016 Shelby GT350. Power comes courtesy of a 5.2-liter V8 making 526 horsepower and 429 ft-lbs of torque. Employing a flat-plane crankshaft, and an 8,200 RPM redline, the engine runs at significantly higher revolutions per minute, enabling it to extract more power without increasing displacement—or employing forced induction. Ford is also offering a GT350R version with carbon fiber wheels, an exceptionally aggressive aero kit, and a delete option for the A/C, rear seat, audio system, and tire inflator. In other words, Ford has gotten very serious about making the Mustang one of the best American exotic cars for 2016—both on the street and the track. GT350 pricing starts at $47,795. GT350R starts at $61,295.