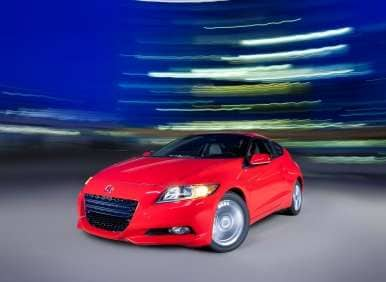 It used to be that car companies would tantalize buyers with lurid horsepower numbers in their advertisements, but lately a different set of figures is increasingly employed to draw potential shoppers into showrooms: miles per gallon.  An car's fuel efficiency is now at least as important as its performance when it comes to catching the attention of the car-buying public, and most drivers are unwilling to make sacrifices in either category when getting behind the wheel of a new vehicle.
Let's take a look at eight affordable cars that put fuel economy at the forefront.
01. 2012 Chevrolet Cruze
The 2012 Chevrolet Cruze is a compact sedan that is available in a number of different trims.  The most fuel efficient version of the Chevrolet Cruze is the Eco edition, which makes use of a 1.4-liter, turbocharged four-cylinder engine that produces 138 horsepower and 123 lb-ft of torque while returning fuel economy of 28-mpg in city driving and 38-mpg on the highway.  A six-speed manual and a six-speed automatic transmission are available with the Cruze Eco, and the vehicle also makes use of technologies such as active aerodynamics, low-rolling resistance tires and lightweight materials use throughout.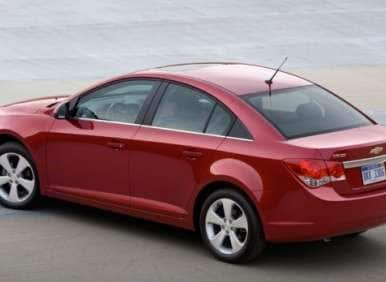 02. 2012 Ford Fiesta
The 2012 Ford Fiesta offers subcompact shoppers the choice between sedan and hatchback body styles.  All versions of the Ford Fiesta come with a 1.6-liter, four-cylinder engine that is rated at 120 horsepower and 112 lb-ft of torque, output that is sent to the front wheels via either a five-speed manual transmission or an innovative six-speed dual-clutch automated manual unit.  When the latter tranny is specified the Fiesta offers fuel mileage of 29-mpg in stop and go driving and 39-mpg on the highway - numbers that improve by one-mpg for the highway rating if the Super Fuel Economy package is selected.  The Fiesta SFE package adds aerodynamic improvements and a low-mass wheel and tire package to the equation.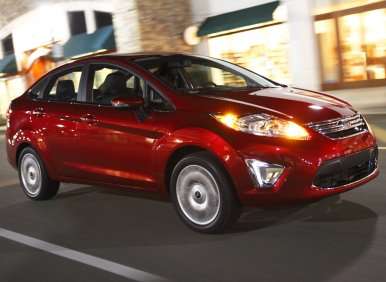 03. 2012 Honda Civic
The 2012 Honda Civic is all-new for the current model year and it brings with it an impressively frugal four-cylinder engine that has been poked and prodded to offer good power without sacrificing mileage.  The compact Honda Civic comes standard with a 1.8-liter unit that generates 140 horsepower and 128 lb-ft of torque while also returning 28-mpg in city driving and 36-mpg on the highway regardless of whether the vehicle is ordered in sedan or coupe form.  A five-speed manual transmission is included free of charge, but opting for the HF edition of the sedan introduces the Civic's five-speed manual as well as low-rolling resistance tires and special wind-diffusing underbody panels to improve efficiency.  The Civic HF jumps to 29-mpg around town and 41-mpg during highway cruising.
04. 2012 Subaru Impreza
The 2012 Subaru Impreza advertises a fuel mileage rating of 27-mpg in stop and go driving and 36-mpg on the highway.  While these figures might not seem as lofty as some of the other automobiles on this list, there is a crucial difference between the Subaru Impreza and its compact competitors: it comes with standard all-wheel drive.  Subaru worked hard to ensure that both hatchback and sedan editions of the redesigned Impreza would be able to hold their own against the current crop of fuel misers, and that meant retooling the vehicle's 2.0-liter, four-cylinder engine to produce 148 horsepower and 145 lb-ft of torque and introducing the option of a continuously-variable automatic transmission to go with the vehicle's standard five-speed manual.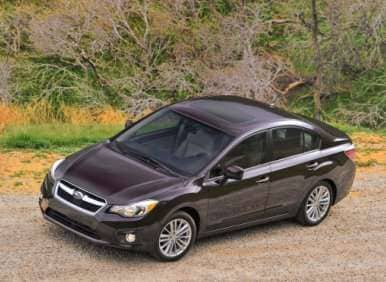 05. 2012 Volkswagen Jetta TDI
The 2012 Volkswagen Jetta TDI offers a true alternative for compact sedan shoppers who want to step away from the world of gasoline-powered engines.  The Volkswagen Jetta TDI makes use of a turbodiesel four-cylinder motor that grinds out 140 horsepower and 236 lb-ft of torque - numbers that are even more impressive when considering the sedan's fuel mileage rating of 30-mpg in stop and go driving and 42-mpg on the highway.  The practical Jetta TDI features a six-speed manual transmission right out of the box, but it can also be equipped with an advanced six-speed dual-clutch automated manual.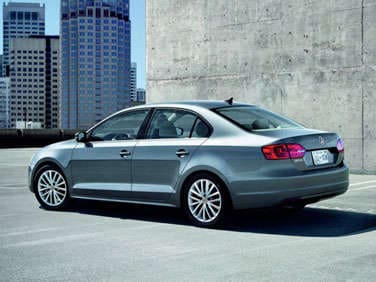 06. 2012 Honda Fit
The 2012 Honda Fit is well known for its practical, configurable interior and its ability to provide more than a few driving thrills thanks to its small and maneuverable design.  The subcompact Honda Fit hatchback is also reasonably thrifty at the fuel pump, as its 117 horsepower, 1.5-liter four-cylinder engine (that also generates 106 lb-ft of torque) can be relied on to sip gasoline at the relaxed rate of 28-mpg in city driving and 35-mpg on the highway.  These figures are achieved via the selection of the Fit's optional five-speed automatic transmission, but a five-speed manual is also available for drivers who prefer to row their own gears.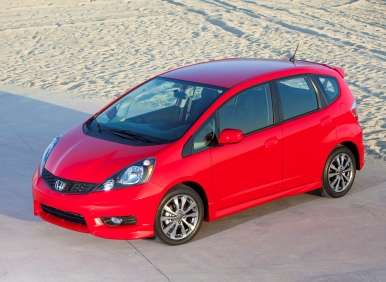 07. 2012 Chevrolet Sonic
The 2012 Chevrolet Sonic benefits from access to the same drivetrains that are found in the Chevrolet Cruze, and thanks to its smaller platform the subcompact delivers even more impressive fuel mileage than its larger sibling.  The Chevrolet Sonic (in either hatchback or sedan form) is at its most efficient when ordered with its available 1.4-liter, four-cylinder turbocharged engine.  This unit produces 138 horsepower and 148 lb-ft of torque (just like in the Cruze), and when paired with a six-speed manual transmission it offers fuel mileage of 29-mpg around town and 40-mpg on the highway.  A six-speed automatic gearbox can also be specific with the Sonic.
08. 2012 Honda CR-Z
The 2012 Honda CR-Z is the only hybrid vehicle on this list, and it's also the sole two-seater.  The Honda CR-Z is a hatchback that is designed to offer compact performance while easing the monthly fuel bill, and the nimble compact car also provides the unusual option (for a hybrid) of a six-speed manual transmission in addition to its available continuously-variable automatic unit.  The CR-Z's 1.5-liter, four-cylinder engine works together with a battery-powered electric motor to generate 122 horses and 128 lb-ft of twist, and setting the vehicle to Econ mode allows it to squeeze out 35-mpg city and 39-mpg highway.