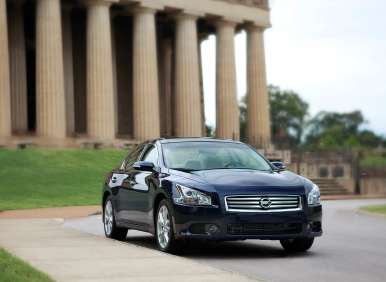 While the 38-mpg Nissan Altima is introducing a new benchmark for fuel efficiency among midsize sedans, its automaker knows that some folks continue to prefer going fast over going green. So that remains the mission of the 2013 Nissan Maxima, which is billed as the brand's "four-door sports car" and will be available with three new option packages for the new model year:
Bose Audio Package—This audio upgrade brings a nine-speaker digital sound system from Bose that boasts SiriusXM Satellite Radio functionality (SiriusXM subscription sold separately), along with three 3.5-inch Twiddler neodymium front speakers, two 6- x 9-inch front door woofers, two 6.5-inch wide-range neodymium rear door speakers, and two 6- x 9-inch rear neodymium woofers.
SV Value Package—Adding a bit more luxury into the mix, this package includes the premium Bose audio setup along with heated front seats, a heated steering wheel and heated outside mirrors.
Sport Package—Here, striking 19-inch aluminum-alloy wheels with a Dark Hyper Silver finish are added to a climate-controlled driver's seat that is both heated and cooled, then combined with all the content in the Maxima Monitor Package, which showcases a rearview camera system, seven-inch color monitor, USB port and an iPod storage net in the car's center console.
Pricing for the 2013 Nissan Maxima is not yet available, but should be released soon—after all, the car itself is expected to land in dealerships next month, still offering …
2013 Nissan Maxima: Quick Take
The Nissan Maxima is a bit of an odd duck: While a number of mainstream brands offer some sort of full-size, premium-ish sedans as the next step up from their midsize offerings—see the Hyundai Azera, Toyota Avalon, etc.—the 2013 Maxima is actually a fraction of an inch shorter than Nissan's own high-volume mid-size sedan, the 2013 Altima, with a tad less cabin space and less cargo space, too. What it does have more of is power.
While the entry Altima relies on a 2.5-liter four-cylinder engine that makes 182 hp and 180 lb.-ft. of torque, and offers an optional 3.5-liter V6 worth 270 hp and 251 lb.-ft. of twist, the Maxima's motivation comes solely from a tuned-up version of the latter and delivers 290 horses with 261 lb.-ft. of torque. The Maxima also rides on a sport-tuned suspension that is agile without being harsh, includes speed-sensitive steering that automatically adjusts to meet different driving scenarios, and provides a four-mode driving system to match owners' performance preferences.
Further, although the Maxima leverages a continuously variable transmission, drivers can take advantage of paddle shifters and manual-shifting functionality to mimic the added control offered by a manual.
It's not likely to scare off many BMW owners, but with the ability to go from 0-60 in under six seconds, maybe it should.