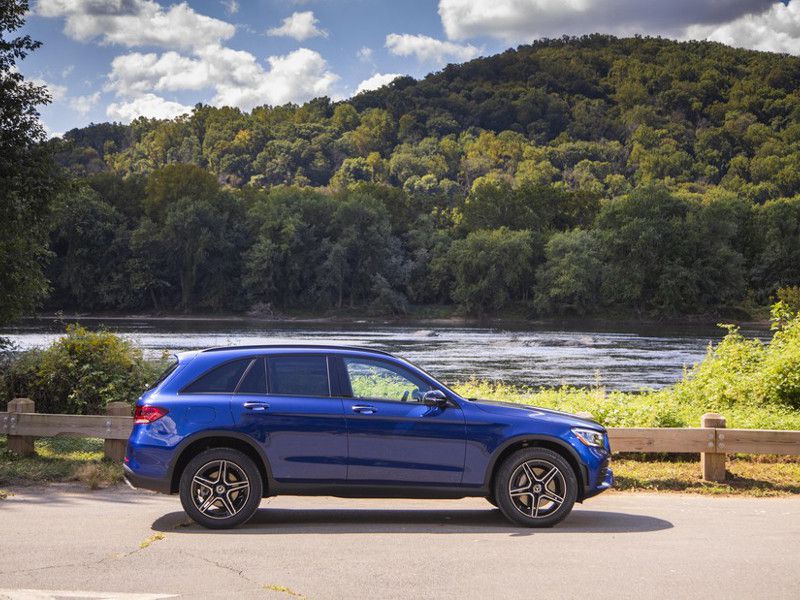 2020 Mercedes Benz GLC 300 4MATIC blue profile ・ Photo by Mercedes-Benz
Value doesn't always correlate with the lowest price, and that's especially true when it comes to determining the best value luxury SUVs. After all, paying more for less is seemingly antithetical to the concept of luxury. But within this vehicle class, there are good values to be had, and not all of them are in the entry-level segment.
For this list of the best value luxury SUVs, we considered base prices, standard equipment, ownership perks, competitive sets, utility, style, performance, and more. Each of our picks offers something special related to one or more of these attributes — something that brings value to the table. So, if you're in the market for a best value luxury SUV, consider one of these 10 models that we think meet the standard in one way or another.
2020 Acura MDX Sport Hybrid
What's that? You didn't know the Acura MDX came with an optional hybrid drivetrain? It does, and it's terrific. Based on the same basic hardware that powers the NSX sports car, the MDX Sport Hybrid has a special 3.0-liter V6 engine and three electric motors to produce a combined 321 horsepower while returning 27 mpg in combined driving. The two rear electric motors produce the same torque-vectoring effect as a standard MDX's optional Super Handling All-Wheel Drive (SH-AWD) system, for a thrilling feel from behind the wheel.
What's the extra cost? Compared to a gas-only MDX SH-AWD with the Technology Package, one of the most popular versions of the SUV, the Sport Hybrid adds just $1,500 to the price. And that makes it one of the best value luxury SUVs you can buy.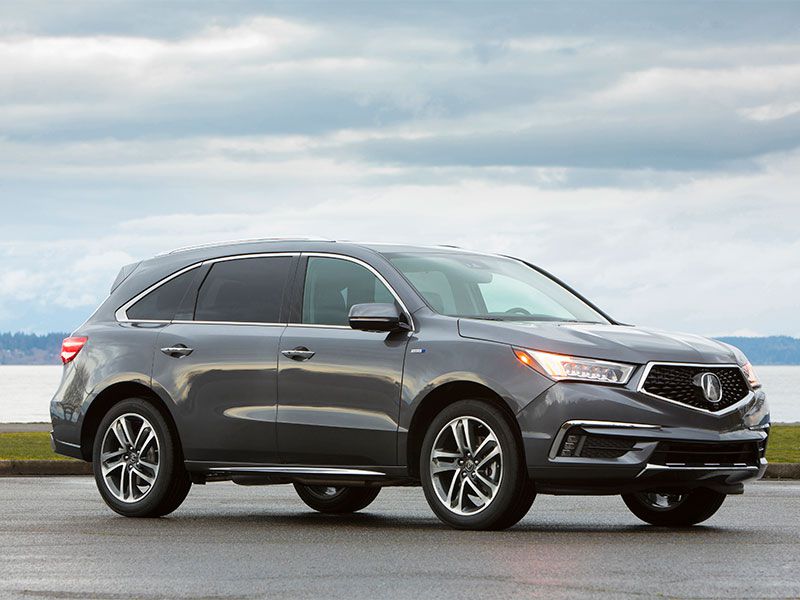 Photo by Acura
2020 Acura RDX
Acura is the only brand with two vehicles on this list, and that's for good reason. Redesigned for 2019, the latest RDX blends attractive design with comfortable seats, good cargo space, and enjoyable driving dynamics thanks to a robust turbocharged four-cylinder engine and its optional, torque-vectoring SH-AWD.
Prices start not much higher than smaller and more lightly equipped models from European brands, and Acura keeps a loaded RDX below the $50,000 threshold. Compared to primary competitors like the Audi Q5, BMW X3, and Mercedes-Benz GLC-Class, that spells value in a luxury SUV. Our favorite is the A-Spec model for its racy look, but the Advance has an exclusive adaptive damping suspension that maximizes ride comfort and handling prowess.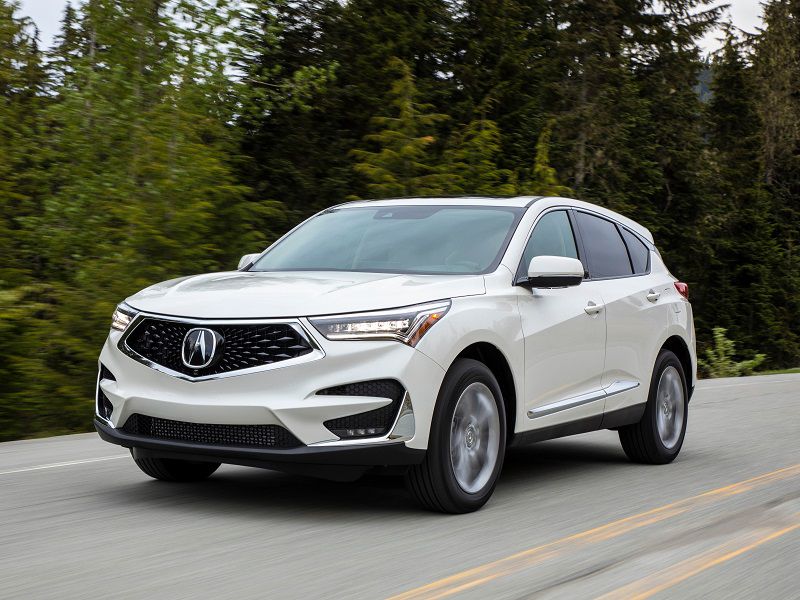 Photo by Acura
2020 Audi Q3
Redesigned for 2019, the Audi Q3 is small but mighty. Especially with S line styling and upgraded wheels, the Q3 looks more expensive than it is.
What makes the Q3 a best value luxury SUV is not its design. Even in the Premium trim level, which starts at less than $36,000, the standard equipment list includes features that are typically optional on this Audi's direct competitors. They include Quattro all-wheel drive, eight-way power-adjustable heated front seats, leather, three-zone automatic climate control, a power tailgate, and a panoramic glass sunroof. Additional highlights from the top Prestige trim include the company's outstanding Virtual Cockpit digital instrumentation and a 15-speaker Bang & Olufsen premium sound system.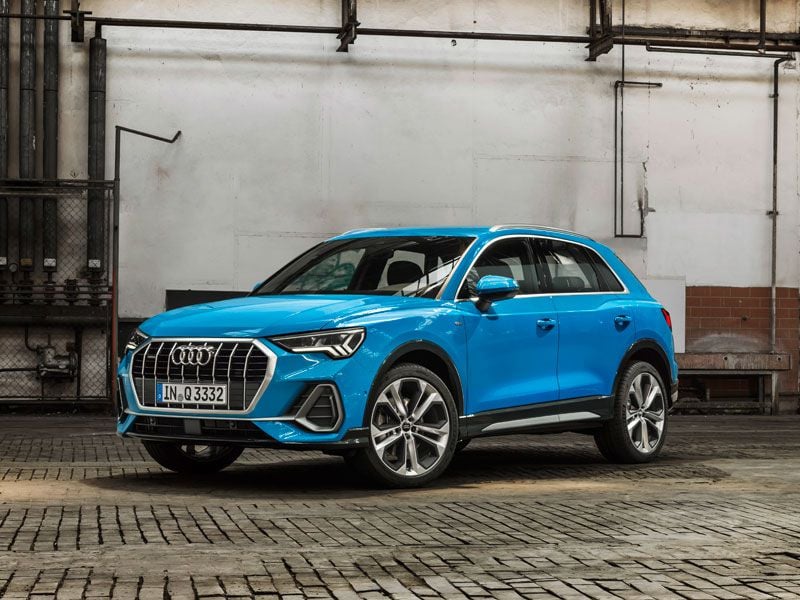 Photo by Audi
2020 BMW X1
Utility is the name of the BMW X1's game. Thanks to its boxy design and front-drive architecture, BMW packs a whole bunch of space into this best value luxury SUV.
Prices start at just over $36,000, and the X1's front and rear seats feel roomier than many direct competitors. Cargo capacity ranges from 27.1 cubic feet behind the rear seat to a maximum of 58.7 cubic feet, solid numbers for the subcompact crossover segment. And the turbocharged 2.0-liter four-cylinder engine delivers rousing performance with or without the optional xDrive all-wheel drive system. BMW offers many ways to customize the X1, from paint and interior materials to technology and performance. Be careful, though, because the price of a BMW X1 can rocket to almost $50,000 if you're feeling spendy.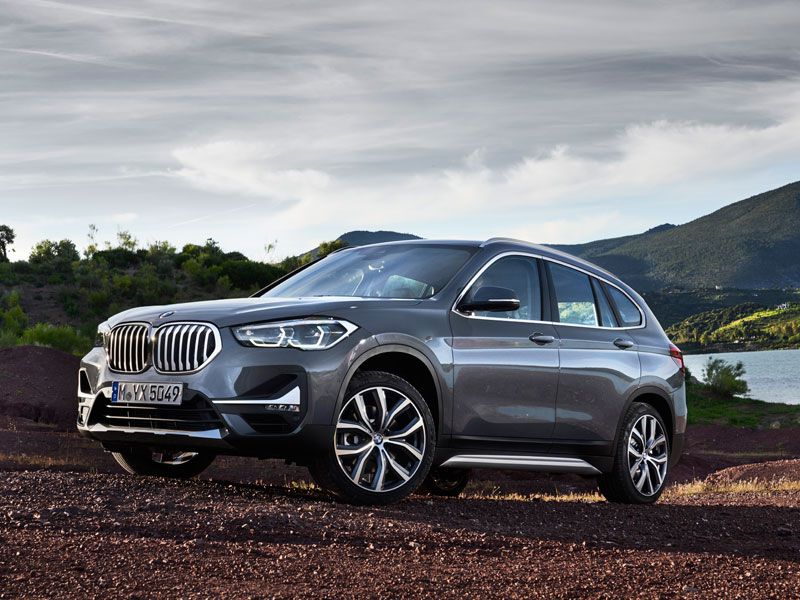 Photo by BMW
2020 Hyundai Palisade Limited
Yes, we know Hyundai isn't a luxury brand. But from its bold design and tailored details to its plush interior and high-tech equipment, the Palisade Limited sure does a good impression of a luxury SUV.
In the Limited model, the Palisade includes premium Nappa leather, simulated suede covering the headliner and roof pillars, a 12.3-inch digital instrument cluster, heated and ventilated front and rear seats, a 12-speaker Harman Kardon sound system, a head-up display, and a long list of advanced driving assistance systems including the automaker's excellent Highway Driving Assist technology. (There's more to this seven-passenger SUV, of course, but space here is limited.) Equip a Palisade Limited with all-wheel drive, and the price doesn't crest $47,500. Plus, you get an industry-standard warranty and free connected services for three years. Clearly, this SUV is drenched in value, and it's definitely luxurious. Whether it qualifies as a best value luxury SUV, however, is up to you.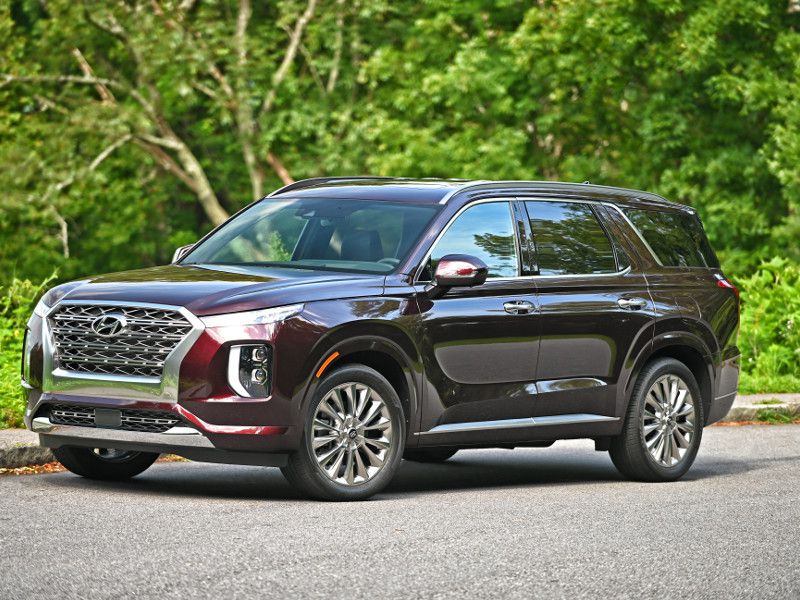 Photo by Hyundai
2020 Jaguar F-Pace
Bigger than compact SUVs but smaller than most mid-size models, the Jaguar F-Pace carves out a niche that enhances its value. Plus, it is devastatingly handsome, much better looking than the smaller, oddly proportioned, and rather pricey E-Pace. And when you equip it with the right engine and trim, the F-Pace is gobsmackingly good to drive.
As is true of other Jaguars, the F-Pace's price climbs rapidly as you pick and choose from myriad paint colors, wheel designs, interior treatments, technology upgrades, and other options. But with its appealing base price, terrific styling, and serious performance potential, the Jaguar F-Pace qualifies as a best value luxury SUV.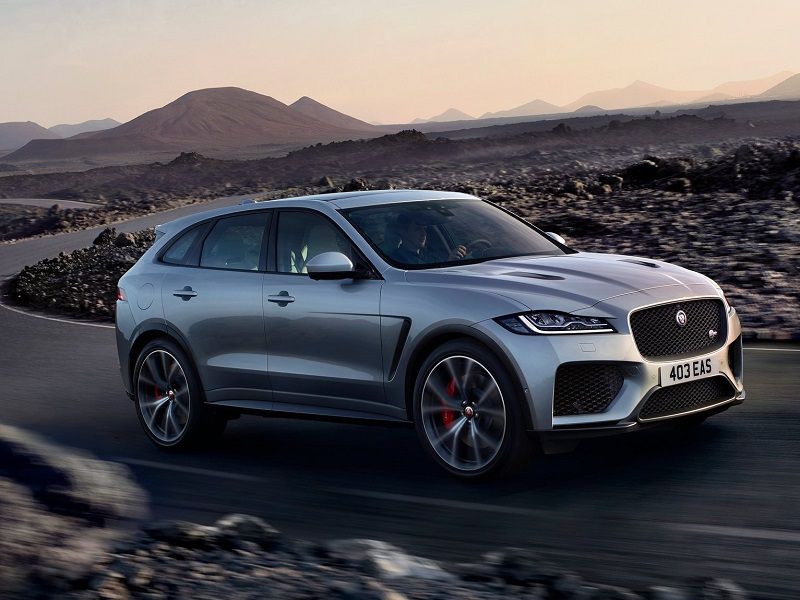 Photo by Jaguar
2020 Land Rover Defender 110
The new Land Rover Defender 110 is priced from about $50,000, which makes its classic styling themes and legendary off-roading capability accessible. However, chances are excellent that you'll want to spend more than that, starting with extra power and finishing with an array of accessories designed to enhance the Defender's already robust talents.
What makes this a best value luxury SUV? Where else are you going to get this kind of iconic design and go-anywhere/do-anything engineering at the Defender 110's price? The Mercedes-Benz G-Class, an SUV with a similar mission, starts at more than $125,000. Styling sells vehicles, especially when it hews to tradition. With this new Defender 110, Land Rover blends modern engineering with vintage design, inspiring dreams of wanton wanderlust during the drudgery of the daily drive. And there is real value in that.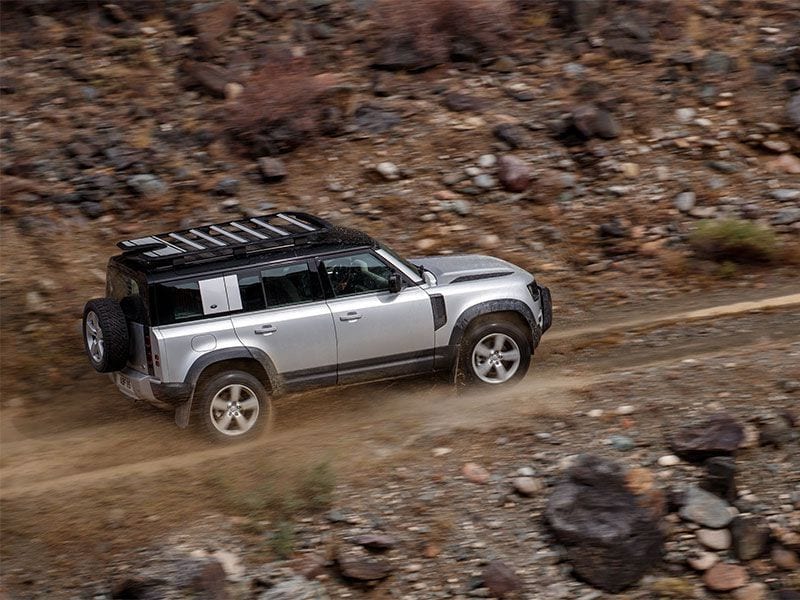 Photo by Jaguar Land Rover
2020 Lexus RX Hybrid
Priced from about $48,000, delivering 30 mpg in combined driving, and equipped with standard AWD, the Lexus RX 450h is a gas-electric hybrid SUV with a strong reputation for reliability. It also costs just $1,200 extra in comparison to a V6-powered RX 350, helping to make it one of the best value luxury SUVs you can buy.
Beyond that, however, the RX 450h makes 306 horsepower, scoots to 60 mph in less than eight seconds, and is available in a racy-looking F Sport trim level. You can even order a third-row seat in an extended-length version of the SUV, though anyone riding back there had better be a kid. While the styling does represent an acquired taste, there's no arguing with the Lexus RX's quality. And now that it comes with a touch-sensing infotainment screen, you need not bother with the aggravating trackpad on the center console. So, if you like the way this SUV looks, you'll probably feel like it delivers impressive value.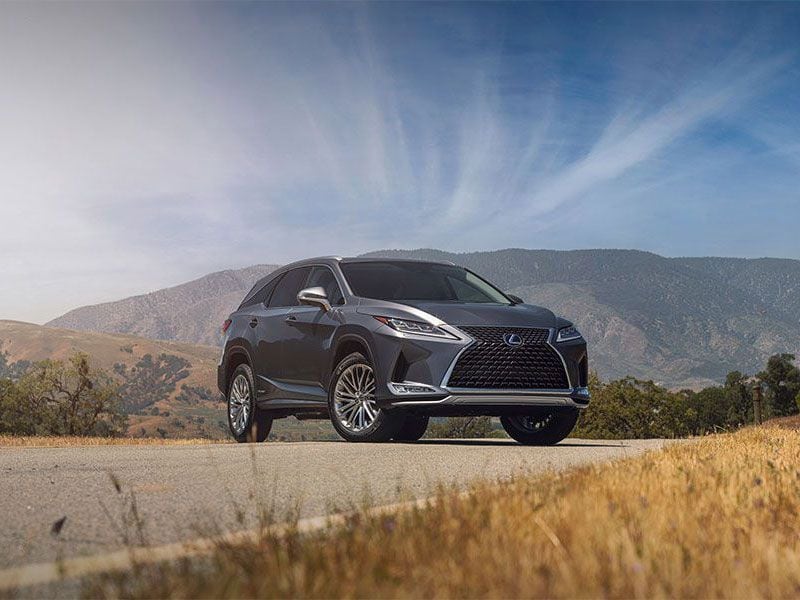 Photo by Lexus
2020 Mercedes-Benz GLC-Class
The Mercedes-Benz GLC-Class is not the least expensive model in the compact luxury SUV segment, but it certainly is one of the most compelling. Even in standard GLC 300 format, this Mercedes SUV combines quality, comfort, and dynamism in an irresistible way.
Where the GLC brings value is through choice. Lots and lots of choice. Aside from the GLC 300, there are two different AMG performance-tuned variants. Environmentally responsible customers can select a new, next-generation plug-in hybrid version of the GLC if they'd like. And let's not forget that a GLC Coupe exists, featuring a more rakish roofline. Prices start at about $43,500. Even so, we think its money well spent.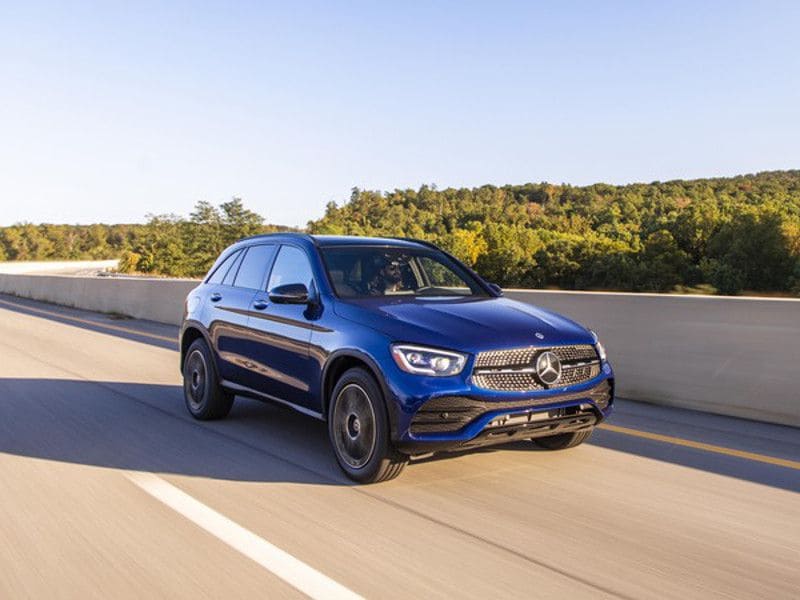 Photo by Mercedes-Benz
2020 Volvo XC90
Care by Volvo is a subscription service to the company's cars. Typically, they run between $700 and $800 per month, and everything but fuel is included in the deal. With an XC40 running $700 monthly and an XC60 commanding a $750 payment, the big XC90's $800 payment looks like a bargain.
Skip the subscription, and the 2020 Volvo XC90 remains a good value. It looks terrific, it's quite safe, and is relatively roomy as long as you don't try to carry adults in the third-row seat. Materials, technology, and infotainment systems are all top-notch, and when you settle in to one of this Volvo's exceptionally comfortable and supportive front seats, you'll feel like the XC90 delivers value each and every time you drive it.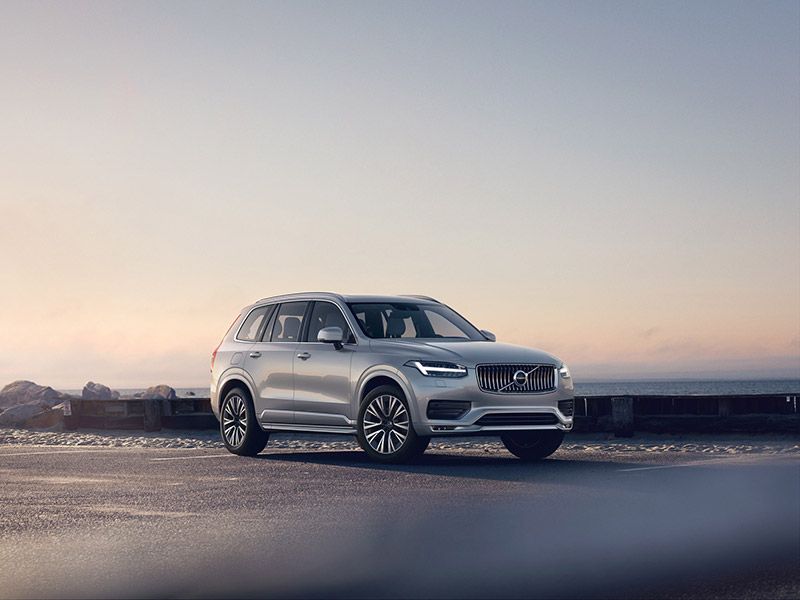 Photo by Volvo