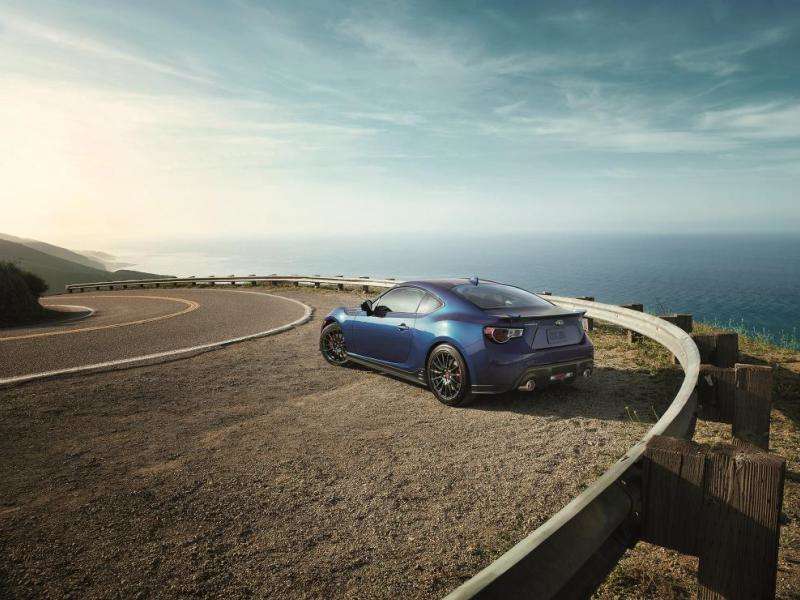 Defined primarily as a closed body style with a permanently fixed roof, two seats, or 2+2 seating, the exact definition of a coupe varies from manufacturer to manufacturer, with some even claiming hatchbacks or four-door sedans with sleek roof lines to be four-door coupes (the 2005 Mercedes-Benz CLS was the first modern expression of this phenomena). Coupes occupy a special place in the automotive consciousness. They imply freedom of responsibility, youthfulness, and self-indulgence even. After all, anybody living comfortably with a coupe is most likely on their own, or part of a childless couple. Because while most are quite good-looking, if you're dealing with more than two people, they are quite impractical. Generally bereft of rear-seat legroom, coupes further require one to fold the seat back forward and typically limbo themselves beneath the shoulder belt for the driver or passenger to gain access to the rear-seating compartment. Once seated back there, the view out is often compromised by very small rear windows, and the sleek roofline most coupes employ limit headroom for the unlucky should banished to the coupe's back seat.
With all of that going against it, why would anybody ever buy one? In a word—style. Sleek, seductive, hinting at speed, agility and playfulness, even the most staid of coupe models have a look about them that says, "Come on, let's go out an have some fun!" And, this particular crop of coupes will let you have your fun while remaining economical, too. Generally smaller and lighter than their sedan counterparts, when you fit a coupe with a four-cylinder engine, you get the youthful playfulness factor, but with responsible levels of fuel economy. Yes, in some cases (but not all, as we'll see) you'll give up outright performance. But with any of the cars on our list of the 10 Best 4-Cylinder Coupes, what you'll sacrifice in performance you'll make up for in fewer trips to the gas pump.
10) 2015 Audi TT
Renowned for extracting superior performance from small engines, Audi's parent corporation, the Volkswagen Group, get more work from four-cylinders than just about any other manufacturer. In the Audi TT, they have created a stylishly distinctive coupe that defies definition. Not exactly a sports car, not exactly a grand touring car, and definitely not an economy car, the TT manages to serve all three categories—while not fitting precisely into any of them. The TT delivers a unique look, a high-class interior, good fuel economy (22 mpg city and 31 mpg highway), and reasonably exciting performance. Powering the 2015 Audi TT is a 211-horsepower turbocharged 2.0-liter four-cylinder engine producing 258 lb-ft. of torque. All-wheel drive is standard. The transmission of choice is a six-speed dual-clutch automated manual capable of functioning like a traditional automatic, or manual operation. The high-performance Audi TTS variant is powered by a 265-horsepower version of the same engine and also produces 258 lb-ft of torque. Fuel economy remains the same.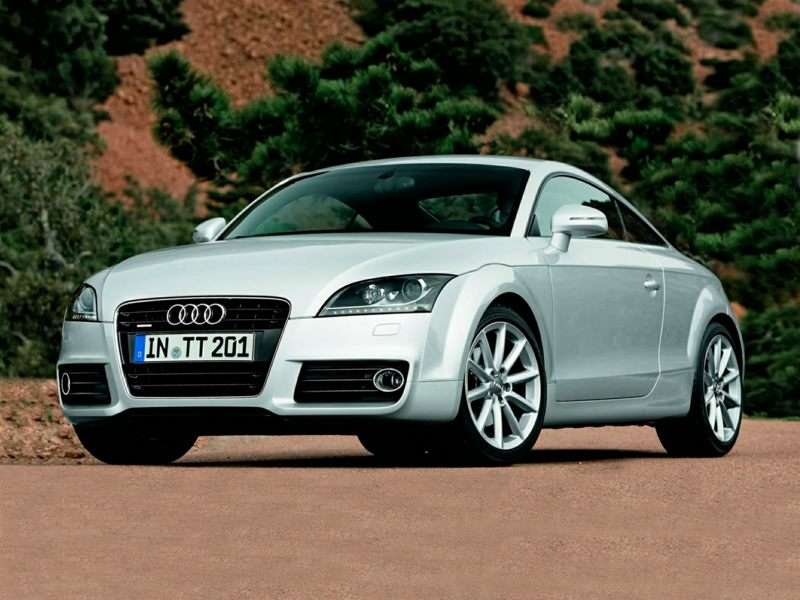 Photo by Audi Media Services
9) 2016 Audi A5
Many people are surprised to learn the svelte Audi A5 can be had with a four-cylinder engine, which is ironic because all A5s were four-cylinder cars for several years (the lineup now includes V-6 and V-8 options). With the A5, you get a dynamically styled automobile—one that looks like nothing else on the road, save another Audi. Interior fit and finish are absolutely superb; the Audi A5 is easily one of the most luxurious cars on this list of best four-cylinder coupes. Of course, like every other Audi, the tech quotient is also quite high. Qualifying the 2016 Audi A5 for this list of best four-cylinder coupes is a 2.0-liter turbocharged inline-4 cylinder engine that produces 220 horsepower and 258 lb-ft of torque. All-wheel drive is standard equipment, as is a six-speed manual transmission (22 mpg city and 32 mpg highway). An eight-speed automatic transmission is optional (22 mpg city, 31 mpg highway).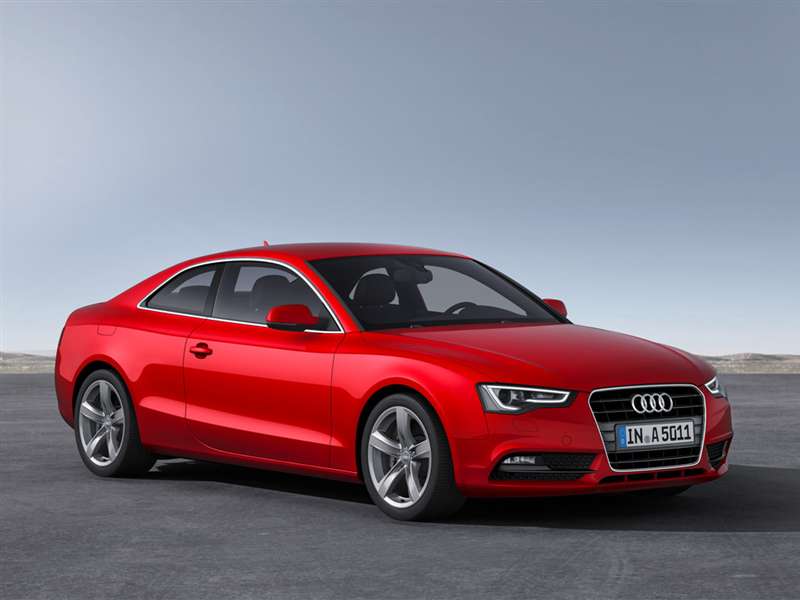 8) 2015 BMW 228i
The 2015 BMW 228i is the entry-level version of the German brand's compact coupe, the 2 Series, but careful browsing of the options list can spice it up with some of the go-fast goodies that come standard with its six-cylinder sibling. The 2015 228i is powered by a 240-horsepower, 2.0-liter turbocharged four-cylinder engine, which also produces an impressive 255 lb-ft of torque. An eight-speed automatic transmission is included free of charge with the 228i, but a six-speed manual is also available. Optional equipment such as an adaptive suspension system, quicker steering, 18-inch rims, a rear spoiler, and bigger brakes prove that a four-cylinder car doesn't have to be boring.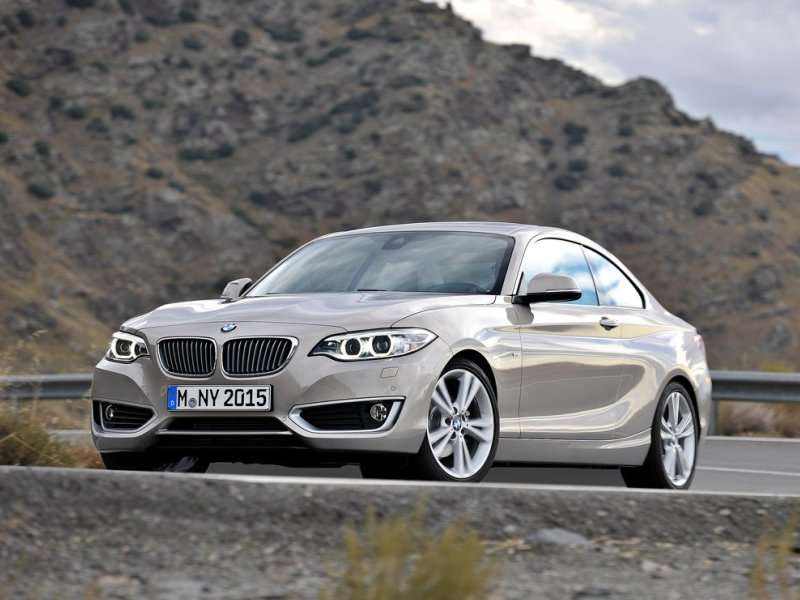 7) 2015 FIAT 500
The FIAT 500 pushes the definition of a coupe just a little, but if you can overlook the hatchback profile, everything else fits… especially this little four-banger's personality. The 2015 FIAT 500 is a versatile and affordable subcompact car with a great range of colors to accentuate its sporty profile. This two-door hatchback seats four, and it comes with a 1.4-liter four-cylinder engine that produces 101 horsepower and 98 lb-ft of torque. Buyers can choose either a five-speed manual or six-speed automatic transmission. The FIAT 500 offers a spirited driving experience, yet it's thrifty enough to squeeze out fuel economy of 31 mpg city and 40 mpg highway.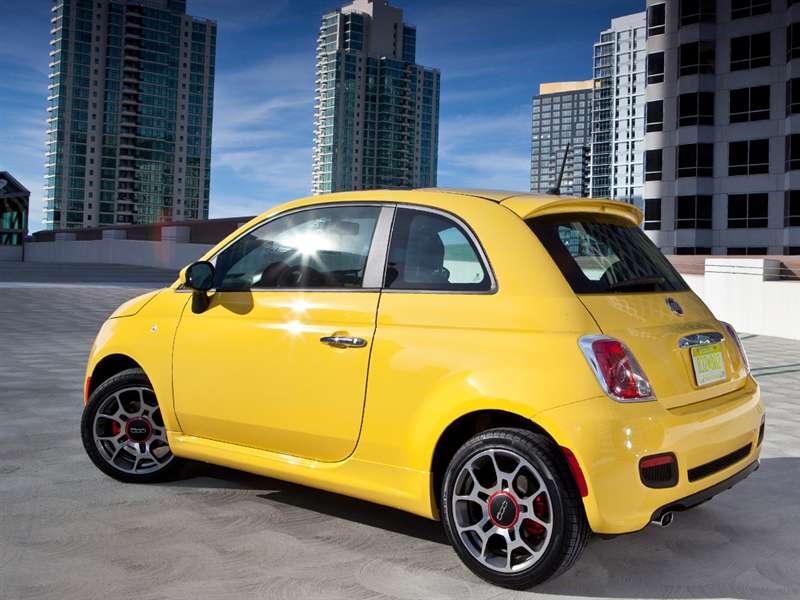 Photo by FIAT
6) 2015 Honda Accord
The "respectable" one of the best four-cylinder coupes, the Honda Accord Coupe has a seriousness of purpose that defies the devil-may-care attitude coupes typically convey. The Accord Coupe says of its owner, "Of course my car only has two doors, anything else would have been impractical." With that said, in a way, the Accord Coupe is the "practical" impractical choice. As you'd expect from a Honda product, the engine is an absolute marvel of engineering, smooth in operation and achieving exceptional fuel economy. As the Honda brand's top model, the Accord Coupe also delivers a strong feature set and superior comfort. Powering the 2015 Honda Accord Coupe is a 2.4-liter inline-4 cylinder engine that produces 185 horsepower and 191 ft.-lbs. of torque. A six-speed manual transmission is standard equipment (24 mpg city, 34 mpg highway), while a six-speed automatic and a continuously variable automatic are the optional offerings for the front-drive Honda Accord Coupe.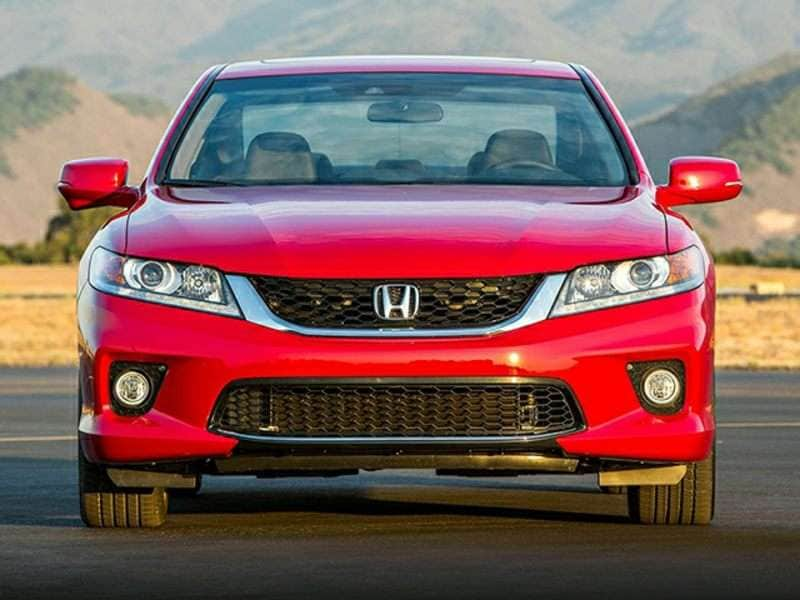 5) 2015 Honda Civic
There was a time when the Honda Civic Coupe was the no-questions-asked, hands-down definitive model in its class. And while the Civic Coupe is still an extraordinary car at any price, the Koreans are nipping at the Civic's heels rather hungrily. Regardless, though, in a Honda Civic Coupe you get outstanding build quality, exceptional fit and finish, and above average reliability. You literally have to try to kill a Civic—they seldom break. The Civic Coupe can also be had with two different personalities. The base model is the "practical" choice as it consumes less fuel, requires less space to park, and is neat and tidy and comfortable to drive. Then there's the Si, with its high-winding engine, slick manual shifter, and handling-oriented chassis tuning. A 1.8-liter four-cylinder engine that puts out 143 horsepower and 129 lb-ft of torque powers the front-wheel drive 2015 Honda Civic. Transmission choices include a five-speed manual (28 mpg city, 36 mpg highway) and an available continuously variable automatic (30 mpg city, 39 mpg highway). The Civic Si uses 2.4 liters, for an output of 205 horsepower and 174 lb-ft of torque. A six-speed manual (22 mpg cit, 31 mpg highway) is the only transmission offered with the Civic Si.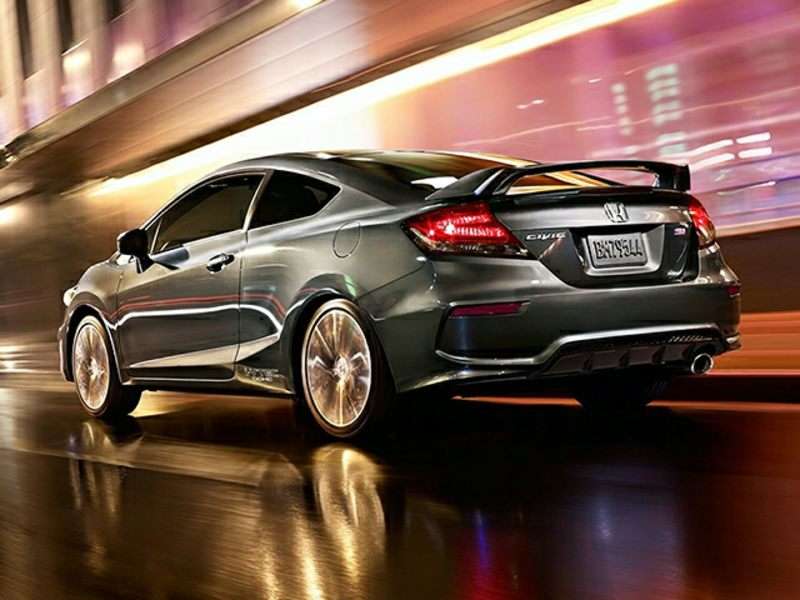 4) 2015 Honda CR-Z
The 2015 Honda CR-Z is a two-door subcompact hatchback that features an efficient hybrid drivetrain, making it stand out quite a bit from other options on this list. The CR-Z provides seating for two and produces 130 horsepower from its 1.5-liter four-cylinder engine and electric motor. Like most hybrids, it comes standard with a super-efficient continuously variable transmission. Unlike most hybrids, though, the CR-Z also offers a six-speed manual gearbox as an option, which makes it a great option for buyers who enjoy rowing their own gears. Unfortunately, the manual option slightly reduces the CR-Z's fuel economy ratings of 36 mpg city and 39 mpg highway, but when's the last time a hybrid driver got to enjoy working a clutch pedal?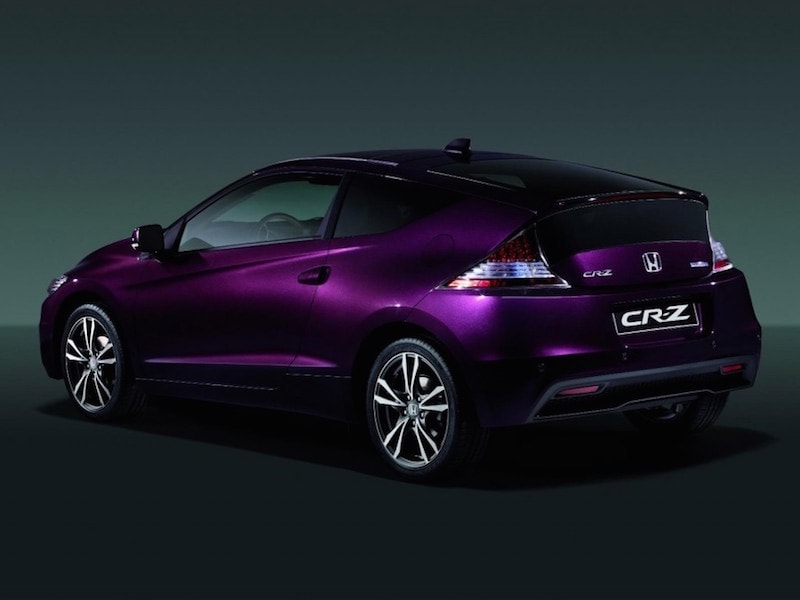 Photo by Honda
3) 2015 Kia Forte Koup
One of our 10 best four-cylinder cars for 2015, the Koup (in Kia-speak) is offered in two trim levels, EX and SX. Engines vary with the trim; EX is powered by a 2.0-liter four-cylinder engine that makes 173 horsepower and 154 lb-ft of torque. The more sporting-oriented SX gets a 201-horsepower turbocharged 1.6-liter four-cylinder engine that puts 195 lb-ft of torque to the front wheels. A six-speed manual transmission is standard, and a six-speed automatic is offered as an option. Fuel economy ranges from 22 mpg city and 29 mpg highway for the SX with a manual transmission to 25 mpg city, 34 mpg highway for the EX with an automatic. The goodness shows up inside the car too, with a handsome interior treatment, a strong feature set, and good ergonomics.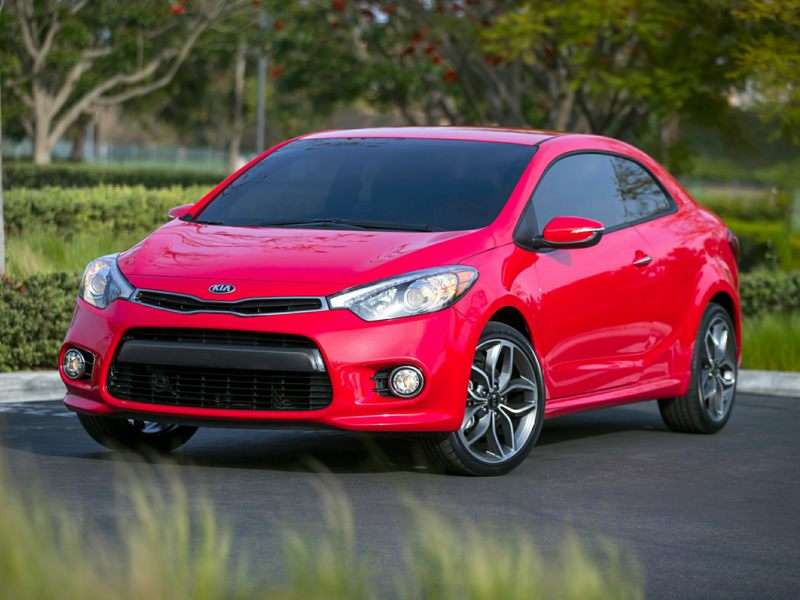 2) 2015 Mercedes-Benz C300
The Mercedes-Benz C-Class coupe is, of course, handsome with a premium look and feel throughout, offering a comfortable ride for four passengers. Even better, its four-cylinder engine makes it accessible to a much larger segment of the population than many more upscale Mercedes-Benz models. That said, the 2015 C300 doesn't feel like a compromise. It's powered by a turbocharged 2.0-liter four-cylinder that produces 241 horsepower and 273 lb-ft of torque. Rear-wheel drive and a seven-speed automatic transmission are standard; all-wheel drive is an option. Fuel economy for the Mercedes-Benz entry on our list of the 10 best four-cylinder coupes is 25 mpg in the city and 34 mpg on the highway in rear-wheel drive configuration.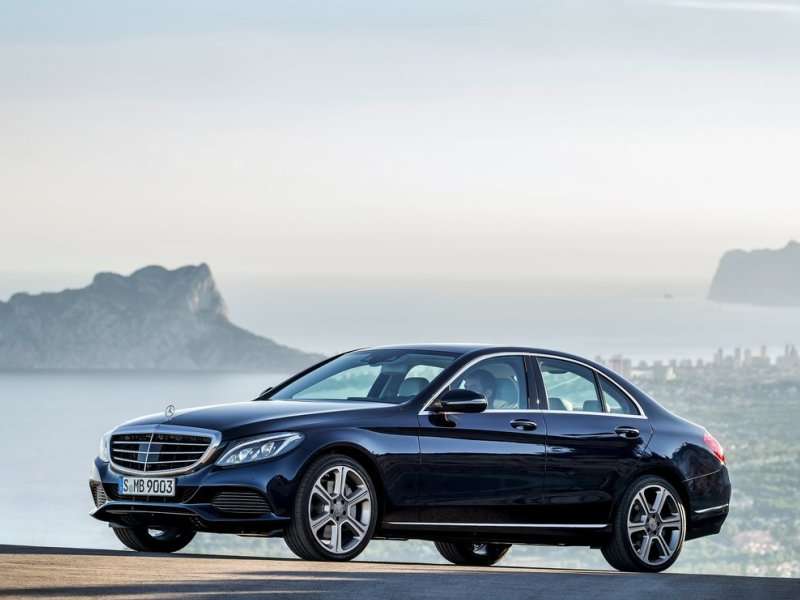 Photo by Mercedes-Benz Media
1) 2015 Subaru BRZ
Jointly developed by Subaru and Scion, the BRZ is a sibling to Scion's identical FR-S, both of which are nicely balanced, fun to drive and pleasant to look at. Their sporting intentions notwithstanding, the BRZ delivers a comfortable and spacious interior, a roomy trunk and a highly enjoyable driving experience. If you're more into the elemental driving experience, go with the Scion—as it is the more modestly equipped of the two. If you want some leather and other niceties, the Subaru is your pick.The rear-drive cars use a 200-horsepower, 2.0-liter horizontally opposed "boxer" four-cylinder engine that produces 151 lb-ft of torque. A six-speed manual transmission is standard (22 mpg city, 30 mpg highway) and a six-speed automatic transmission (25/34) with shift paddles on the steering wheel and delivering rev-matched downshifts is the optional pick.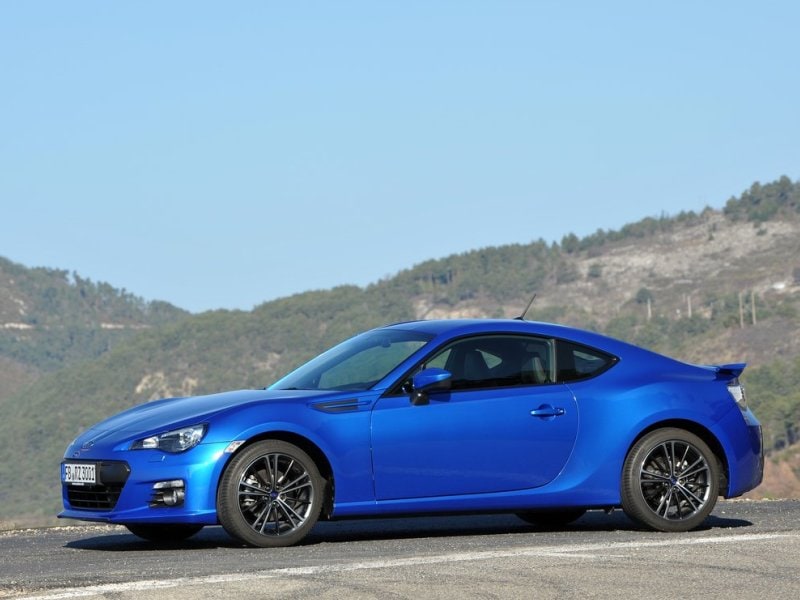 Photo by Subaru Media