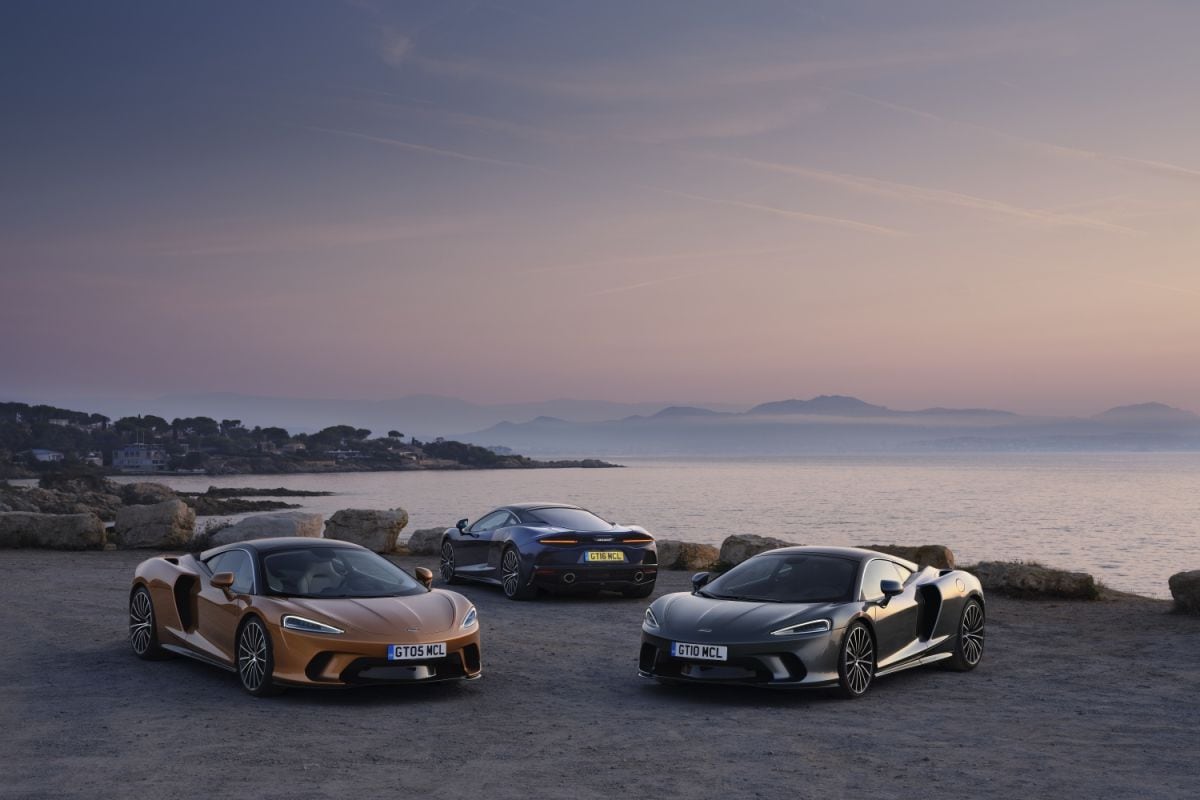 Small 11512 McLarenGTGlobalTestDriveCANVAS
You've just won the lottery. Or maybe your startup company has just gone public at a nosebleed valuation. 
And now, you can suddenly afford that supercar you've idly dreamed about since you were a teenager. 
You can head over to the Lamborghini, Ferrari, or McLaren dealership right now. 
Why wait? 
If this reality sounds suddenly intimidating, your instincts aren't wrong. If it doesn't, it's time to pause and reflect. 
Supercars are wild vehicles with incredible performance limits and ultra-conspicuous styling. They're engineered for highly skilled drivers to exploit on racetracks, yet as long as you managed to parallel park when you were in high school, you're legally qualified to drive them on the street. 
Here's what it's like to get behind the wheel of one of these dream cars. 
To answer this question, I didn't need to win the lottery or create a successful company. All I needed was an email from elite British supercar-maker McLaren, asking out of the blue if I'd like to spend a few days with the 2021 McLaren GT. 
I drive dozens of cars every year. But I normally specialize in everyday vehicles — at the time I tested the McLaren GT, my most recent articles were about economy sedans, minivans, and gas-sipping hybrid crossovers. A McLaren is an entirely different experience, and not merely because it has a base price of $215,500 and costs $248,525 as tested. 
This automobile is a super-strong, weight-saving carbon-fiber tub that wraps around two seats, a dashboard, and a mid-mounted 612-horsepower V8 engine. It's low and sleek like only a mid-engined supercar can be, and its swing-up passenger doors are instant attention-grabbers. 
What's more, McLaren has designed the GT to be relatively livable, compared to its models that focus even more on racetrack capability. It has a more compliant suspension than some of the brand's models, along with more cargo space, a transmission calibrated for everyday driving, a leather-wrapped cabin, a center console bin with a cupholder, and an adjustable-height suspension that lets you raise the vehicle's low nose so it won't scrape on speed humps and steep driveways. 
In theory, that means the McLaren GT is a car with extreme capability that's relatively easy to drive on a daily basis. And by supercar standards, that's true. But here's what you can expect if you're a supercar novice. 
You don't have to be a professional to drive the McLaren GT. The seven-speed dual-clutch transmission works smoothly in its automatic mode. The throttle is natural and progressive, so you can easily control whether you're going to go fast, crazy-fast, or downright slow. The car doesn't threaten to explode forward or slide itself off the road. And if you do run into trouble, its carbon-fiber tub is so strong that McLaren reuses the same one for multiple crash tests. You'll likely survive the smash-up to buy a replacement McLaren. 
I also liked the GT's dashboard. The controls, including a tall but narrow touchscreen infotainment system, are a rare example of unconventional design that's still easy to use once you figure out quirks like the power mirror controls on the right side of the steering wheel. Even the infotainment interface worked well and had extra-quick responses, a pleasant surprise from a specialty exotic carmaker. As another plus, the GT has a trunk in the front and the back; between the two trunks and the passenger seat, the vehicle easily swallowed a week's worth of groceries. 
That doesn't mean it's the world's best car to drive on a daily basis, though. A six-figure supercar typically isn't a luxury car — it's a racecar with some creature comforts. If you're used to luxury cars, or even regular sports cars, the McLaren GT or another supercar can be a disappointment. 
Ordinary cars are engineered to refinement levels that are easy to take for granted, with minimal noise, vibration, and harshness. The McLaren's ride is decently smooth, but you'll hear elevated cabin noise and buzzy vibrations inside the cockpit. The brakes require disconcerting effort in routine driving. 
For better or for worse, the McLaren GT is a moderately exciting car to drive even at legal speeds. Because it's so low and doesn't filter much of the road, you feel like you're going fast even when you're not. That can be an advantage over posh, silent performance cars; it gives you another way to enjoy the car without risking a trip to jail. But it also means that even puttering along at 30 mph, the McLaren doesn't let you relax.  
Some other frustrations: When I first got into the car for a brief tutorial, I was quickly urged to be gentle with the electronic parking brake's delicate plastic switch. And the power seat adjustments, a collection of buttons buried between the seat and center console, are maddening to find and operate. These aren't issues you'll face in an Audi, or even a Hyundai. 
You'll never be anonymous in a supercar, especially if it's a McLaren GT with swing-up doors and a $7,500 coat of Papaya Spark orange paint. As I picked up carryout food in the GT, a young boy in the parking lot checked it out with interest. When I swung up the door, his mouth fell open in astonished delight. A neighbor also asked me to make sure the doors were up while he took a picture. If you're looking for a crowd-pleasing car, supercars like this one will get attention. 
On the other hand, you can't turn off that attention. People will always be noticing you in a McLaren. That can be great at times. But when you swing up that door, heads are going to turn. You won't get to fade into the background. If you're in sloppy gym wear, or fail to swing yourself gracefully out of the seat over the McLaren's low tub, you probably have an attentive audience. I changed clothes to drive the McLaren, and it's not because I was suiting up for track day. And you will answer the same questions from lots of strangers; the leaders during my test were: "What is it?" and "What does it cost?"
Depending on your mindset, this attention can also present a series of lose-lose scenarios. If you drive slowly and carefully, or you stop too far back in your parking spot, some bystanders will laugh about the guy who bought a McLaren that he can't drive. If you exploit more of the car's ridiculous potential, others will cluck their tongues about the irresponsible rich dude in his too-fast sports car. And if you actually wreck it, whether in a high-speed crash or just a parking lot scrape, anyone with a smartphone will gleefully broadcast your humiliation across social media. 
If you're choosing a supercar based on its track-day performance data, quite frankly, I can't help you. I drove this car like I was borrowing it, not like I stole it. 
That's why I can tell you that my McLaren GT's trip computer estimated that I was achieving more than 25 mpg on most drives (trouncing the EPA estimates of 15 mpg in the city and 22 mpg on the highway), but I can't tell you what it's like to take it past 75 mph. I can tell you that 60 mph should arrive in less than 3 seconds, but driving the vehicle on public streets, I did not verify that. For more high-speed test results, reviews abound online. Google away.
But let's say you just want to bring home your dream car. The McLaren GT looks amazing when it's coming and even better when it's going. And even if you don't personally push it hard, no one will have any doubt about its performance potential and pedigree. It's not the best car for ordinary use, but nor is it wholly unsuitable for the task. 
If you're eager to have a rare and beautiful dream car that lets you broadcast and share your automotive passion, you're ready for a McLaren GT or one of its similarly unsubtle competitors. 
Just don't wear anything you don't want people looking at, and try not to break the dang thing.