The VW CC is more satisfying than we ever thought it would be, in performance, comfort and style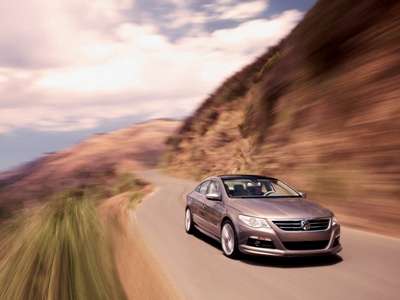 Lighter-than-aero exterior design
Art gallery-quality interior styling
Recaro sport front seats
Rear seat head room -- not gonna happen
Some dubious interior color combinations
We all tend to get extremely excited when we cruise the auto show floor and see the first examples of a production car. We certainly got goose bumps at our first glimpse of Volkswagen's sporty four-door coupe -- the 2009 Volkswagen CC. The VW CC promised an awful lot and it seemed to us that VW might have bitten off a little more than it could handle -- we still remember the VW Phaeton luxury sedan.
On this first drive of the VW CC, we were certainly not disappointed with the exterior design. The production car retained all of the styling we saw early on. The sleek low-slung stance makes the VW CC one of most striking attractions to race down our streets in a long while.
We have written and read a great many accolades of VW's 2.0-liter turbocharged four-cylinder engine. This powerplant works exceptionally well when fit to the VW CC. Even though this vehicle seems bulky, the performance exhibited by this powerful little engine is startling. Not forgetting that the VW CC is a luxury automobile as well as a sports sedan, and it is quite thrifty -- a combination of certainly three elements you might not expect from one vehicle. Hats off to VW for making a 6-speed manual transmission available, even though it might reach only 5 percent of overall sales.
Wanting a little more performance along with elegance, we'd choose the 3.6-liter VR6 engine with its 280 horsepower and 265 lb.-ft. of torque. Another important reason to selecting a VW CC with the V-6 is that it's the only way to get VW's 4Motion all-wheel drive system. No manual transmission with the V-6 -- you get the six-speed Tiptronic automatic.
Accelerating from a stop there is no perceived turbo lag. The transition of power is quick and sure as the turbo spools up and there is progressively more force on your body as it is pushed into the seat back.
Part of the credit for the excellent performance goes to the six-speed Tiptronic automatic transmission. The shifting sequence with the shifter placed in D and sport mode is satisfying, proving that computer controls have come a long way and improved immensely. Slide the shifter over to manual mode and the gear selection is left to the driver. This is where we proved the VW CC can be as satisfying on the twisties as it is cruising to the theater. We love the ability to do both having been stuck in Los Angeles traffic for hours.
Hanging the luxury sports sedan tag on the VW CC may seem incongruous but really, it isn't such a stretch with this automobile. It is certainly not hard to see this melding of attributes following our drive through a mixture of freeways, surface streets and backcountry mountain roads. The adventure allowed us to get a full appreciation of VW's engineering prowess. The front MacPherson struts and rear mult-ilink suspension system offered up smooth comfortable freeway driving. That is why it was a bit surprising to see the VW CC exhibit such satisfying handling out on the twisting country roads. The 2009 Volkswagen CC melds both attributes finely into a system offering high quality in all situations.
The absence of high levels of wind noise contributed greatly to our enjoyment of the VW CC. This slick silence can be attributed to the unique design of the outside mirrors and the extensive attention to the window seals on the frameless doors. We haven't experienced such a small amount of wind noise from any vehicle in a good long time.
The silky, low-drag effect begins at the front grille, continuing with the graceful hood and over a steeply-raked windscreen. The VW CC profile flows quickly over the drastically dropping C-pillar to the trunk lid incorporating a brake light that actually improves aerodynamics. In fact, according to VW folks their new sedan slides through the air with a slippery 0.28 drag coefficient. That's speeding-bullet aero. But we aren't talking Superman here, just a capable automobile that offers up a great deal of features while providing performance the likes of which we see in vehicles costing considerably more than the $28,000 base price.
The interior is so typical of what we have come to expect from Volkswagen. Based on the five-passenger Passat platform, the VW CC interior is cozy, providing supportive seating for just four counting the driver. The rear-contoured seats are separated by a versatile center console adding that extra touch of elegance.
Taking a step away from conventional design thinking, the 2009 VW CC dash is a combination of a texture, engineering excellence and artistic elegance. The cantilevered dash alone is an exquisite combination of surface contours that might be found on a vehicle costing two or three times the VW CC price. The interior fit and finish signal that VW took extra care in the execution of design. And this can be said of the base model as well as the fully featured top model.
Page 2
It is obvious Volkswagen learned a great deal with the less-than-successful Phaeton. The manner with which they have designed, engineered and manufactured the 2009 VW CC sedan shows they have. Not only is this an extremely attractive automobile, it is well balanced between luxury and performance. Priced correctly for the market and to fit into the Volkswagen portfolio, the CC is an automobile that will, we predict, be a success story.
Rear side airbags ($350), 18-inch Interlagos wheels w/all-season tires ($750), Technology Package ($2,640)
3.6-liter V-6
280 hp @ 6,200 rpm
265 lb.-ft. @ 2,750 rpm
6-speed automatic Tiptronic
3,374 lbs.
19 city/29 hwy
23.9 mpg
188.9 in.
73.0 in.
106.7 in.
55.8 in.
41.6 in./ 37.3 in.
37.4 in./ 36.6 in.
4
13.0 cu. ft.
By Ron Moorhead Photo credit: Volkswagen