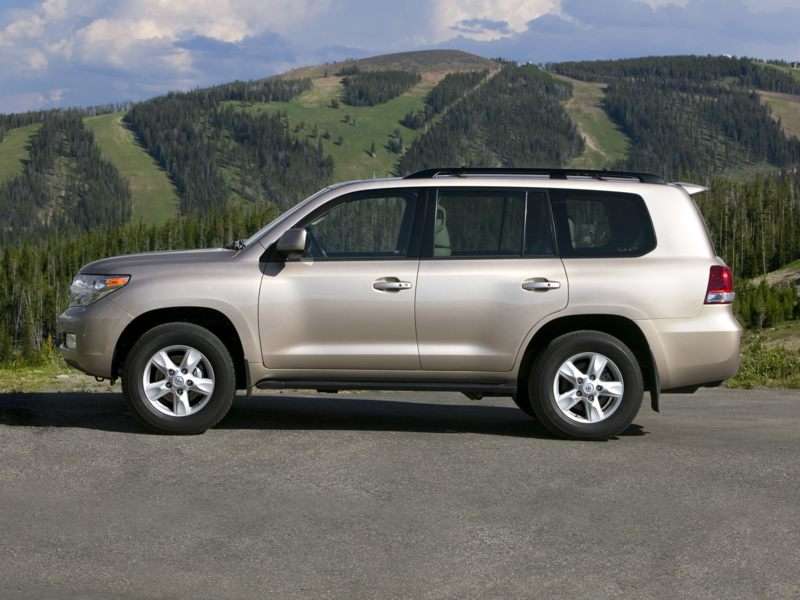 2009 toyota land cruiser
We called the Land Cruiser parked in front of our house 'Big Blue.'?
But like a world-class athlete that bulks up before a competition, this Toyota uses its weight - in this case all 5,690 pounds - to make robust strides others can only imagine.
As the original big, bold SUV rolls past the 51-year marker, it keeps its title as heavy-duty bad boy with some fairly flashy bling inside and out. What started as a utilitarian four-wheel drive Jeep-like vehicle has morphed into a large, luxury SUV with such solid off-road capabilities that Toyota dubs it 'King of the Road.'? Toyota overhauled the Land Cruiser in 2008 and made nary a change in 2009, according to Toyota reps.
The one thing to consider when you approach the Land Cruiser is that this SUV is for the serious truck buyer. This isn't the vehicle I'd necessarily buy to haul kids and groceries around town. For one thing, its oversized height would make it tough for kids to enter and exit. But beyond that, it's made for more serious duties. Putting this Land Cruiser on light duty is akin to having A-Rod play high school baseball. It's amusing, but really a waste.
Once you get over the shock of its size, you can see the Land Cruiser's exterior has a fresh, rugged look. This spiffed up model has front and rear overhangs, a thick, rectangular grille and headlamps. It's large, but again not flabby. Consider it a well-toned world-class athlete.
Now sharing the Lexus LX's platform and design, Toyota boasts that the body uses welded high-strength sheet steel to reduce weight and increase rigidity. Special designs ensure the sides and hood absorb impact. That adds about 2.3 inches to the Land Cruiser's length and 1.2 inches to its width.
Engineering details aside, the Land Cruiser has a sure, steady feel as it navigates dirt roads and hilly terrain. This test drive didn't include any bone-jarring off-road jaunts, but the car handled well on some fairly crater-filled roads. It takes a bit of adjusting to blaze along in something this large, but once you start to trust the Land Cruiser's capabilities, you can understand why it's dubbed 'King of the Road.'?
Special underbody panels behind the rear bumper protect the engine and transmission on rocky terrain, according to Toyota. Plus, there's a newly engineered air conditioning system so the three rows of passengers don't sit sweltering as the engine exerts itself during off-road maneuvers.
Clearly, what sets the Land Cruiser apart is what made it famous initially - off-road capability. Some of its recently acquired poundage is due to a stronger frame. That allows the SUV to handle dirt, rocks, and fields with grace. Plus, a new four-wheel drive control system (CRAWL), Downhill Assist Control, and a new anti-locking brake system, makes it an even sturdier sports vehicle. Avid off-road enthusiasts subtract points, though, for the low ground clearance.
That's a consideration, to be sure, but there are plenty of off-road benefits to balance that. Consider the KDSS (Kinetic Dynamic Suspension System) that disconnects stabilizer bars to boost off-road traction. That's just the beginning. Like it's SUV siblings, the Land Cruiser comes standard with the STAR safety system, a new four-wheel multi-terrain, anti-lock braking systems that automatically selects the ABS profile most suitable to driving conditions, Active Traction control, which maintains traction during acceleration by controlling the engine output and braking forces to the wheels, and Vehicle Stability control and Hill-start Assist control (HAC) which provides additional control for off-road driving by keeping the SUV stationary while starting on a steep include or slippery surface. The list goes on and on but suffice to say the Land Cruiser is designed with the off-roader in mind.
Toyota's real pearl, though, is the CRAWL control, which controls engine speed and output along with braking force to propel the vehicle forward or in reverse at one of three low-speed settings. That allows the drivers to maintain control while steering over very rough level round or steep grades without having to worry unduly about throttle or brake.
As you'd expect from the automaker that gave us the environmentally friendly Prius, the Land Cruiser is engineered so as to put it in the Ultra-Low Emissions category. Plus, it boasts improved fuel economy - 13-mpg city 18 mpg. That seems low, of course, but considering the size and weight of this SUV it's not surprising.
And, of course, what makes the SUV an off-road favorite is what bogs it down in regular driving. Certainly the Land Cruiser has a smooth ride but its extra large size can be daunting and tough to maneuver in city traffic and crowded parking lots. The Land Cruiser begs for the open road and can haul 8500 pounds along with it.
For those that want a luxury off-roading SUV, the Land Cruiser is a solid choice.