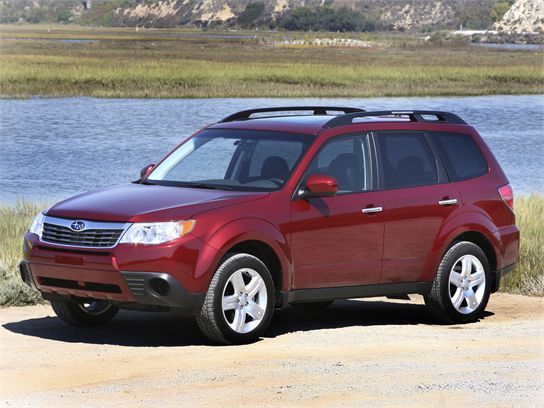 Standard all-wheel drive
Nicer interior design
More rugged styling
Too much hard plastic inside
Limited interior storage
Only so-so fuel economy
Honda CR-V EX, Saturn Vue XE, Toyota RAV4
When the 2009 Subaru Forester 2.5X appeared in our parking lot, we were prepared to be a little underwhelmed. After all, we had driven the Subaru Impreza in base, turbocharged WRX, and crazy-haired WRX STI versions, and even though all had their merits, they didn't knock our socks off. With the all-new 2009 Subaru Forester built off the same underpinnings and hewing closely to the Impreza's styling, our hopes weren't high.
So much for preconceived notions.
Over the course of a week, the Subaru Forester chipped away at our stony hearts and worked its way in. Sure, it's still sort of funny looking, and it is filled with a smattering of Subaru quirks to keep the faithful happy but leave others scratching their heads. But overall, this is a solid compact crossover SUV, with good carrying capacity for people and things, all-wheel drive that gives it a surefooted feel whether you're climbing up a dirt road or just taking a corner quickly, and a dose of refinement that the previous Subaru Forester lacked. It's not perfect – for example, we wish fuel economy was better – but on balance it's a worthy competitor to the likes of the Honda CR-V and Toyota RAV4.
While the 2009 Subaru Forester is available with a 224-horsepower turbocharged engine, our Forester 2.5X was equipped with the naturally aspirated version of that engine, which is what most people buy. The engine boasts variable valve timing and lift, and in states with California-style emissions standards it ranks as a partial zero emissions vehicle (PZEV). With 170 hp and 170 lb.-ft. of torque, the Subaru Forester 2.5X won't set any land-speed records. However, our test car did come with a five-speed manual transmission, a rarity in this class, and it definitely put a little extra spring in the Subie's step.
The combination of the torquey engine and manual transmission gives the 2009 Subaru Forester plenty of grunt for passing, if you're willing to step down a gear or two. The five-speed manual makes this easy, with smooth shifts, just-right gears and a light and easy to use clutch. If you're a manual transmission novice, take note: The Forester is equipped with Subaru's Incline Start Assist feature, which prevents the little crossover SUV from rolling backwards on hills after you take your foot off the brake. Even the more experienced among us found the feature to be useful.
Subaru has a fondness for horizontally-opposed engine configurations, which means the pistons are parallel to the ground, rather than perpendicular. The benefits are found in weight distribution; it lowers the center of gravity and puts more of the engine's mass behind the front wheels. The downside is that they sound a little funny, with a distinct "chug-chug-chug" that the company's fans love, but others might find peculiar. It's more muted here than in years past, but it still takes a little getting used to. We like it and think it adds to the 2009 Subaru Forester 2.5X's character.
The 2009 Subaru Forester's team of suspension engineers was given a tough task: Design a suspension rugged enough for some off-road duty, soft enough for a comfortable ride, and firm enough that the Forester doesn't fall all over itself in corners. They nailed the first two with the Forester's all-independent setup, and came so close enough on the third that we'll give them a pass.
Take the Subaru Forester 2.5X up your favorite fire road and you'll be pleased with the results. The raised ground clearance isn't a lot, but if your requirements are mostly confined to a dirt road on the way to the campground, or the occasional snowy driveway, the 2009 Subaru Forester will do it with aplomb. Most of the time, however, you'll just be bombing around town, and the Forester is just fine here, too, with a comfortable and controlled ride that won't leave your passengers reaching for the sick bags.
Try to take a corner fast and you are faced with a somewhat oxymoronic behavior. The 2009 Subaru Forester 2.5X squats on acceleration, dives in braking, and leans hard in corners, all of which give the impression that it's a lousy handler. But, surprise, take a quick corner and there's plenty of grip, considering the competition. The standard all-wheel drive certainly helps, but so does the low center of gravity inherent in the drivetrain. Sure it leans, and it probably looks pretty ridiculous to the cars behind you, but get used to the Subie's handling and you'll be powering out of corners quickly enough that you'll leave naysayers wondering how you managed to keep the Subaru Forester upright.
The 2009 Subaru Forester is all-new, but thanks to its sibling, the Subaru Impreza, the look is already familiar. While not a carbon copy of the smaller sedan and hatchback, the Subaru Forester definitely shares the same overall styling themes from those cars. We have to admit that it works better here than on the Impreza, even if it looks a little too much like a Mitsubishi Outlander from the rear.
The Subaru Forester 2.5X interior is a comfortable and sturdy design that definitely looks better than the previous car, but lacks somewhat in refinement compared to some of th