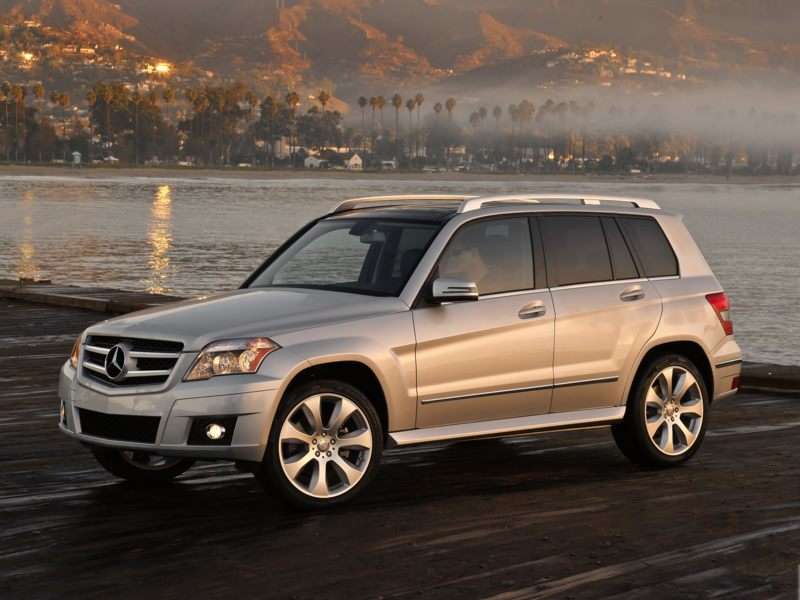 2010 MB GLK class
Drives like a car on the pavement
Handles the rough stuff, too
New (and improved) COMAND infotainment system
Steering too light
Where is the diesel?
Where is the off-road package?
One of the few hot vehicles in a cold market is the premium compact crossover SUV. Known as crossovers because their SUV-look bodystyles sit atop passenger-car chassis, the segment is bursting with cool vehicles, led by the BMW X3, Land Rover LR2, Acura RDX, Infiniti EX and, soon, the Volvo XC60, Audi Q5 and Mercedes-Benz GLK. These vehicles make more sense for most families than full-size SUVs. They boast just about every luxury, performance and safety component once offered only on the car side of the dealership, and several of them also have the scrappy toughness to brush aside most off-pavement challenges.
Mercedes joins the fray in January with the 2010 Mercedes-Benz GLK350, which hits showrooms with a base price somewhere north of $35,000. Tick all the options boxes and a fully equipped Mercedes GLK will run into the mid-$40,000 range. However, price is less important in the premium game than fulfilling the grand promise, and the GLK delivers the Mercedes message in a way the original Mercedes M-Class did not, combining luxury and performance in an enticingly practical package.
The GLK350 enriches Mercedes-Benz's portfolio at a critical entry point into the premium segment, and it also gives car buyers even more reason to visit the crossover SUV section at the dealership.
At launch, there will be nothing new under the hood of the Mercedes GLK, but that's good news because the familiar 3.5-liter V-6 is a peach. And it answers the performance question asked by diehard V-8 fans with enough torque to propel the GLK350 from 0 to 60 mph in 6.5 seconds and reach a top speed of 143 mph. The claimed 17 city/23 highway mpg is no better than average, but there are few engines out there that combine strength, smoothness and fuel efficiency so seamlessly.
Power is sent to all four 19-inch wheels through an equally polished seven-speed automatic transmission. Crisp and efficient, the gearbox is a reminder that Mercedes-Benz has been doing this sort of thing for a long time. Comfort and sport shift modes alter both the shift strategies and accelerator angle depending on whether you're in a red or blue mood.
We can't leave this section behind without mentioning our drive of the GLK320 CDI diesel during the launch of the Mercedes GLK350. Imagine 295 lb.-ft. of torque at just 1,400 rpm and over 40 mpg, and you'll understand why we'd like to see it come to America right away. A Mercedes spokesperson said the company was studying it, but we'd guess there will be a BlueTec diesel GLK on the lots within a year of the gasoline model's debut.
Because the 2009 Mercedes GLK shares much of its underpinnings with the C-Class, the most "engineered" car yet produced by Mercedes, its road manners are exemplary. The strut-type front and multilink rear suspension is miles away from standard SUV issue and delivers the comfortable ride and incisive corner carving of last generation's sports sedans. After spirited runs through the hills surrounding Dusseldorf, Germany, we think only its high center of gravity prevents the GLK from being a creditable weekend track car.
If it's not quite as sporty as the BMW X3, the Mercedes GLK is a better choice for cross-country jaunts, whether on the road or on the dirt. Unfortunately, an optional off-road package won't be available in North America. We sampled the enhanced equipment over some pretty rough terrain and came away wanting the whole kit even if we didn't hit the trails often enough to warrant the extra cost. Just knowing we could crawl up Everest or cross the Sahara in a luxury crossover SUV would be justification.
In line with its stablemates, the Mercedes GLK's mass in kept in check with an integrated system of sensors and controls, adjusting torque distribution, brake pressure and steering input to maintain optimum vehicle control. In other words, just point it and drive, because there's a vast tier of electronic safety nets always at the ready. A newly developed multi-disc clutch in the center differential is a big boost to traction under extreme conditions.
Finally, despite its daunting looks and sophisticated technologies, the 2009 Mercedes GLK is as friendly to drive as any passenger car and so should be a hit with both sexes.
Though it's built on a platform shared by new Mercedes C-Class sedan, the GLK's outward demeanor is all SUV. With styling cues borrowed from the company's full-size GL sport-ute and from the iconic Gelandewagen off-road giant, the effect is striking, though it's hard to agree with the Mercedes executive who called the GLK "sexy." To us, the GLK looks more like a hard-drivin' semi punching holes through the air with brute force. Powerful, yes. Sexy, no.
Like most modern vehicles, the 2009 Mercedes GLK's nose is far more interesting than the rest of its body. Capped by a three-bar grille, super-sized star, and foglights embedded within the body-colored front bumper, the aggressive front end leads nicely into a contoured hood and flared fenders. A wedge-shaped character line along the shoulders of the Mercedes GLK helps camouflage the extensive side metal and large windows, and a roof-mounted spoiler, wraparound taillights, a body-color bumper and dual exhaust pipes do what they can to dress up the flat rear end and large hatch door.
Beyond those few touches, the design appropriately accommodates utility and off-road competence rather than artistic license, resulting in the upright front end, generous ground clearance, distinctively short overhangs and steep approach and departure angles.
Less obvious are the wide door openings and narrow door sills that make getting in and out of the Mercedes GLK a lot less of a physical challenge than in some sport utes.
In comparison to its chief competition, the Mercedes GLK is average in every dimension. It's shorter than the Audi Q5 by four inches and the BMW X3 by over an inch, but the Mercedes' wheelbase is longer in proportion to its overall length, which helps contribute to its suave ride quality. The GLK looks like a heavyweight, but its 4,000-lb. curb weight is equal to the X3's (the Q5 weighs a couple hundred pounds less). Even more surprisingly, the GLK boasts the best aerodynamics in class.
More recognizably C-Class is the Mercedes GLK cockpit, dominated by a tiered dashboard that wraps around into the door panels. The upper section sweeps over the instrument cluster and central display and is finished in matte black while the transmission tunnel and lower section of the dash are colored black, gray or beige. Standard trim is burl walnut.
Key interior dimensions are on par with Mercedes' larger M-Class SUV, and similar to its class competitors. The upright seating position and narrow body pillars allow excellent outward vision, while the electrically adjustable driver's seat and tilt/telescoping steering wheel give most body types a comfortable relationship to the GLK's controls. Revised graphics and colors make the instrument cluster highly readable in all light conditions, and the new COMAND infotainment system with 7.5-inch color screen is easy to operate via a control knob just ahead of the driver's inboard armrest.
Normally, the five-passenger configuration provides 23.3 cubic feet of load space, but folding down the rear seats opens up 54.7 cubic feet of room and an almost flat load surface measuring 65.9 inches long. Accessories include load-securing rings to fasten down luggage, bag hooks, coat hooks in the tailgate trim, a 12-volt power outlet and lamp. Another nice trick is an additional storage compartment under the fold-up load compartment floor that splits into smaller partitions by a removable storage tub.
As expected in any Mercedes, luxury abounds. Eight-way power front seats, Bluetooth connectivity, huge sunroof, leather-wrapped multi-function steering wheel and 8-speaker sound system are just a few of the reasons why the GLK fits into the premium segment.
To give an idea of the extent of the technology stuffed into the Mercedes GLK, dual-zone automatic climate control is, of course, standard. But, this system adds a convenience feature, automatic closing the windows or sunroof if the recirculation button is pressed for longer than two seconds. Pressing the button again for two seconds will return the windows and sunroof to their previous positions. It's a simple engineering solution, turning multiple procedures into one, that's indicative of the innovative advances incorporated into the 2009 Mercedes GLK.
Much of that advanced thinking is seen in the safety systems incorporated outward from the high-strength passenger cell. Standard safety features on the Mercedes GLK include six airbags, active head restraints, and seatbelt tensioners and belt-force limiters at all seating positions. These components are deployed by a central control center that relies on numerous sensors to anticipate a collision and take appropriate measures before impact occurs. In another example of Mercedes' comprehensive approach to a problem, the central command unit also responds after an accident to isolate certain portions of the vehicle's electrical system, shut off the engine, turn on the hazard warning lights, unlock the doors and lower the windows two inches.
Of all the new crop of compact crossover cute-utes, the 2009 Mercedes-Benz GLK is most like those steeplechasers who leap over obstacles and run through water features on the way to the finish line. Compared to the sprinters, they're not pretty to watch, but the steeplechasers are one tough crowd, and that's a characteristic we're looking for especially in a type of vehicle that claims a serious work ethic. The Mercedes GLK not only fulfills this mission, it does so with an almost imperious ease.
est. $35,000 to $45,000
3.5-literV-6
268 hp @ 6,000 rpm
258 lb.-ft. @ 2,400-5,000 rpm
Seven-speed automatic
4,035 lbs.
est. 17 city/23 hwy
178.2 in.
72.4 in.
108.5 in.
65.6 in.
41.4 in./ 35.1 in.
39.0 in./ 39.7 in.
Five
54.7 cu. ft.
3,500 lbs.
7.9 in.
By Greg Brown Photo credit: Mercedes-Benz