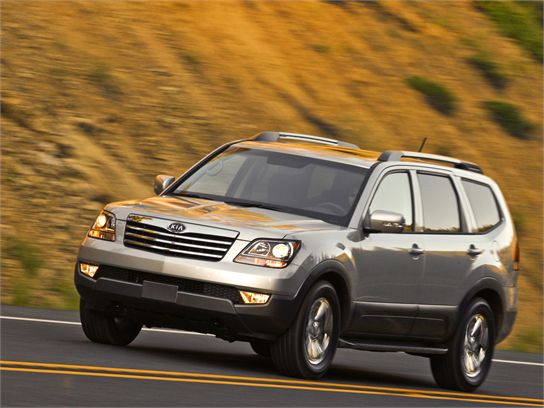 Nice features for the price
Nice and quiet
Nice and roomy
"Nice" doesn't mean "wow"
Lots of hard plastic inside
Numb, uncommunicative steering
The 2009 Kia Borrego isn't going to make mincemeat out of its midsize SUV competition. This all-new Kia owns best-in-class bragging rights in a number of relevant categories, including fuel economy, towing and horsepower. But bragging isn't everything, even though a four-wheel-drive 2009 Borrego EX does a good job of backing up the boasts.
On the day of our Kia Borrego evaluations, we were able to go back-to-back with a pair of 4WD EX models: a V-6 and V-8. In Kia-speak, "EX" means mid-level nice. "4WD" means a full-time 4WD system that's controlled on the fly by a dashboard knob that allows you to dial in your preferred mode: 4WD-high, 4WD-low, or automatic (which uses sensors to monitor road conditions and apportion driving torque to the wheels that can use it best).
Inside the V-6 Borrego EX, it is really quiet. Deliciously quiet. A casual conversation with your driving partner is easy to have, almost encouraged by the interior quiet. Surprisingly, the V-8 Borrego carried a little more road noise up into the cabin, possibly due to the wider footprint of the tires: 265/60R18s vs. 245/70R17s on the V-6.
There's a heap of head room in all three rows. Leg room diminishes the further back you go. Average adults can get by in the first two rows, but the third row is a kids-only zone. In spite of an 8-way power seat, I never got completely comfortable with the driving position, although it was nice to be sitting up high. At the same time, the Kia's front seats are excellent for long drives. They aren't complicated or overbuilt like "sport" seats, but even so, the support is impressive with legitimate touches of hip and torso side bolstering.
Interior materials, even in the upper-trim Borrego EX, are not top-grade. There's a good deal of hard plastic in the door panels and seatbacks. On the plus side, the dash layout is simple, but admirably clean. Although the steering wheel is skinny, the steering column only has two stalks on it. Ah, simplicity.
With the exception of the 17-inch wheels and tires versus 18-inchers, the V-6 and V-8 Kia Borrego EX SUVs are virtually mirror images. Beneath the hood of each, however, they are very different animals. The 276-horsepower 3.8-liter V-6 is a very serviceable powerplant in normal use, great around town and eager off-the-line. On the highway, however, getting around dawdlers and dump trucks was much easier to anticipate than to actually pull off.
None of this can be blamed on the five-speed automatic transmission, which was an ideal model of behavior: super-smooth upshifts, clean downshifts, and no indecision or hunting at all in the hilly terrain for gears.
In delivering its package of 337-horsepower and 323-lb.-ft. of torque, the Borrego EX V-8 comes on in an upflow of power rather than a whoosh. Even at an altitude of 4,100 feet with the a/c on full blast, the engine had no problem getting the 4,621-lb. Borrego willingly up to highway speeds and ready to pass less assertive traffic at will. The Borrego V-8's six-speed automatic shifts as cleanly as its five-speed counterpart in the Borrego EX V-6 and it hangs onto sixth gear tightly without feeling overwhelmed, but that's how it manages such impressive fuel-economy numbers, especially for a four-wheel-drive vehicle: 15 mpg, city / 20 mpg, highway.
Paired with the interior quiet of the Kia Borrego the big SUV's ride quality over "washboard" road surfaces and other rippled imperfections was great. The ride comfort overall is A-plus, comparable to that of the Ford Explorer. Although the Borrego's body-on-frame gives away a little bit of body roll in corners and over whoop-de-do's in the road, the suspension settles the Kia in just a few heartbeats. In the real world of day-to-day driving, this will never be an issue, it's just not tight-feeling like a unibody SUV such as the Honda Pilot or GMC Acadia.
The Borrego steering is surprisingly numb. It is vague, in fact, even for a class of vehicle that is not noted for its sharp, communicative steering. This is probably the most non-competitive thing about the 2009 Borrego.
The big, four-wheel disc brakes hauled Kia's midsize beast down really impressively and with no fuss. The brake-pedal feel is a little soft, but it's still easy to modulate to a clean, non-jerky stop.