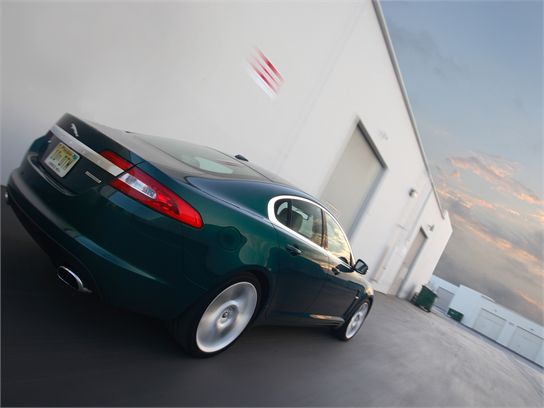 Awesome power from supercharged V-8
Modern and classy interior
Excellent big-car handling
Too-light steering
Seats need better side support
Derivative styling
In the mountains surrounding Los Angeles, on a little-used twisty road, the 2009 Jaguar XF Supercharged revealed its true self to me. The Jag's power was tremendous. The braking superb. The handling world-class. All of it came together on this short but entertaining stretch, causing me to pause at the end and say out loud, "Damn! That was fun!"
I was honestly surprised, I admit. I'm not a huge Jaguar fan to start with, and the new Jaguar XF's predecessor – the S Type – was one of my least favorites. Yet from the moment I sat behind the wheel of the new XF, pushed the pulsing Start button, and felt the car rumble to life, I had a feeling this was going to be a different and better driving experience.
Under the hood of our test car was the best engine currently available for the XF: Jaguar's excellent supercharged 4.2-liter V-8. All of us loved the engine's power delivery and its immediate throttle response, and with 420 horsepower and 413 lb.-ft. of torque running through the six-speed automatic transmission, it gives up nothing to its German and Japanese rivals. It's smooth and refined, almost too quiet really; we'd like to hear more of this car's growl. There is no whine from the supercharger, and all you notice from the driver's seat is tons and tons of torque. Our only real complaint is that it drank a gallon of premium for every 13.6 miles it went.
The transmission deserves praise as well. It's a traditional automatic – no fancy dual-clutches or anything like that – but the programming on it is stellar. Upshifts are immediate, smooth and quick, but downshifts are just as good, with the engine management blipping the throttle to match the revs to the lower gear. Is the knob-style gear selector gimmicky? A little, but it works well and is a huge improvement over Jaguar's earlier "J-gate" automatic selector. The steering-wheel paddles are right at your fingertips and laid out properly: Left is for downshift, right is for upshift. However, we do wish that in this $65,000 luxury sedan they weren't made of cheap plastic.
The suspension on the XF rivals the engine for mechanical supremacy. If you're expecting a floating, wafting ride, you'll be disappointed. However, if you're looking for a car with handling to back up its coupe-like styling, you're in luck: the XF's multilink independent suspension glues the car to the ground and actually makes this 4,200-pound luxury sedan tossable in corners. It grips wonderfully, the big Pirellis on our test car barely making a noise. When it does begin to slide, the front end starts first, but with so much power on tap it's easy to rotate the rear end. The good news is that there's no penalty for this handling when it comes to ride quality, which is sport-sedan firm, but doesn't punish the driver or occupants.
It's not perfect, of course. The stability control is too aggressive in its standard mode, cutting in right when you're really starting to enjoy the car; a less aggressive mode is available at the push of a button, and on the Supercharged version you can shut it off entirely. We also were disappointed by the steering. It's too light and lacks road feel appropriate to the car. It's not actually bad, but it should be better.
Yet all this power and handling doesn't come at the expense of refinement. The exterior has been criticized for lacking "Jaguarness," but it also benefits from not being burdened with having to look like one of the company's previous models. We grew to like it during the XF's time with us. Even though it's slightly derivative, it is also luxurious, sporty and attractive, especially in the green of our test car (which one of our editors dubbed "Indian Racing Green" in honor of Jaguar's new owners).
Inside, the XF coddles its occupants with soft leather on the seats, dash and doors, thick carpeting, tasteful wood trim and aluminum and chrome accents. It's also assembled with Lexus-levels of precision and care that we were happy to see. One of the things some of us liked was the fact that it didn't have a traditional Jaguar look inside: There's copious leather, but its application isn't gratuitous. Same with the wood: No longer do you feel as if you're actually sitting inside a tree. Clearly, heavy-handed is out at Jaguar.
There are three heavily publicized elements to the XF's interior that require discussion: the JaguarDrive gear selector; the rotating air vents; and the JaguarSense touch-sensitive glovebox and overhead lights. We decided we like the first two, but are cool on the JaguarSense. The gear selector is cool, we admit: It glides up into your palm, is substantial feeling, and you quickly get used to the idea of twisting a knob instead of moving a lever. The rotating air vents are more of a gimmick, really, but one that gets an "ooh" from passengers the first time they see it. The JaguarSense, however, is a problematic gimmick. You have to be maddeningly precise with the glovebox, using just a fingertip to touch the sensor, not, for example, the whole pad of your thumb. Since it's not lit at night, you have to have the precision of a watchmaker plus robotic spatial memory as well. A traditional button would be much better.
While we're at it, there are a few other faults. We mentioned the plastic shift paddles – they should be metal or at least have a rubber touch surface – and the turn signal and windshield wiper stalks also felt a little wonky. The multifunction navigation system should have tasks like the seat heating and cooling controls broken out. We als