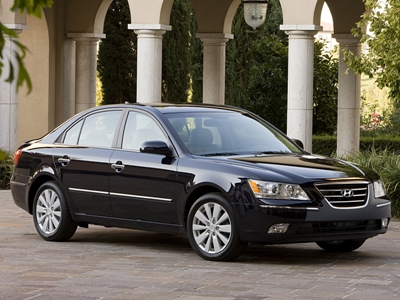 10-year/100,000 mile warranty
Interior has improved over previous year
Front seats are surprisingly comfortable
Atari Pole Position steering
Underpowered 4-cylinder engine
Interior materials slightly trail class leaders
We're trying to think of one good reason to buy the 2009 Hyundai Sonata Limited. The Hyundai Sonata Limited costs as much as the four-cylinder Chevrolet Malibu LTZ and only slightly less than the Honda Accord EX-L, but the Sonata Limited is not appointed as nicely as either of these competitors. The interior of the 2009 Hyundai Sonata Limited feels cheap in comparison and we're still trying to figure out what it is about this high-end Sonata that deserves the Limited tag.
The only advantage the 2009 Hyundai Sonata Limited has over the competition is the 10-year/100,000 mile warranty, and for some buyers, the comfort of the Hyundai warranty may exceed any creature comforts they will find in the Honda Accord, Toyota Camry, Chevrolet Malibu or Ford Taurus.
Our 2009 Hyundai Sonata Limited was equipped with a 2.4-liter inline-4 engine that puts out 175 horsepower and 168 lb.-ft. of torque at 6,000 rpm. The drivetrain is uninspired and uninspiring. Mated to a five-speed automatic the 4-cylinder just never had enough oomph to make us feel comfortable passing, but just enough beans to get out of its own way when entering freeway on-ramps. We often joke that people in California don't how to merge because they don't understand the meaning of yield. A mandatory week in the 2009 Hyundai Sonata Limited would embed long term understanding in this lost driving art and could greatly improve traffic on Southern California freeways.
Let's get the steering issue out of the way immediately. This is the biggest standout performance item on this car and not in a good way. Acceleration and performance harkened back to the 1980s, so it's no surprise the steering does, too...only not from a car. We haven't felt steering this loose since we played Atari Pole Position in the arcades back in the era of leg warmers and turned up collars. Disconnect is just not a strong enough word, it's like the road doesn't even exist under the wheels. On the other hand, if you are looking for a car you can steer with a flick of your pinky, the 2009 Hyundai Sonata Limited is the car for you. But don't look for any positive road feedback to enhance the Sonata's agility and make up for its lackluster performance in other areas.
However, as a mindless cruiser, the 2009 Hyundai Sonata Limited will get the job done. With such light steering, anyone will be maneuver it around tight shopping center parking lots and parallel parking should be a breeze. Braking is more than adequate and wind and road noise push the envelope of acceptability, but when compared to the competition, is really not acceptable at all.
It's hard not to think about the $25,000 price tag when sitting in the driver seat surveying the materials that make up the interior of the 2009 Hyundai Sonata Limited. There is nothing about them that says "Limited" or $25,000. A 4-cylinder Chevrolet Malibu LTZ can be had for the same money, but much more nicely appointed. We like the seats, but the 2009 Hyundai Sonata Limited has too many shiny, hard-plastic surface areas, and we've never been fans of mouse-fur headliners. We also found road and wind noise to be much more intrusive than the competition. On the plus side, interior roominess is a Sonata specialty.
Hyundai has carved a place for itself as a builder who offers cheaper vehicles with a terrific warranty if you were willing to sacrifice a little on material quality and workmanship. But while the 2009 Hyundai Sonata Limited is improved over the previous year, it still brings lower cost materials than competitors, yet comes priced similarly to vehicles with better interior refinement. If this is the price point Hyundai wishes to compete in, it will have to up its game plan.
Page 2
The most outstanding feature of the 4-cylinder 2009 Hyundai Sonata Limited is the 10-year/100,000 mile warranty. While Hyundai has improved the Sonata interior markedly over the prior rendition, it still loses the battle is materials and creature comfort to the competition. It's lacking in power, and the steering is severely disconnected, but the 2009 Hyundai Sonata Limited still comes with a price tag rivaling the competition. However if a long term warranty is more important to you than performance or a nice interior, the 2009 Hyundai Sonata limited makes an excellent choice.
$24,735
Carpeted floormats ($90)
2.4-liter Inline-4
175 hp @ 6,000 rpm
168 lb.-ft. @ 6,000 rpm
Five-speed automatic
3,327 lbs.
22 city/32 hwy
20.3 mpg
188.9 in.
72.1 in.
107.4 in.
58.0 in.
43.7 in./ 37.4 in.
40.1 in./ 38.2 in.
Five
16.3 cu. ft.
By Vernon Heywood Photo credit: Hyundai