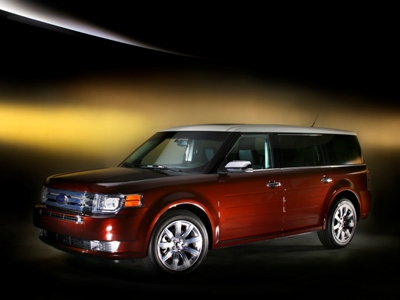 Striking exterior styling
Functional and versatile interior
The world's first cool family hauler
Thirsty V-6 engine
Fit, finish and materials need improvement
Bottom of doors likely to scrape on curbs, rust
Quick, name all the cool family haulers you can think of. Something with three rows of seats, plenty of cargo room, y'know, a big vehicle you could drive to grandma's and have plenty of room for everyone.
Stuck for an answer? We don't blame you. The words "cool" and "family hauler" are as oxymoronic as "congressional" and "ethics." You buy a crossover or minivan because you need one, not because you think they're bitchin'.
Sure, all manufacturers try to portray their people haulers as cool – Honda's psychedelic "The Van is Back" series of Odyssey commercials come to mind – but they're usually just lame attempts to hide what we all know: These are boring vehicles. Yet now there's the 2009 Ford Flex, and it could change that dynamic once and for all. It looks different, inside and out. It has style that goes away from the utilitarian straight into the...cool. Yet what's unique about the 2009 Ford Flex is that in spite of its coolness, it offers up all the convenience, utility, and, well, flexibility buyers demand from their family cars.
The 2009 Ford Flex comes with one engine choice: A 3.5-liter V-6 that puts out 262 horsepower and 248 lb.-ft. of torque. Considering that an all-wheel drive Flex like our test car weighs in at a considerable 4,640 pounds, that's not exactly a mountain power. Still, the 2009 Ford Flex has more than enough guts to get out of its own way, and although we won few drag races, we didn't find ourselves ever really wanting for power. The engine sounds a little rough at high revs, but power delivery is consistent from idle to redline. Our sole complaint is that we got significantly worse gas mileage than anticipated: Our observed 13.4 mpg is far off the 18 mpg combined EPA rating.
The V-6 is connected to a six-speed automatic transmission. This is the same unit we've praised and criticized in other recent Ford products. We praise it for its sensible gear selections, quick action and lack of hunting. We criticize it for the occasional roughness of the gear changes, and the lack of a manual control function. Considering that Ford owns a part stake in Mazda, which uses its own much nicer six-speed automatic, we wonder why the 2009 Ford Flex doesn't just grab from that parts bin. As for the all-wheel drive, unless you live in snowy climes, we think it's a needless expense on a vehicle that is far too low to the ground for even mild off-road use.
The suspension tuning in the 2009 Ford Flex is a good blend of ride comfort and class-appropriate handling. Note the qualification there. The Flex is not a rally racer in disguise, but it has enough grip and control that you never feel like it's going to hurt you if you decide to take a corner quickly. It's not particularly rewarding when you do so, reducing the likelihood that you'd go racing around in a 2009 Ford Flex anyhow.
Give up those aspirations and you'll discover that the Ford Flex is admirable when it comes to swallowing up large sections of road in a hurry. The ride is comfortable with good enough control of body motions that nobody will get carsick. The steering is light and numb, but no more so than many other vehicles in this class, and nobody thought it took away from the driving experience. The brake pedal felt spongy as well, but the brakes themselves had no problem hauling this large car down from speed.
Boxy, as it turns out, is good. At least, in the case of the 2009 Ford Flex it is. The shape is almost literally two boxes – one small at the front for the engine connected to a larger one for the passenger compartment – with an upright windshield connecting the two. You can see for yourself if you like the design or not. Most of us, however, admire the Flex if for no other reason than its styling showed us just how much alike the rest of the minivan and crossover market looks. One note though: The doors wrap far down under the vehicle, a design that is sure to result in massive curb scrapes and, over time, rust. So be careful opening them.
The interior of the 2009 Ford Flex is much the same, prompting one editor to remark that this interior couldn't belong in any other car. From the outside, the interior style is exactly what you expect: cool, but functional as well. The front seat is wide and comfortable, the kind of place you could spend hours if need be. It's also plenty quiet, with some wind noise at speed, surely due to the Flex's boxy shape, but still admirably quiet.
The second row is almost as good as the front as far as comfort is concerned. The seats in our Limited test vehicle were heated and covered in leather, and they also slid back and forth and boasted reclining seat backs. Ford even provided footrests (carpeted wedges) under the front seats that can be removed and moved to enhance second-row passenger comfort. The separately settable rear air conditioning was also helpful, although we wish it were easier to control from the front seat -- digging through the navigation system isn't fun.
The third row is easy to access thanks to the optional power folding mechanism on the second row seats -- press a button and the seatback folds down, then the whole seat flips forward within a couple of seconds. The third row itself is a little tight, with marginal headroom for adults, but it's OK for short stretches, and the kids'll love it. Behind those seats is a good-sized cargo area that's both minivan deep and SUV wide, a great and flexible combination. If you need more, the third row cleverly folds down for a very flat load floor.
Gadget hounds will be very satisfied with the Flex. Our test car had the navigation system with Sync, and many of us think it's one of the top two or three systems on the market, maybe the best. Voice navigating is nothing new, but Ford also includes an onscreen list of responses in case you've forgotten exactly how the computer wants you to respond. Then there's Sync itself, which allows you to find songs, phone numbers or other information on your cell phone, USB thumb drive or iPod with just your voice.
We do have our complaints though. Although the Flex is definitely a step in the right direction for Ford, we do wish that some of the plastics were higher quality, and that extra attention were paid to fit and finish. We found numerous places around our vehicle where wavy plastics or poor-fitting clips were evident -- one of us pounded the windshield pillar cover back into place with his fist. We'd also probably skip the panoramic sunroof option. It looks neat, but we're betting the thin mesh retractable covers provided won't stand up to an intense summer sun. Same goes for the pricey between-seats fridge on our test car. While we like the idea, the lack of a removable and washable liner means guaranteed mold and mildew after a while, and who wants to pay $760 to make their Flex to smell like a locker room?
Page 2
The 2009 Ford Flex is good enough that one of our editors – a die-hard minivan fan – found himself on the build-your-own section of Ford's consumer website. He decided he liked the Limited's level of equipment, but would probably skip the all-wheel drive and panoramic roof. Thus equipped, the Flex comes in right at the $40,000 mark, a good-sized sum, but hey, can you really put a price on cool?
$43,820
Navigation system ($2,375), Second-row 40/40 seats w/Autofold ($870), Panoramic Vista Roof ($1,495)
3.5-liter V-6
262 hp @ 6,250 rpm
248 lb.-ft. @ 4,500 rpm
Six-speed automatic
4640 lbs.
16 city/22 hwy
13.4 mpg
201.8 in.
88.8 in.
117.9 in.
68.0 in.
40.8 in./44.3 in./33.3 in.
41.8 in./40.5 in./38.7 in.
Six
20.2 cu. ft.
By Keith Buglewicz Photo credit: Ron Perry