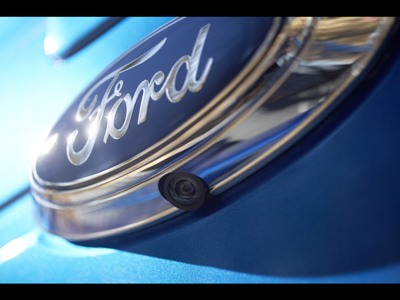 Smooth six-speed automatic transmission
Plenty of rear-seat room
Comfortable and quiet ride
Top-of-the-line engine lacks competitors' grunt
Some interior materials feel subpar for a Lariat
GM and Dodge offer better powertrain warranties
It's funny how sometimes the best developments come just after the final bell has rung. There are surely those of us who can remember a stock splitting hours after we dumped all of our shares, or a blazingly-fast computer becoming available as we're loading software onto what's now a dated MacBook. The phenomenon can also be seen with the recent debut of the 2009 Ford F-150 pickup, possibly the best full-size light-duty truck to ever come out of Dearborn at a time when buyers are zeroing in on smaller, fuel-efficient vehicles. But unlike that now-worthless day-old laptop, there remains a strong market for pickups, and the new Ford F-150 has been designed to grab the lion's share.
(2009 Ford F-150 Platinum model shown)
While Dodge has admittedly sacrificed some utility in the name of comfort, Ford is launching the 2009 F-150 under the tagline, "The And Solution." That represents the truck's focus on comfort coupled with a class-leading payload capacity; a fuel-efficient SFE variant that delivers up to 21 mpg and a 7,500-lb. towing capacity; and a host of features that should appeal to everyone from the soccer mom to the contractor looking to downsize from his Super Duty. Like every vehicle, the 2009 F-150 has its faults, but when viewed against its even its toughest competition, "The And Solution" just might be The Best Solution.
For 2009, the Ford F-150 powertrain lineup includes three V-8 engines and two automatic transmissions. Entry-level models feature a 16-valve, 248-horsepower 4.6-liter V-8 mated to a four-speed automatic. An all-new six-speed automatic is paired with an available 24-valve, 292-horsepower 4.6-liter V-8 or the top dog that came with our F-150 Lariat SuperCrew test truck, a 24-valve, 310-horsepower 5.4-liter V-8 (320 horsepower when running on E85 fuel).
Despite major competitors offering engines with significantly more power, Ford has done wonders with the tried-and-true 5.4-liter V-8. At idle, there's a pleasant rumble from the exhaust, but once underway, all you'll notice is the engine's refinement. This would become especially obvious if you were to do back-to-back swaps from the F-150 Lariat SuperCrew 4X2 to its competitors, which with the exception of the 2009 Ram, suffer from more noise and vibration at full throttle, though the competing engines feel more powerful. What really sets the new Ford F-150 apart from some of its competition is the new and overdue six-speed automatic transmission. First gear allows for quick starts, giving you the sense that the 5.4-liter V-8 ponies up greater stats than it really does.
As we discovered during a rather aggressive towing exercise, Ford's six-cogged tranny is extremely smooth, even under full throttle on a steep incline. Plus, tap the tow/haul mode button and you'll be able to elicit downshifts with a slight tap of the brake pedal, a very helpful feature when you're headed downhill trailering more than five tons of cargo.
Unlike Dodge, which has taken the unusual approach of putting rear coil springs on its 2009 Ram, Ford has stuck traditional rear leaf springs, though they have been stretched and lengthened to improve the 2009 F-150's ride and handling characteristics. The effort has paid off, and the result is a full-size pickup truck that's almost as smooth as the Ram, yet doesn't sacrifice any capability. The redesigned F-150 tackles rough pavement without the bothersome bucking exhibited by many large pickups. On the road, the 2009 Ford F-150 does a commendable job of staying controlled and on course, much better than comparable Chevy Silverado and Toyota Tundra models. Running through an autocross course with about 850 pounds of weight strapped into the bed, the Ford F-150 proved itself with limited body roll and a generally more responsive feel.
(2009 Ford F-150 Platinum model shown)
Part of that is due to a steering system that's superior to what's offered in other full-size trucks. The 2009 Ford F-150 provides more feedback and has been updated with new dampers that limit vibration. Braking is also commendable in all city and highway situations, and after repeated usage -- the pedal is easily modulated, and we had all the available stopping power needed with no worry of fading.
Behind the 2009 Ford F-150 Lariat SuperCrew 4X2's more rugged, Super Duty-esque exterior is a truck equally focused on passengers and cargo. Ford will tell you that the seats have been redesigned for greater comfort, but we didn't notice a significant difference. Nevertheless, our 2009 Lariat's leather-clad power buckets were plenty cozy and offered plenty of thigh and back support. Triple-setting heating and cooling certainly didn't hurt. The leather-wrapped steering wheel included a handy tilt adjustment, and power pedals are intended to compensate for the lack of a telescoping function. Long, padded armrests replace the parts found in the old Ford F-150, but even our upscale Lariat model lacked padding on the doorsills. Out back, the 2009 SuperCrew gets an extra six inches of room, which makes this one spacious truck. Fold the seat up, and Ford is happy to point out that the flat load floor will allow you to carry bulky items inside the cab if inclement weather rules out the open bed.
(2009 Ford F-150 Platinum model shown)
Speaking of the bed, there are a number of new features designed to improve the 2009 Ford F-150's utility. The tailgate step introduced in the Super Duty is now available, as is a cargo management system that incorporates side rails, a folding bed extender, and storage bins. These removable containers are waterproof, but they're also cumbersome and limit the bed's capacity. Dodge's Ram Box, though overpriced, is a more innovative solution. The new Ford F-150 is also available with a new retractable side step bolted to the frame forward of the rear wheelwell. This device is a solution to existing owners' complaints about the tall bed being difficult to access from the side. The stiffly-sprung step means Ford can keep its deep bed, but new owners will be required to pay extra for easy side access – seems that kind of thing should be standard.
Other enhancements to the new F-150 include the Microsoft-developed Sync hands-free communication system, a voice-activated navigation system with an eight-inch touch screen and real-time traffic information courtesy of Sirius Travel Link, and a 390-watt Sony sound system.
Not found on our test truck but bound to be immensely popular is Ford's Work Solutions technology, created for those who use their trucks on the jobsite but potentially serving a wide variety of buyers. Among the components is an in-dash computer that uses Sprint's broadband network to provide high-speed Internet access (a wireless keyboard and printer are available), an electronic tagging system that allows you to track tools and other gear through the computer, a locking cable system fastened to the bed and designed to keep items safe and secure, and a fleet management system that allows business owners to track the use, location and diagnostics of their working F-150s.
With on-pavement testing complete, we hopped into a Ford F-150 FX4 to evaluate the 2009 Ford F-150 pickup's off-road prowess. Our route took us along rutted trails and through sticky mud pits, giving us the opportunity to work the skid plates, utilize the FX4's on-demand four-wheel drive system, and determine just how far you can get with a set of Goodyear LT tires. We'd like to say that it was all business, but frankly, nailing the throttle and hearing a V-8 scream as mud flies while the 2009 F-150 scrambles for traction is guaranteed to put a smile on your face. Though the undercarriage and even the radiator fan were thoroughly clogged with moist soil, we're happy to report that the Ford didn't falter.
Page 2
After a few days spent with Ford's 2009 F-150 Lariat SuperCrew 4X2, we'd say the future looks bright for this full-size pickup truck. Granted, the market for light-duty trucks is shrinking, fuel economy concerns continue to push buyers into smaller vehicles, and the competition has improved markedly. But, with its comfortable ride, class-leading capability, and innovative features, the new Ford F-150 is poised to defend its best-selling turf, especially as heavy-duty truck owners move down. The larger SuperCrew cab should be seriously considered by those who want to maximize interior room and comfort, but our Lariat disappointed with hard plastics in the wrong places Its nearly-$40,000 price tag, and the fact it's now lost in a lineup filled with well-equipped XLTs and luxurious King Ranch and Platinum models didn't help either.
Most importantly, if a 2009 Ford F-150 is in your future, make sure it comes equipped with the new six-speed transmission – that bit of hardware makes the most of available power and helps to transform the driving experience.
$39,340
3.55 Limited Slip Axle ($300), Sony Six-Disc CD Changer ($435), Chrome Step Bar ($495), Power Sliding Rear Window ($250), Lariat Plus Package ($795), Tailgate Step ($350), Heated/Cooled Front Seats ($895)
5.4-liter V-8
310 hp @ 5,000 rpm
365 lb.-ft. @ 3,500 rpm
Six-speed automatic
5,314 lbs.
14 city/20 hwy
231.7 in.
78.9 in.
144.5 in.
74.3 in.
41.4 in./ 43.5 in.
41.0 in./ 40.3 in.
Six
1,730 lbs.
9,800 lbs.
By Thom Blackett Photo credit: Ford