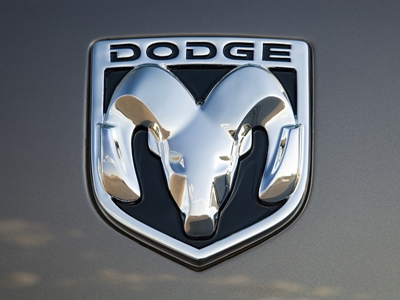 Comfortable ride from redesigned rear suspension
Upgraded interior materials
Lifetime powertrain warranty
Lacks competitive six-speed automatic transmission
Lower maximum towing capacity and payload than some competitors
Leasing not available through Dodge
Think bait and switch and images of slithering salespeople come to mind, but in truth, we consumers can often pull the trick on ourselves. Those titanium clubs in the window, with the price clearly marked, get us through the door but practicality and sensibility leave us walking out with a set of Wilsons from the discount rack. Same goes for vehicles like the new 2009 Dodge Ram. The brochures and the advertisements describe the all-new Crew Cab model, highlighted by leather seats that cool your backside and an entertainment system that pulls in television reception in the flats of South Dakota. Then reality sets in: Not only do we not need all this stuff, we sure as heck don't want to pay for it.
That's why the majority of 2009 Ram buyers will wisely drive home in an SLT model. Starting at $30,375, this is the mass-market version of Dodge's redesigned full-size pickup truck, offered with a healthy list of standard features as well as desirable options that you can't get on the entry-level ST. Plus, it's versatile thanks to two- and four-wheel-drive availability, a choice of powertrains, and various styles such as our Quad Cab test truck.
Power for our Quad Cab SLT test truck came from the Ram's mid-level engine, a 4.7-liter V-8 good for 310 horsepower and 330 lb.-ft. of torque. After spending the previous few hours behind the wheel of a 390-horse, Hemi-powered Sport model, we didn't expect to be overwhelmed by the smaller V-8. To be sure, overwhelmed would be overstating things, but our SLT took care of business with ease as it pulled strong from a stop and resonated with a hearty growl. No worries here about merging into fast-moving traffic or making quick two-lane passes. That being said, we didn't utilize our Quad Cab truck's tow package and the bed was empty, which come to think of it, was a perfect test of how 90 percent of future owners will use their new Rams.
The 4.7-liter V-8 is a competent engine; the five-speed transmission provided smooth shifts, though power delivery wasn't perfect. When accelerating hard from a stop, we noticed a drop in power when the tranny shifted into second gear - the engine would lug for a brief second or so. However, we have a more significant complaint about this V-8: It's not the Hemi. Dodge executives suggest that, when not standard, the Hemi will add about $1,100 to the price of a Ram. With that slight bump in price you get an additional 80 horsepower and 77 lb.-ft. of torque, variable-valve timing, cylinder deactivation, and identical EPA fuel economy ratings. So, why go with the 4.7? Anyone?
In truck vernacular it's called skating - a pickup truck's tendency to bounce, laterally, over irregular pavement in corners. It's a little unsettling, to say the least, so Dodge engineers worked to lessen the skating effect, not to mention improve ride comfort and overall stability, by fitting the 2009 Ram with an all-new coil spring rear suspension.
The payoff is, as expected, a full-size truck that feels markedly improved on uneven road surfaces, not car-like but significantly more composed and compliant than current competitors. The Ram remains a genuine utility vehicle, so you won't be carving canyons in the Quad Cab SLT, but rounding corners on ratty old country roads won't have your new Dodge dancing atop the asphalt. Control - it's a wonderful thing, and the Ram's coil spring rear suspension delivers it unlike any other leading full-size pickup. As an added bonus, the smoother ride translates to a more comfortable ride for the Ram's driver and passengers, and on the roads we drove, that nasty rear-end hop characteristic of big pickups was diminished.
Dodge is proud of the 2009 Ram's all-new interior, most notably what company reps point to as much-improved materials. Indeed, the experience inside the Ram has been markedly improved, provided you go with an SLT or higher trim. Shell out the extra bucks to bump up from the ST to the SLT and you'll enjoy more soft-touch surfaces, not the least of which are those on the window sills. Dodge designers recognized that pickup owners have a thing about driving with their arms on the window sills, so not only did they make sure the sill was positioned correctly, they also added some padding to make it more comfortable. A few of the Ram's competitors might want to follow suit.
Aside from the materials, the 2009 Dodge Ram features a more contemporary interior design, decent visibility thanks to a generous greenhouse, and a bounty of storage provisions ranging from large dash cubbies to wide pockets integral to the center armrest. Comfort is provided aplenty with thickly-padded front seats and generous head room; rear passengers are stuck with an upright seatback.
Page 2
Dodge expects the new Crew Cab model to appeal to the greatest percentage of future Ram buyers, but there are plenty of you out there who don't want or need a truck with four full doors, opting instead for the 2009 Quad Cab that'll carry up to six people in comfort, provide secure and dry storage for all your gear, and offer more capacity with its longer bed. The comfortable and well-mannered SLT is a good choice for Ram Quad Cab shoppers seeking a pickup that crosses bridges the gap between utility and family vehicle. But before committing to several years of payments, consider splurging for the mighty yet equally efficient Hemi.
$30,375
4.7-liter V-8
4.7-liter V-8
310 hp @ 5,650 rpm
330 lb. ft. @ 3,950 rpm
5-speed automatic with manual shift mode
N/A
13 city/19 hwy
 229.0 in.
79.4 in.
140.0 in.
73.9 in.
41.0 in./ 36.8 in.
41.3 in./ 39.7 in.
6
N/A
1,710 lbs.
7,200 lbs.
8.6 in.
By Thom Blackett Photo credit: Dodge