Quad = too small. Mega = too big. Crew = just right.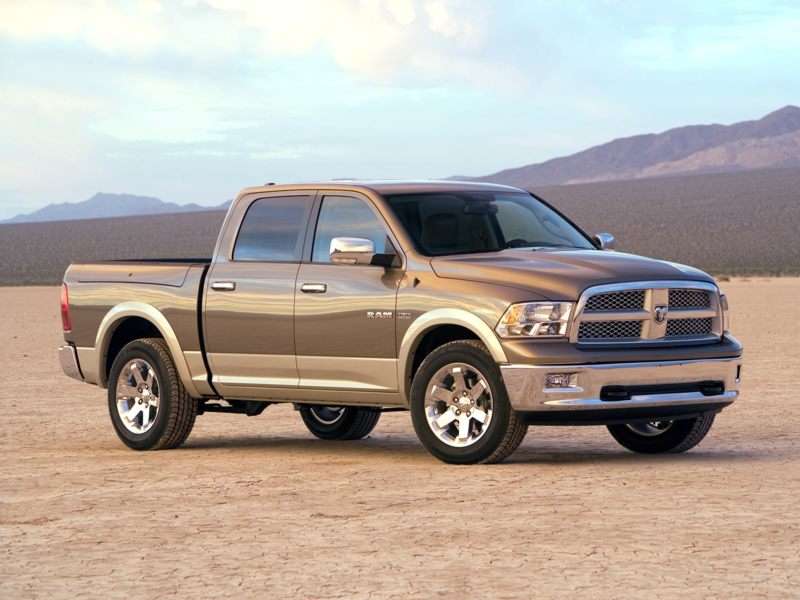 dodge ram 1500
Comfortable ride from redesigned rear suspension
Desirable features, such as Ram Box and Sirius TV
A true Ram Crew Cab…finally
Lacks competitive six-speed automatic transmission
Lower maximum towing capacity and payload than some competitors
Leasing not available through Dodge
Here's an odd fact: 2009 marks the introduction of a Dodge Ram Crew Cab. You know, the light-duty pickup equivalent to the family sedan with four full-size doors. Dodge didn't have a Crew Cab model? That's like Ben & Jerry's selling every flavor except Vanilla. While Chevrolet, Ford, GMC, Nissan, and Toyota have been satisfying demand for this body style, Dodge has been peddling Regular, Quad and MegaCab Rams.
Well, a light went on somewhere, and as a result the world now has the 2009 Dodge Ram Crew Cab. We took Dodge up on an invitation to drive the new truck, racking up miles in a four-wheel-drive Sport version with a new 390-horsepower Hemi engine and a number of other options that brought our tester to $45,495. After experiencing the truck's comfortable ride, handy convenience features and bullish engine, we're thinking Dodge might've simply taken its time to make sure the 2009 Ram Crew Cab was everything that it could and should be.
Standard on the Sport and Laramie versions of the 2009 Dodge Ram is an upgraded 5.7-liter Hemi V-8 pushing a mighty 390 horsepower and offering up 407 lb.-ft. of torque. If you've got a favorable impression of the Hemi, this newest iteration sure as heck won't be changing your mind. From the moment it fires up and starts rumbling, there's little doubt about this engine's intentions. The Hemi sounds sweet, and as we'd hoped, moved our four-wheel-drive Ram Crew Cab Sport with ease. Power delivery is smooth, but if you hammer down the truck will launch quicker than something so huge logically should. When packed under the hood of a Regular Cab R/T, the 5.7 Hemi gets Ram to 60 mph in less than six seconds. No, not too shabby at all.
Our test truck wasn't quite that fast, but we were never left wanting for power; with a jab of the go pedal, we executed passes on two-lane roads without a worry in the world. Though it offers one less cog than some of its competitors, our Ram's five-speed automatic transmission provided smooth and consistent shifts; an available center gear lever can be clicked side-to-side for manual shifts.
With the open-road testing done, we hopped behind the wheel of a Hemi-powered Ram set to tow a 5,600-lb. Airstream trailer. That kind of weight was hard to ignore, but the Hemi felt as though it had power to spare, allowing us to confidently merge with quick-moving traffic from a dead stop.
Like all other 2009 Dodge Rams, our Crew Cab Sport tester featured a coil spring rear suspension intended to improve ride and handling while sacrificing little in terms of capacity. All Rams sit high and, not surprisingly, roll quite a bit in corners, but the revised suspension has transformed the ride. We had the opportunity to reacquaint ourselves with competing vehicles as well as a 2008 Ram while testing the 2009 model. Not only did the new Ram provide a more compliant and controlled ride than its competitors, it put its predecessor to shame. Physics dictates that the tail will still get loose if you get too aggressive on bumpy surfaces, but keep your speed in check and the '09 Ram will absorb much of that old road's chaos without any mention within the cabin.
That suspension is only part of the package. It works in tandem with a rack-and-pinion steering system that is light on road feel but does provide more feedback than, say, the Toyota Tundra. Braking performance was commendable during our test.
Decked out with leather upholstery and a touch-screen, 3-D navigation system, our Ram Sport was hardly a bare-bones yard truck. The door panels and, more importantly, window sills feature soft-touch surfaces, the interior materials looked and felt like a step up from what we've seen in previous Rams (and Dodge products in general), the switchgear was well-placed and intuitive, and the new design attractive. Front seat room is generous, and the first Ram Crew Cab delivers a comfortable spot for up to three rear passengers with plenty of leg and foot room, not to mention a nicely reclined seatback.
Also offered on the new Crew Cab are a number of storage provisions, including cubbies in the rear floor capable of storing beverage cans or any number of small items. Moving outside to the bed, the Crew Cab can be ordered with the innovative Ram Box. Opt for this handy feature and you'll get locking and illuminated storage wells over the bed's wheel wells. We were honestly surprised by how many tools we could stuff in there, and even more surprised to discover that a bag of golf clubs would go in without any fuss.