A truly competitive crossover SUV...now with a Bowtie badge.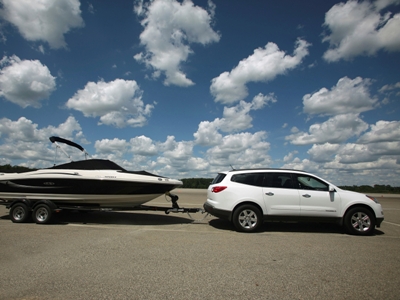 Surprisingly quiet interior
Quick and easy third-row access
More engine power reserved for LTZ model only
GMC and Saturn sell nearly identical vehicles
Optional second-row bucket seats are too narrow
Unless you spend a lot of time in rental cars, the prospect of driving a Chevrolet without a Silverado, Tahoe, or Suburban badge might've been out of the question for the past decade or two. Well, times have changed, as has Chevy's lineup, which now includes award winners such as the Malibu sedan and, most recently, the promising 2009 Chevy Traverse eight-passenger crossover SUV.
Sharing its architecture with the Buick Enclave, GMC Acadia, and Saturn Outlook, the stylish 2009 Chevy Traverse offers families a comfortable and capable alternative to stodgy minivans and less efficient full-size SUVs. Like the rest of the General Motors quadruplets, the 2009 Chevy Traverse provides three rows of genuinely usable seating, a generous cargo area, front- or all-wheel drive traction tied to an adequately-powered V-6 engine with direct injection, and a bevy of features and options that will keep all passengers comfy and entertained. If Honda and Toyota (and GMC and Saturn, for that matter) were looking for more competition, the 2009 Chevy Traverse will be happy to oblige.
Charged with motivating the all-new Chevy Traverse crossover SUV is the same 3.6-liter, direct-injection V-6 engine that's found elsewhere in the GM stable. Our front-wheel-drive 1LT test vehicle boasted 281 horsepower and 253 lb.-ft. of torque. Move up to the LTZ, and thanks to dual exhaust you'll see a jump to 288 horses and 270 lb.-ft. of torque. Without that little something extra, the Traverse 1LT ponies up adequate power for daily commuters, allowing for comfortable merging at speed and effortless cruising around town. Since engine output isn't extraordinary, torque steer is not an issue. Putting the pedal down for optimum engine performance demonstrates the refined six's willingness to rev.
Mated to the V-6 engine is a six-speed automatic transmission that lacks a true sport mode, but does offer a +/- button that allows drivers to manually control shift points. Frankly, driving the 2009 Chevy Traverse doesn't conjure up the desire to rip through the gears, meaning you'll likely be content to let the gearbox do all the work. Do that and this Chevy will reward you with smooth, nearly seamless shifts.
Put it all together and you've got a powertrain purpose-built for daily suburban life...provided that life doesn't involve drag racing and smoky burnouts. However, keep in mind that our test was with the driver only -- with seven well-fed kids on board you might need to give 'er a little more gas or plan those passes a bit farther in advance.
Like similar offerings from Buick, GMC and Saturn, Chevy's new crossover uses GM's Lambda platform, veering away from the typical SUV body-on-frame architecture and designed instead to provide more car-like handling. We put the Chevy Traverse to the test on city streets and highways, and more importantly, old back roads that were riddled with potholes and broken pavement. What we discovered was a chassis set up to smooth out the bumps and provide a comfortable, compliant ride. The steering was short on feedback, but there was decent on-center feel and we didn't sense the need for constant corrections. In a nod to its intended duty as family commuting vehicle, the steering requires little effort at slow speeds, meaning navigating parking spots and tight city streets will require little effort.
That leaves the issue of brakes, which we're happy to report, doesn't qualify as an issue at all. The four-wheel discs did a commendable job of slowing things down in a hurry, although the ABS system kicked in a little too easily once or twice.
Venture inside the 2009 Chevy Traverse and you'll find what's offered in many of today's crossovers – two rows of comfortable, spacious seating and third row best suited for smaller adults and children, or taller individuals in a pinch. To its credit, that split/folding third row is more accommodating than versions provided by some competitors, and the second row's handy tilt and slide mechanism makes for easy access. For its part, the standard second-row bench delivers a nicely reclined seat with plenty of room, especially when you take advantage of the fore/aft sliding feature. We sampled the optional second-row captain's chairs in another test vehicle, finding them to be too narrow and lacking sufficient thigh support. Our advice would be to stick with the split bench. Move up to the front row and you're treated to supportive seats with ample foot and head room.
Aside from seating, the Traverse's interior is noteworthy because of its style and function. Contrasting colors and curved panels give the cabin an attractive look, and the gauge cluster bears some resemblance to the example we'll be seeing in the new 2010 Chevy Camaro. You'll need to bump up to the Buick Enclave or possibly the GMC Acadia for upgraded plastics, but the Chevy Traverse has you covered with utility – tons of storage with both rear rows folded; cubbies atop the dash, between the seats, on the doors, and elsewhere; and the ability to tow up to 5,200 pounds of whatever doesn't fit inside.
Page 2
Chevy is working hard to cast aside impressions built over the past several years by delivering what it considers to be quality products that rival the best in the industry. In other words, Chevy is ready to prove itself to Honda and Toyota buyers. The 2009 Chevy Traverse just might be one of the success stories, as it delivers commendable EPA-rated fuel economy, three rows of relatively comfortable seating, copious amounts of storage space, and a pleasant driving experience. Toss in the 100,000-mile powertrain warranty, and you've suddenly piqued the interest of the crossover-shopping masses...not to mention those looking at minivans and large suvs. Is the Traverse perfect? No, but neither is its competition.
$36,240
Touch Screen Navigation with Rearview Camera ($2,340), DVD Rear Seat Entertainment ($2,355)
3.6-liter V-6
281 hp @ 6,300 rpm
253 lb.-ft. @ 3,600 rpm
Six-speed automatic with manual shift button
4,720 lbs.
16 city/23 hwy
205.0 in.
78.4 in.
118.9 in.
69.7 in.
41.3 in./ 36.8 in./ 33.2 in.
40.4 in./ 39.4 in./ 37.8 in.
Eight
116.4 cu. ft.
5,200 lbs.
7.2 in.
By Thom Blackett Photo credit: Thom Blackett and Chevrolet