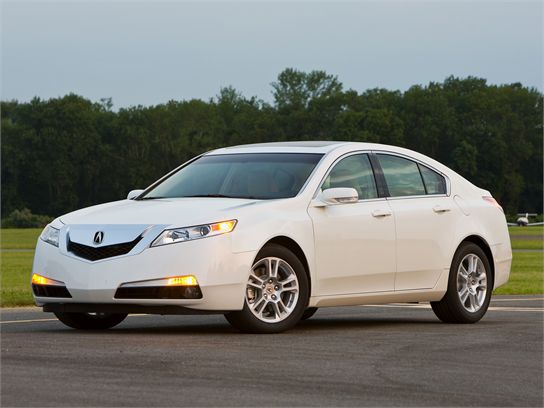 Quiet interior
Comfortable ride
Well-equipped at $34,000 starting price
No manual transmission available (due to return for 2010)
Automatic transmission sometimes slow to downshift
All-wheel drive not offered on the base TL
With a 280-horsepower 3.5-liter V-6, a standard sport-tuned suspension, new electric power steering, improved brakes, and more interior room, we were left to wonder, "How do current TL Type-S owners feel about this?" Granted, the 2009 Acura TL doesn't feature a clutch pedal and gears you can row yourself, but it comes within a few digits of matching the now-defunct Type-S's power ratings. Not bad for a so-called base model.
For the entry price of about $34,000, you get a controlled ride, a quiet cabin, responsive steering, effective brakes, and a comfortable spot to watch the miles roll by…provided you don't mind shifting your weight occasionally. Despite these new and improved features, the base 2009 TL remains a perfectly-suited cruiser, one capable of sporadic trips on curvy two-lanes, but leaving the hardcore duty to the new SH-AWD model, or quite possibly, a number of competitors.
Technically, this is the base model of the 2009 Acura TL, but with a 3.5-liter V-6 boasting 280 horsepower and 254 lb.-ft. of torque, you might not know it, especially considering that those figures closely mirror the specs of the sporty 2008 Acura TL Type-S. With the added muscle under the aluminum hood, the '09 TL is capable of moving in a hurry, with an easily-modulated throttle that allows for steady acceleration and a willingness to spin the tachometer needle for all its worth. Unlike the outgoing Type-S, torque steer isn't a huge issue with this new base model. Commuters need not worry about jerky starts in stop-and-go traffic, and for those who frequent open roads, rest assured that the TL delivers plenty of passing power. We're fans of engines that sound and feel refined, regardless of whether they're at idle or pinned at redline, and the TL's 3.5-liter V-6 doesn't disappoint.
Impressive, though not equally so, is the five-speed automatic transmission. The shifts are smooth, but we discovered on more than one occasion an unwillingness of the gearbox's part to downshift when added power was obviously required. This was especially apparent when trying to accelerate from about 50 mph on a slight incline. Thankfully, the standard paddle shifters are always within easy reach and put the decision-making at the driver's finger tips. The sport mode, as expected, holds lower gears longer, and as we learned, will not automatically upshift when you run up against the rev limiter. We didn't have an opportunity to track fuel economy; the EPA suggests 18 mpg city/26 mpg highway.
As admitted enthusiasts, you'd think we'd naturally prefer the all-new 2009 TL SH-AWD, with its stiffer sport-tuned suspension and grippy all-wheel-drive system, versus the relatively tame base TL. To some degree that's true, but there's no discounting the comfortable and controlled demeanor of the front-drive TL. Larger brakes for '09 afforded us a day of fade-free stops, and both variants have a new electric power steering system; with different tuning the base model's steering actually feels less artificial, and to our senses, provides more feedback from the road.
Of course, without the SH-AWD's stiffer tuning, the base TL floats more over bumps and rolls more in the corners but not to any great extent. Acura has worked to limit rear squat on takeoff and dive on stops, with the result being less overall body motion. The 17-inch tires, on the other hand, have no qualms about whining in protest when the going gets aggressive. Still, this sedan is no slouch, and for the commuter who occasionally wants to take the curvy back road home, the 2009 Acura TL base model will go along ready and willing, while calmly swallowing road bumps the remaining 99.5 percent of the time.
With its redesign, the 2009 Acura TL delivers plenty to appreciate, from added rear leg room to a high-resolution, eight-inch screen tied to a navigation system with real-time traffic information, a rerouting feature that steers you away from congestion, and current weather information with a cool Doppler-type display (just like you see on the evening news). This all comes with the Technology Package, as does a booming 440-watt ELS audio system among other things, and is fairly easy to operate with either large, well-labeled buttons along the instrument panel or with a central control dial. The number of controls borders on too many, but the solution would likely mean putting more functionality into the central dial, a move that BMW has demonstrated isn't necessarily an improvement. Aside from that minor gripe, the layout of the TL's controls leaves little to complain about. We will, however, point to the thick rear pillar as a visibility issue, and dash trim that reflects in the side glass, distorting your view when attempting to use the exterior rearview mirrors.
The TL's cabin features sufficient yet not abundant storage space; passenger room is more impressive. All TLs get leather upholstery, though the base model lacks the thickly-bolstered seats and fat steering wheel found in the SH-AWD. The leather, like the plethora of soft-touch surfaces and quality accents, imparts a sense of luxury, and the soft leather on the steering wheel is a nice, upscale touch. Front seats are spacious and offer multiple power adjustments as well as heating, but the cushions are a bit on the firm side, requiring us to shift more often than usual during long stints behind the wheel.