The 2009 Saab 9-3 Turbo X leaves us longing for the good ol' days.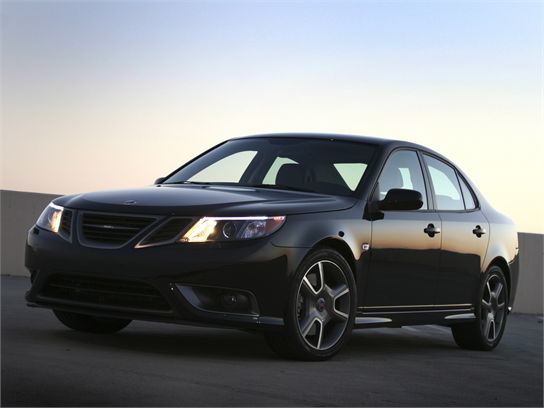 280-horsepower turbocharged V-6 engine
Sophisticated all-wheel drive
Aggressive front-end styling
Doesn't feel as powerful as it should
Numb steering
Mediocre refinement
Audi A4 3.2 FSI Premium Plus quattro; BMW 328i xDrive Sedan; Volvo S60 2.5T AWD
After driving the 2008 Saab 9-3 Turbo X Sport Sedan, one of our staff members recalled how Saabs used to be the best cars in the world to borrow. They were fun to drive, so getting behind the wheel of a Saab was always a treat, and you'd always volunteer to be the designated driver if you got to pilot your friend's Saab. But since they offered the reliability of a British-built Fiat, actually putting down your own money for one wasn't the wisest option.
The Saab 9-3 Turbo X had us longing for that time, but in all the wrong ways. On paper, the Saab 9-3 Turbo X has the goods: A turbocharged V-6 engine, all-wheel drive, sport-tuned suspension, six-speed manual transmission. Yet somewhere between the spec sheet and the sheetmetal, something was lost. We were hoping for a hard-edged sport sedan in the vein of the 1988 Saab 900 SPG. Instead, The 9-3 Turbo X is a so-so sporty four-door that misses the mark in terms of performance, refinement and luxury. It's not a bad car, per se, but we don't think we'd be quite as eager to borrow our buddy's Saab these days.
The 2008 Saab 9-3 Turbo X boasts a 280-hp, 295 lb.-ft. of torque turbocharged 2.8-liter engine under its hood. Our 9-3 Turbo X test car's six-speed manual transmission was connected to a new all-wheel drive system that Saab calls "XWD." It uses a center differential developed in conjunction with Haldex, and is designed to send power to the rear when needed for extra traction, and to help quell the 9-3's rather notorious torque steer.
It all sounds promising, but it didn't really gel. The 9-3 Turbo X engine has power, we're sure of it, because we'd find ourselves going faster than we had anticipated multiple times. But it wasn't the fun "Holy smokes, I'm already going 90 mph!" kind of surprise, but more of a "I'm going 90? How'd that happen?" genuine disbelief. The engine never gives you a good kick, even when the turbo overcomes its lag. Instead there's a gentle swell between 2,500 and 5,500 rpm that's really the meat of the powerband. Keep it there and you'll be happy. Wind the Saab 9-3 Turbo X to its 6,500 rpm redline though, and you'll find that last 1,000 rpm of engine speed doesn't do much more than make noise. Despite the impressive torque number, we never once felt as if the engine had a lot of low-end grunt, instead downshifting to get the 9-3 to scoot.
The transmission's gears are matched well to the engine, but the gear lever itself suffers from long throws and an imprecise, rubbery feel. More than once we would try to downshift from 3rd to 2nd only to get hung up somewhere in the mechanism. The all-wheel drive system works very well though, and does a fine job of pulling the Saab 9-3 Turbo X around corners. However, because of the engine's lackluster nature, it took longer for the system to turn the front-drive Saab's inherent understeer into a more satisfying neutral balance. We suspect less turbo lag would help significantly. However, torque steer was notably and thankfully absent.
Despite the engine and transmission woes, the suspension is quite well sorted in the Saab 9-3 Turbo X. Cruising down the freeway, the Saab has admirable road manners. The ride is comfortable, and the body is controlled. There's a little extra thump-thump over freeway expansion joints and other sharp impacts, but as a sporty sedan, that's expected.
Luckily, there's a good payoff in handling. The crafty Swedes have done a fine job striking a balance between a firm sporty ride and grip in the Saab 9-3 Turbo X. The car doesn't lean as hard as you might think, considering the mostly supple ride, and the all-wheel drive system does an admirable job of getting power to the ground efficiently and quickly. Push too hard and the front end starts to slide, but it's easy to control and as long as you stay away from the hairy edge, the 9-3 Turbo X is entertaining.
We wish we could say the same for the steering. The wheel itself is about an inch too big, but beyond that, the 9-3 Turbo X has no steering feel. The weighting is good, and it's suitably quick, but you have to rely on your eyeballs and inner ear to tell if the front end or rear end is losing grip. For a car that wants to be a sport sedan, it's not very satisfying.
The brakes on the other hand are. Strong and reassuring, we found them to have plenty in reserve after a vigorous mountain run, a pleasant surprise considering that there wasn't anything extraordinary about their design.
The 2008 Saab 9-3 Turbo X was designed to recall another special edition Saab: The 900 SPG that appeared in the late 1980s. Thus we have a three-ish spoke wheel design (like that SPG), and a few other tweaks, like the all-black paint. Beyond that though, there's little distinctive here. The nose has heavy-handed Saab cues, but the rest of the car looks like it could be any number of other sedans.
The Saab 9-3 Turbo X interior has comfortable front seats, and a small rear seating area that's best left to short trips and/or children. You can certainly take a lot of stuff with you wherever you go, thanks to the 15-cubic-foot trunk. Styling-wise, it's a mixed bag of Saab styling cues – like the chrome-ringed instrument panel and unique air vents – and GM standard-issue switchgear on the audio system and climate control. It al