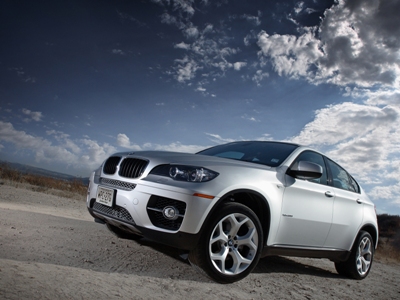 Silky-smooth straight-6 engine
Handling that belies its weight
Looks like nothing else on the road
Maybe there's a good reason nothing else looks like it
Road-crushing weight
Eye-popping price
Every so often, we drive a vehicle we love. Other times, we don't like it at all. Most of the time we're in between those two extremes. However, we almost never hand the keys back to the manufacturer wondering what exactly the point of the car was.
That's how we felt after our drive of the 2008 BMW X6.
BMW's newest crossover SUV is a contradiction in too many ways. The 2008 BMW X6 is huge on the outside, but small inside. The X6 is a utility vehicle with mediocre cargo space and zero off-road capability. It sticks to the ground well, but weighs so much that you wonder how long the stability control will hold out. The BMW X6 isn't even all that comfortable.
So we're a little stuck. On one hand, some of us still think it looks pretty cool, and even those that disagree are forced to admit there's nothing else quite like the 2008 BMW X6 in the looks department. But there's nothing the BMW X6 does that another BMW doesn't do better. Want handling good enough to make three passengers lose their lunches? Get a BMW 3 Series and save more than $10,000. Want a high-riding utility with good moves? Get a BMW X5. Want to make a styling statement? Get a BMW 6 Series or a BMW Z4. Want a BMW that will have everyone wondering what the hell you were thinking? Well, now BMW has a vehicle for you, too.
Our 2008 BMW X6 was a xDrive35i, which means it has a 3.0-liter turbocharged inline six-cylinder engine under the hood sending 300 horsepower to all four wheels. This powerplant – available in many other BMWs, it should be noted – is a gem, and easily the best thing about the X6. Smooth, torquey and responsive to your left foot, we can't imagine a strong argument being made for the turbocharged V-8 that's available in the BMW X6 xDrive50i version. It even drinks gas like a V-8: We managed a paltry 14.3 mpg.
Connected to the BMW X6 xDrive35i inline-6 engine is a six-speed automatic transmission. In actual operation it's good: The transmission shifts smoothly when you're just pussyfooting around town, but if you slip it into manual mode and use the steering wheel-mounted paddles, it will upshift with authority and match revs on downshifts. The problem is the actual shifter. It uses BMW's reinvention of the classic PRNDL, and we are still wondering why the company feels the need to do this. Rather than simply push the gear selector all the way forward for Park, you press a button on top marked "P." You press another button and push the selector forward to get Reverse. You get used to it, but that's the thing: Why do we have to get used to something that was pretty well perfected decades ago?
The 2008 BMW X6 handles extremely well...for a vehicle that weighs nearly 5,000 pounds. That weight is a factor, and you never shake it off, even if the steering, brakes and suspension do an admirable job of hiding that kind of heft. Rolling down the road, the BMW X6 offers up a surprisingly smooth ride. The snarky side of us says that's because its gargantuan weight literally crushes pavement imperfections, but we'll admit that the Bavarians have done a good job getting their big beast to cruise comfortably.
BMWs are supposed to handle, and this one does so admirably. The huge tires stick to the road exactly the way you think they shouldn't on a vehicle this size. Push it harder and the X6 continues to reward. It's remarkable. Yet if you hit a twisty section with quick back-and-forth turns, you feel the formidable mass swaying to and fro on the suspension. You're also constantly aware of BMW's stability control working overtime to keep the X6 from getting away from you. Go too fast and the massive brakes bleed off speed exceptionally well, yet even though the BMW X6 did well in the twisties, we couldn't help think that another large BMW utility vehicle would be just as good: The X5. The one with actual cargo room and an available third row of seats. Makes you think a little, no?
A lot has been said about the BMW X6's looks, and not all of it good. However, it should be noted that most of us eventually came to at least respect the looks of this big crossover SUV, and some of us actually found it droolworthy. Yes, it has too many slats and vents in the front, and yes, the rear end slopes down so much that it looks like it's slouching, and yes, the BMW badge on the tailgate projects far enough that it looks like a partially embedded beer can. But there's just something about it that won't let you take your eyes off it, even if it's in more of a train-wreck way than BMW would care to admit. If you really want to stand out from the crowd, this is definitely on the short list of attention getters.
When you lay out an eye-popping $63,000 for a BMW, you expect certain things when you're inside. You expect high-quality materials everywhere you turn. You expect a comfortable driver's seat. You also expect all the little things to work in harmony and not annoy you.
So, clearly, this isn't really a BMW interior.
The seats weren't particularly comfortable, especially considering the chairs we'd just experienced in the BMW 128i, which we adored. The driving position also felt a little strange, and the two tallest drivers on staff never quite made their peace with it. On the flip side, the rear seats are actually more roomy and comfortable than you'd expect, given the dramatically sloping roofline. By cubic feet, the cargo room is OK, but considering the BMW X6's dimensions – it's as wide as a Chevy Tahoe and has a nearly identical wheelbase – we'd expect more. Throw in the ridiculous liftover height and there's not a lot of utility at all.
What really shocked us was the overall cheapness of the interior. Every manufacturer uses hard plastic from time to time, but on the X6 it was particularly hard and cheap, and easy to find. The rear center console, several pieces near the driver, and the plastic around the inside of the rear hatch were all as flimsy and hollow sounding as the dash on a 1986 Hyundai.
The backup camera also came under criticism for its terrible display screen. It was blurry and distorted to the point that some of us were willing to concede that it may have just been broken. It's a shame, because one of the X6's unique interior features is an utter lack of rear visibility. We've driven panel vans in which we felt more comfortable backing up. Then there's iDrive, BMW's much maligned single-knob navigation/audio/climate/everything else control system. On that, we will only say we continue the maligning. Throw in all the other annoyances and it's hard to take note of the nice leather, wood and other highlights of this BMW's interior layout. If it only cost $43,000, we'd probably give it more of a pass. But at this price...yikes.
Page 2
We've all had an experience where we have fallen in lust with someone, only to have the illusion broken when you got to know him or her. The same is true for the 2008 BMW X6 xDrive35i. We still think it looks cool (well, most of us anyhow), but after a week, we sort of wish it could have remained in the world of fantasy. As for us, if we had $63,000 and change burning a hole in our pocket, we can think of several dozen other vehicles – many of them BMWs, come to think of it – that we'd much rather have.
$63,675
Sport Package ($3,600), Technology Package ($2,000), Head-up Display ($1,200)
3.0-liter Inline-6
300 hp @ 5,800-6,250 rpm
300 lb.-ft. @ 1,400-5,000 rpm
Six-speed automatic with manual shift control
4,894 lbs.
15 city/20 hwy
14.3 mpg
192.0 in.
78.1 in.
115.5 in.
66.5 in.
40.4 in./ 35.9 in.
38.3 in./ 37.2 in.
Four
25.5 cu. ft.
By Keith Buglewicz Photo credit: Oliver Bentley