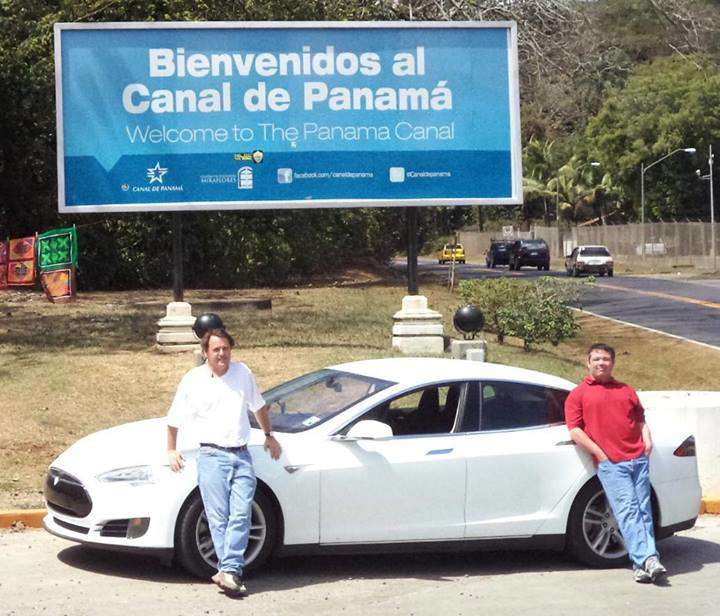 While both factory-backed and private efforts have recently proven the viability of traveling from coast-to-coast in a Tesla Model S, two drivers from Texas have now accomplished something a bit trickier: Randy Denmon and Dean Lewis, driving Denmon's Model S, traveled all the way from McAllen, Texas, to Panama City, Panama, under electric power.
The latter route actually happens to be about 600 miles shorter than the trip from California to New York, but without the benefit of Tesla's new Supercharger network that currently boasts 75 stations—and counting—throughout the country. Those units can provide a typical Tesla Model S with about half a charge in as little as 20 minutes, and that's reflected in the fact that Tesla's own cross-country test drive required just 76 hours and five minutes to go 3,427 miles; Denmon and Lewis, occasionally relying on standard 120-volt outlets, took 18 days to go 2,846 miles.
Of course, that was part of the plan according to Denmon: "One of the purposes of the trip was to prove the durability and viability of EV cars, especially in areas where the infrastructure is not in place for rapid charging. Having support for this would have undermined the effort, and made it much easier."
As it was, Denmon further noted that: "We wired up at some interesting places. Twice, we wired directly to 240-volt power without a plug."
That's probably not recommended in the ol' driver's manual for the Tesla Model S, but the car pulled through without a hitch, overcoming some fairly hair-raising conditions along the way. In fact, Denmon said the only thing that stopped this trip was that "the road ends in Panama."
But you can bet the rush to set records in the Tesla Model S is just starting.
(Photo courtesy Texas to Panama in a Tesla)