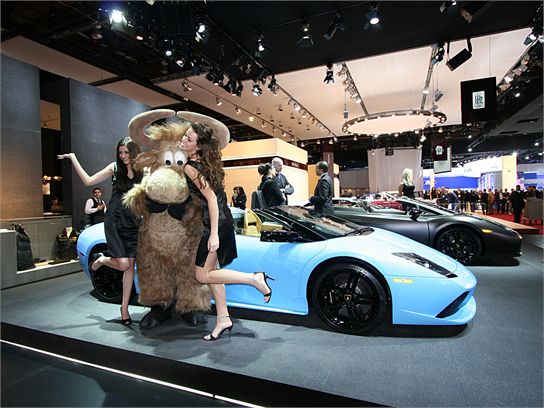 You're a busy person. Some say you patented the famous "10-Minute Breakfast Burrito and Abs" workout/breakfast routine. So for your convenience, we created a highlight gallery in the same vein that covers pretty much every car we covered. Don't like a car? Skip it. Drooling on your keyboard? Read a little more.
We've kicked things off with our favorite photo from the show, we'll let you take it from there.
Page 2
Move over, Boxster. After ten years -- much of it spent as a performance runner-up -- the Audi TT gets an S of its very own. The TTS brings real performance credentials to the tune of 272 horsepower and 258 lb. ft. of torque. Pricing is expected to settle in at around 60 grand.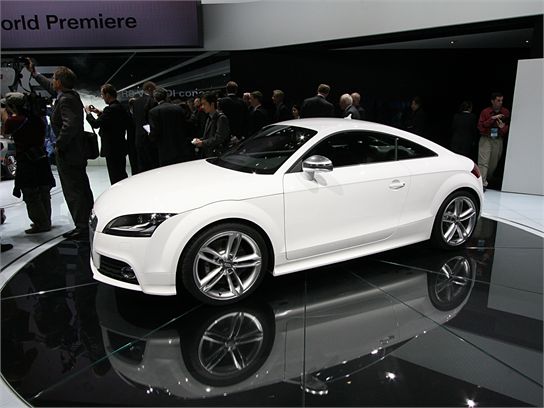 Page 3
At BMW's rather busy press conference, they saved the best for last: the 1 Series Convertible. Everything that is wonderful about the coupe is here, except in place of a fixed metal roof, there's a folding cloth top. The 128i version will arrive first, sometime in the spring, with the 135i showing up later in the year. Drivetrains on both models are identical to the hardtop versions. Roll-over sensors keep track of the car's position and can raise the behind-seat roll bars and activate the front seat belt tensioners and head airbags.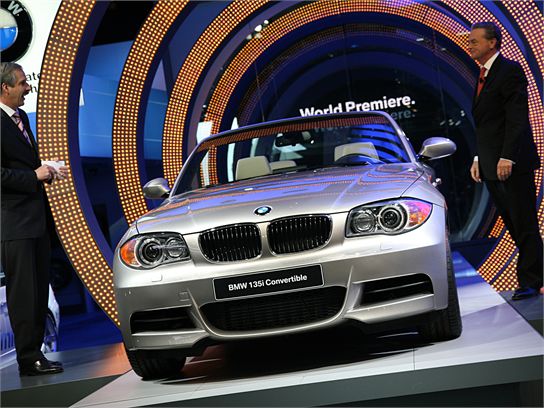 Page 4
BMW, not content to let rival Mercedes-Benz bask in the diesel spotlight, is bringing a twin-turbo, diesel-powered 3 Series sedan to all 50 of these United States late in 2008. Like Mercedes-Benz, BMW uses urea injection to turn nitric oxides into nitrogen and water vapor, and thereby meeting emissions regulations. The system also doesn't need to be refilled any more often than when owners have the engine oil changed, a move by both automakers to lessen any inconvenience. At the press conference, BMW frequently emphasized how important diesel power is to its plans to reduce carbon emissions. The 335d goes on sale in the fall.

Page 5
Despite the cumbersome moniker, the xDrive35d is a turbo-diesel powered X5, and it's going to be a 50-state vehicle when it arrives late this year. This is the same engine offered in the previous page's 335d. The return of diesel passenger cars to all 50 states comes after a long absence, and without the noise, soot and stench that turned off buyers two decades ago. The remaining hurdle for many drivers is higher vehicle price for a diesel vs. a gasoline car. Extended engine life can make up for that if buyers keep their diesel vehicles long enough.

Page 6
In BMW lingo, it's a Sport Activity Coupe, but most people will probably call it a funny looking SUV. The idea is to combine the driving dynamics of a 6 Series with the X Series-styled body done as a coupe with four doors. It comes in two models, xDrive50i and the xDrive35i, both of which are all-wheel drive. The X6 introduces a new driving system that the automaker calls Dynamic Performance Control. The X6 is scheduled to go on sale in the spring.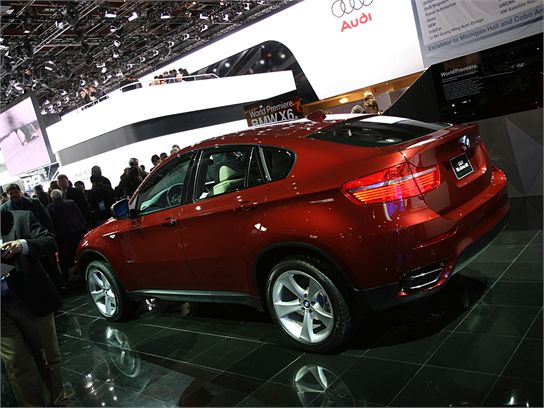 Page 7
When General Motors unveiled the Buick Riviera Concept at the Shanghai Auto Show in 2007, it was saying two things. First, it was saying that it sells a LOT of Buicks in China, and intends to solidify its commitment to the country with this China-designed coupe. Second, it was telling the world that Buick is back, baby, and it's going to be the source of some beautiful cars. It did not say when or even whether the Concept would become a reality any time soon, but if it does, we hope it comes to our side of the Pacific, and doesn't stay a Chinese plaything.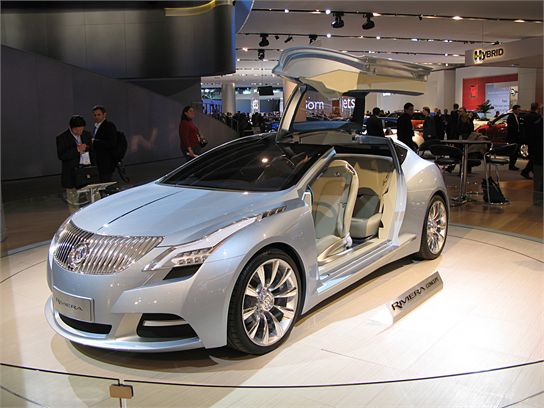 Page 8
If there ever were doubts that Cadillac was shooting for the top, this should erase them. The numbers here are simple: 550 horsepower, 550 lb.-ft. of torque, and a six-speed manual transmission. Were these numbers for a special edition Corvette, we'd be happy enough. But when they're specs for the 2009 Cadillac CTS-V – a freakin' 550-horsepower Cadillac! – well, we start to wonder if it's time to dust off that old "Standard of the World" moniker.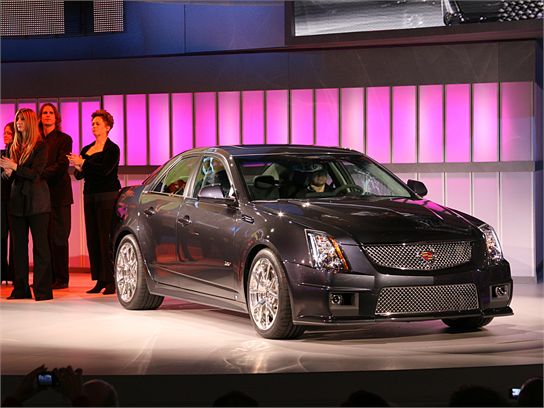 Page 9
Okay, okay, we get the whole Cadillac is red hot thing. But come on. Where's the duck? If the General debuts many more cars that look like the CTS Coupe Concept, we may start quacking ourselves. Production plans were not announced, beyond a stifled grin and the muttered "we're really serious about this car." Quack. Not mentioned was the commitment to build the thing at the Lansing, Michigan plant for 2009. Quack, Quack.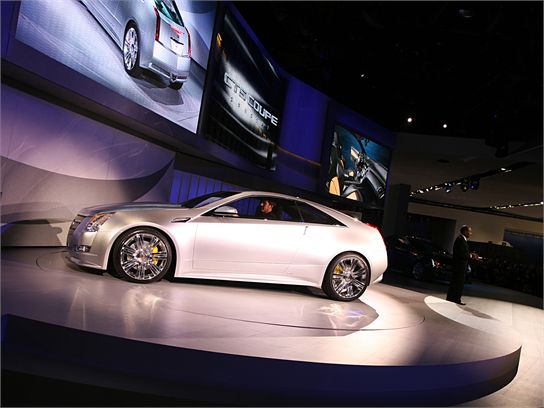 Page 10
We've heard a lot about GM's E-Flex platform, the series hybrid that underpins the Chevrolet Volt and Opel Flextreme concept cars shown last year in Detroit and Frankfurt. Today at the Detroit Auto Show, GM unveiled another version of the platform, and quite possibly the best one yet: The Cadillac Provoq. The Provoq is one of the most production-ready concepts we've seen, and with all the rumors of a BRX small crossover, we're guessing that this is a close preview of that vehicle. Whether it winds up with an E-Flex drivetrain right off the bat is debatable, and unlikely, but we'd be surprised if a production version of this car doesn't show up sometime relatively soon.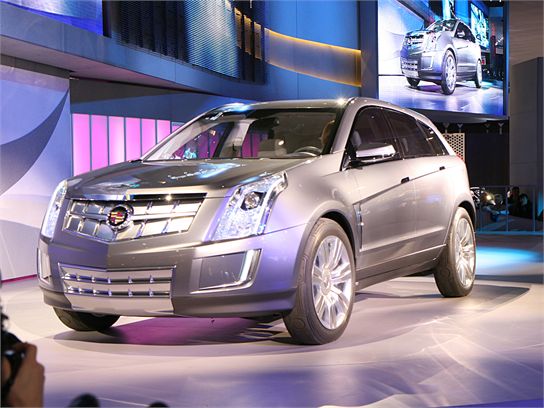 Page 11
Once in a while, a car comes along that, even before the first one is sold, is automatically a classic. Coincidentally, a lot of these cars happen to have been Corvettes: the 1958 roadster; the 1963 split rear window coupe; the 1967 L88...the list goes on and on. Well, add another, as the official wraps have just been removed from the 2009 Corvette ZR1. Touted as being the most powerful and fastest Corvette ever – indeed, the fastest production car ever produced by GM – the ZR1 doesn't just