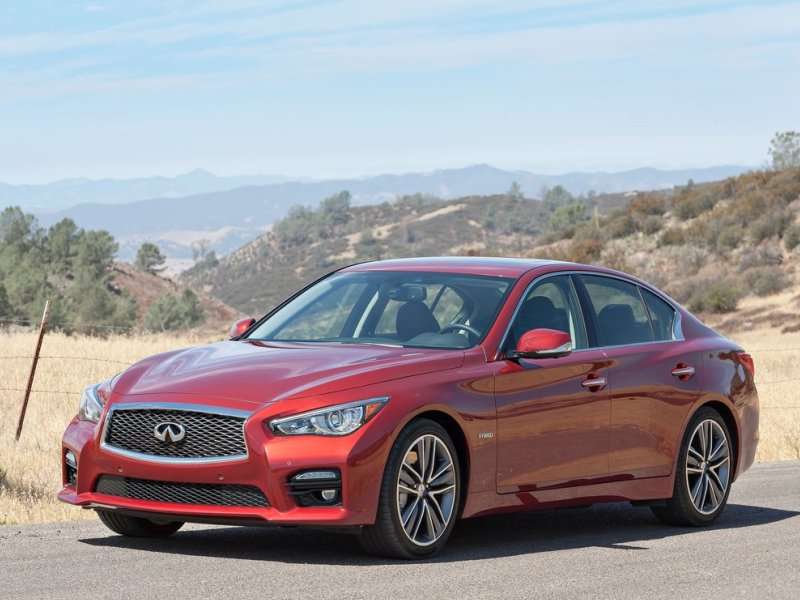 Science-fiction legend Arthur C. Clarke once wrote that, "Any sufficiently advanced technology is indistinguishable from magic," and at this stage in the game, the tech levels in today's top vehicles are certainly approaching the supernatural. Just consider the honor roll of the "10 Techiest Cars of 2014," which was recently published by TechHive.com. It provides a quick snapshot of the current leading edge of automotive technologies, with the 2014 Infiniti Q50 as the tip of ye olde spear.
Infiniti's new premium sedan debuted both the brand's revised naming scheme—the Q50, for example, replaces the G line—and what's more to the point here, the industry's first drive-by-wire steering system. Although there is a mechanical safety net, the "Direct Adaptive Steering" technology relies solely on electronic inputs from the driving wheel to guide the car; it also can work with the available active lane control and forward collision warning systems to transform the Q50 into what Tech Hive's Sarah Jacobsson Purewal calls: "one of the closest things you'll find to an autonomous vehicle."
Along with the 2014 Infiniti Q50 at the very top of the rankings, the rest of the 10 Techiest Cars of the year included:
Lexus IS 350 F Sport—The brand's new sport sedan was singled out for its multi-mode drive selector and "impressively responsive" Remote Touch joystick interface.
Acura RLX—Acura's traditional tech focus earned a spot on the list for its new RLX flagship sedan, with Tech Hive calling out its lane-keeping system and AcuraLink telematics platform for praise.
Cadillac XTS—Impressing the website with its CUE infotainment system, head-up display, button-free center stack and behind-the-screen storage was the XTS.
Chevrolet Corvette Stingray—Is there any top-10 list that won't include the Stingray this year?
Ford Fusion—It's the most affordable entry on the list, but also "boasts a ton of cutting-edge car tech" like lane-keeping, adaptive cruise control, and SYNC with MyFord Touch.
Audi A6 TDI—Highlighted by the same sophisticated MMI interface, with handwriting recognition, as the A6 proper, but with a twin-turbo clean-diesel engine.
Mercedes-Benz S550—Boasting the list's "most decadent and luxurious tech: a customizable scent control system."
BMW 3 Series—Yep, even a driver's car like the 3 Series is piling on the technology nowadays, earning a Techiest title for features like its on-board Internet access.
Jeep Grand Cherokee—The Chrysler Group's Uconnect system gains more acclaim for its customizable 8.4-inch touchscreen.