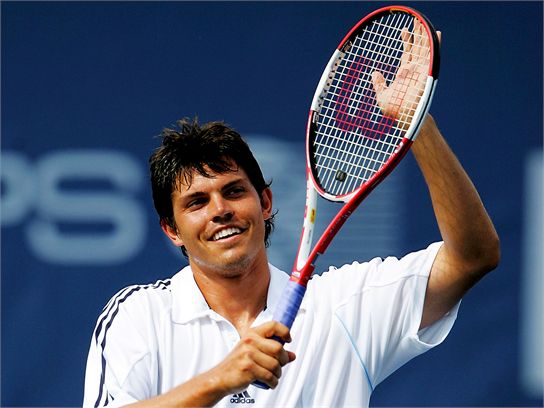 Pro tennis player Taylor Dent has a Ferrari-fast serve that's been clocked at 151 mph (keep in mind Andy Roddick holds the record at 155). He holds four ATP singles titles and played on the U.S. tennis team at the 2004 Olympics. At one point, Dent was ranked #21 in the world, and he has also made top showings at both the U.S. Open and Wimbledon. With that, another Autobytel With.
What was your first car and your favorite memory of it?
My first car was a 1977 Porsche [911] Targa. Sadly, the most vivid memory I have of that car was when I didn't understand that the oil gauge needed time to warm up before it gave an accurate reading. So unfortunately, I noticed the oil reading was in the red area one morning and proceeded to top it off. Well, needless to say, when the oil warmed up and expanded it made a complete mess of everything, exploding all over my engine etc. The mechanic said to not bother coming back if it happened again, haha.
Tell us about your current car situation, what you're driving, etc.
The current car I am driving is a Scion Xb. I bought the car after a realization that I'm a moron. I had a 2006 Porsche [911] Turbo for all of 2 weeks before crashing it and causing $55K worth of damage. Turns out you need to be a good driver to try to speed around corners. Who knew? I haven't tricked the Scion out at all, [and] after my near-death experience, I have lost my lust for cars. I do like the fact that the Scion is small, fuel efficient, and slow.
What car do you have your eye on next? Why that car?
The next car that I think I will buy will be some fuel-efficient beast. Getting 80 mpg! I figure that if I don't care what the performance or look of the car is like, I may as well do my part for the environment.
If you had to ride shotgun for 8 hours with a fellow athlete, who would it be?
If I had to spend an extended period of time in a car with a fellow athlete, it probably would have to be Jeff Gordon!!! Pedal to the metal!
What is your dream car and who do you pick up in it first?
After my exploits in my Porsche, my dream car is something fuel-efficient and slow. I have moved on. Now I want to conquer the skies! My co-pilot would definitely need to be my wife, I would die a horrible death if I said anything else. Haha.
While wrecking a Porsche 911 Turbo is certainly rough, if it makes Taylor feel any better, WreckedExotics.com has more than 345 photos of mangled 911s, not to mention the 50 some-odd photos that were posted this month of countless other broken dream-cars. I guess what we're trying to say is don't feel bad, it happens all the time. We'd love to kick it on the road with Jeff Gordon too, though we're pretty sure his driving style would be closer to "near-death experience" rather than "fuel-efficient and slow". Just a guess.
By Jim Wilkie/ESPN, Elliot Darvick Photos courtesy of Matthew Stockman/Getty Images and Autobytel.com