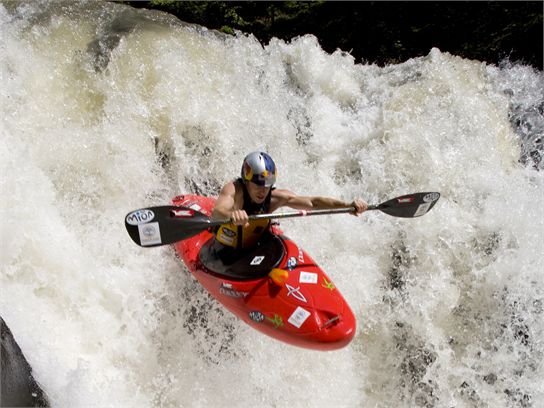 There is human, and then there is Red Bull athlete Tao Berman. USA Today called him the "world's foremost extreme kayaker." Sports Illustrated called him "the best-known kayaker on the planet." And when we called him to do a Autobytel With, some how in between paddling off 300-foot waterfalls, dropping into rivers out of helicopters, and running for political office, Tao found time to call back.
Tao is a world record holder for the tallest, fastest, and longest waterfall descents in a kayak. He's been a top competitor in freestyle and extreme kayak racing and has more than 50 first descents to his name, many of which haven't been attempted since. What's a first descent? As we understand it, the term means you were the first person with enough kahunas to paddle off a particular waterfall. At least in bull riding you have a rodeo clown to save your ass. Throw on your helmet as we descend into another Autobytel With.
My first car was a 1989 Honda Civic. I saved up money from working at a ski resort and bought the car when I was 15 and a half . The last six months were very difficult because I had the car and the keys, but no license. It's good it was a slow car because I had absolutely no fear in it, nor did I understand friction. I remember getting the car going as fast as it could and then entering a 25 MPH corner at about 75 miles per hour. Of course I didn't make it. The wet pavement didn't help. I shot through the other lane and hit the bank at a glancing angle that did nothing more to my car than just a little dent. I was such an idiot at the time, that the next time I tried it on a different corner I shot off the edge of a bank narrowly missing a couple of trees. That's when I started to understand friction.
.
I have several cars. Subaru gives me a WRX. I also have an Audi for running around in. But my favorite car is a BMW M Coupe. It has an aftermarket chip and a couple of other modifications to boost the horsepower to about 300.
Ireally like Ben Bostrom's Hummer H1. It's all black and soundproofed for a quieter ride. Of course it has the trick grille and all the other cool stuff also. My friend Josh Bechtel has been driving an '89 Ford Escort for the past five years. He crashed it so for the past four years he hasn't been able to open the driver's door. Now he always has to climb through the passenger seat to drive his car.
I'm thinking of getting a Mini Cooper S. Along with being an athlete I'm also running for a State Representative seat. I figure the Mini will be a good car to campaign in because it gets good gas mileage and is still fun to drive. I love cars but I also care about the environment so I try and keep the environmental impact to a minimum.
I like the Carrera GT and I'd definitely take it to Montana because I hear they are pretty relaxed about speeding tickets. Who I'd take would be an easy one -- Warren Buffet for sure. I'd spend my time picking his brain for advice on investing. I'm sure the first thing he would tell me would be to stop wasting my money on cars.
We can tell that your penchant for testing physics started at a young age. Had you grown up in North Carolina maybe you'd be driving stock cars for a living. We dig the tricked-out BMW M Coupe for its impressive power-to-weight ratio (normal speak: it's very fast), and the WRX would probably fare better in that corner than your '89 Civic did. Finally, you know what Warren Buffet, one of the world's foremost risk managers, might really tell you? Probably something about not kayaking off waterfalls. And that's when you would mash the Carrera GT's gas pedal…"What'd you say Warren? I can't hear you, there's a 605-horsepower engine sitting right behind us!" Keep doing your thing Tao.
By Staff Photos courtesy of Christian Pondella, Autobytel.com, Tao Berman