Formula DRIFT champion, Top Gear America host, Hollywood stunt car driver...need we say more?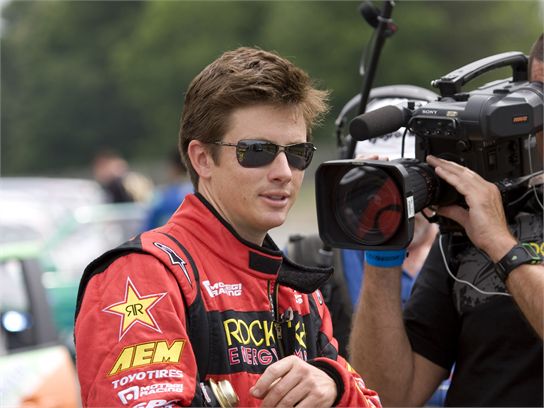 When the producers of Fast and Furious: Tokyo Drift needed a stunt driver, they called upon Tanner Foust. When the director of The Dukes of Hazzard shot action scenes with General Lee, he called upon Tanner Foust. And when casting a co-host role for theAmerican version of the UK's massively popular Top Gear, you got it…someone called Tanner Foust. What Tanner Foust can do with a car would make a grown set of tires cry, and the magic doesn't stop when the Hollywood cameras quit; no, Tanner is one of the top drivers in the organized drifting series Formula DRIFT. With the 2007 Formula DRIFT championship neatly tucked underneath his firesuit, Tanner Foust is back at it again in 2008. With that, another Autobytel With.
My first car was a 1983 Honda Civic Wagon in sh*t brown. That poor thing was so slow I had to switch off the A/C pulling away from every light just to keep up with traffic. That car had a fairly clear expiration date because one night I hit a huge deer with it. The next day I completely revived the car only to roll it that evening, 7 times. When it's your car's time, its your car's time.
Off the track I enjoy my 2003 BMW M3. It is sufficiently packed with AC Schnitzer and Memphis Car Audio goods. I've also got a few trucks for towing things and running around. On the track I race a 2007 Subaru STI Rally Car for Rockstar and a 2006 Nissan 350Z for Rockstar and AEM. I'm also lucky enough to burn around some time attack events in a 2008 Subaru STI for Crawford and Subaru.
After hosting a few shows for WATV, a production house in LA, I began to meet people in the industry. In my opinion the BBC's Top Gear is one of the best automotive shows on the planet, so when the opportunity to be involved in the US version came across the table I jumped at it. The formula for the show's success is really there; a proven format, Adam Corolla to laugh at and a network that can do it right! I'm stoked!
My family lived in a small town in rural Scotland from when I was 9 to 13. The bus driver would make the 18 mile trip to my house in his Volvo wagon before we started up the bus at his shop and picked up the rest of the kids. Rob the bus driver would let me drive the wagon every so often, snow, rain or shine, and at the age of 10 the addiction started.
If your skills are in the sideways arena then drifting can be a great way to break into motorsports. First of all, practice on the track. Secondly, carry yourself in a responsible way on and off the track and you will quickly open doors in the industry.
I like the R35 Skyline [also known as the Nissan GT-R; it's not too gaudy, has enough cool features to keep me interested and will not disappoint on a tight canyon.
Did we mention Tanner Foust also has an X Games gold medal for the Rally Car event? Just thought we'd add that to a long list of reasons why we'd hire Tanner to drive us across the border into Mexico if we ever had to skip town. By the way, we're raising our kids in Scotland along Rob the Bus Driver's route. Finally, the thought of Tanner Foust piloting a Nissan GT-R is probably a thought that guided the engineers that designed it (What Would Tanner Do?) Check out more on Tanner at his website, and while you're at it, check out Tanner's demo reel on YouTube. Best of luck, keep it locked on Autobytel.
By Elliot Darvick Photo credit: The ID Agency, Nissan
// <![CDATA[
var idcomments_acct = '3f2f2ed434ba775da1f398badf0da143';
var idcomments_post_id;
var idcomments_post_url;
// ]]>