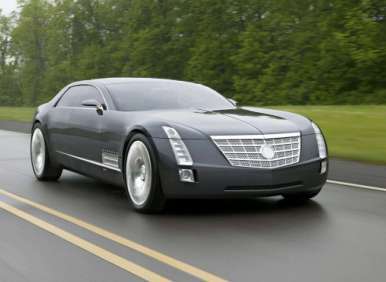 One of the most influential Cadillac concepts cars of the 21st century—and perhaps of all time—will make a rare public appearance next month when the Cadillac Sixteen visits the Amelia Island 2013 Concours d'Elegance. The event is one of the highlights of the international concours circuit and each year draws some of the finest vintage vehicles in the world to Amelia Island, Fla.
Now, the Sixteen isn't exactly a "vintage" vehicle, as it was first introduced in 2003, but the 16-cylinder, 1,000-hp ultra-premium sedan does make a perfect halo car for one of the special classes that will be highlighted at Amelia Island this year: The 18th Annual Amelia Island Concours d'Elegance Cadillac Concept Class, which will showcase a selection of the brand's vehicles from the Motorama era (1949-1961). Along with the incredible Sixteen, also included will be cars such as the 1949 Cadillac Coupe de Ville, 1953 Le Mans Concept, 1953 Supercharged Eldorado, 1956 Cadillac Eldorado Brougham, 1958 Eldorado Biarritz, and 1959 Cyclone.
"'Standard of the World' is not simply a Cadillac slogan or the product of some copywriter's imagination," explained Bill Warner, founder and chairman of the Amelia Island Concours d'Elegance in a recent newsletter. "It is an honor and title bestowed upon Cadillac in 1909 by the Royal Automobile Club when a trio of Cadillacs won the RAC's Dewar Trophy … the Nobel Prize of the automotive world.
"Cadillac's dedication to precision and technological leadership has been part of their corporate DNA since the company was founded in 1902. That spirit is personified in Cadillac's concept cars. They're not just interesting styling exercises, they're important for the entire automotive industry."
2013 Amelia Island Concours d'Elegance: More Highlights
This year's Amelia Island event runs from March 8-10, 2013, and also will recognize a number of other automotive legends, including:
The original Porsche 911, this year celebrating its 50th anniversary
Ford's GT40 program, renowned for its 1-2-3 Le Mans finish in 1966 and three more 24 Hours wins from 1967-1969
Sam Posey, the veteran road racer of the 1960s and 1970s who went on to become a prominent motorsports commentator on television
The 1957 Chevy Corvette Stingray, to help mark the return of the "Stingray" name to the 2013 'Vette
Attendees can further look forward to an auction of classics from RM, a "cars and coffee" get-together hosted by the duPont Registry and Heacock Classic Car Insurance, an exhibition from the Automotive Fine Arts Society, complimentary test drives from today's lux brands, and—of course—an island full of some of the rarest motoring metal still in existence.
For more details, please visit www.AmeliaConcours.org.