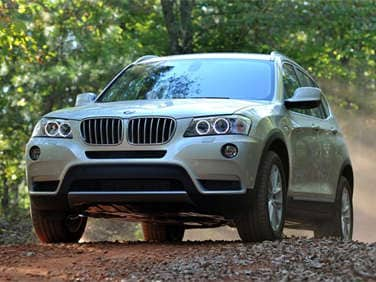 Compact SUVs have come a long way since the 'cute-utes' of the late 1990s. Larger, more practical and with the option of ultra fuel efficient or even sporty designs, compact sport utility vehicles have practically wiped wagons off the face of the North American market and become the default choice of family shoppers from all different walks of life.
With such a wide range of tastes to satisfy, small sport-utility vehicles have themselves diversified to include an impressive number of models targeted at almost every possible niche. Let's survey the field and take a look at eight popular compact SUV options.
01. 2012 BMW X3
The 2012 BMW X3 proves that it's possible to provide sports sedan handling in a crossover suv package. The BMW X3 borrows its underpinnings from the 3 Series, giving it surprising athleticism for such a tall vehicle. In addition to its cornering prowess the X3 also offers seating for five, 63.3 cubic feet of total cargo space and comfortable luxurious accommodations with the availability of several high tech options packages.
The 2012 BMW X3 can be outfitted with one of two inline six-cylinder engine choices. The entry-level crossover comes with a 3.0-liter unit that provides 240 horsepower and 221 lb-ft of torque, while a turbocharged edition of the same motor pushes out 300 ponies and 300 lb-ft of twist. Each is offered with an eight-speed automatic transmission and all-wheel drive, and the turbo X3 puts up fuel economy numbers of 19 mpg city and 26 mpg highway - a match for the less powerful model's around town rating and one mile per gallon better on the highway.
02. 2012 Ford Escape Hybrid
The 2012 Ford Escape Hybrid has long been one of the most fuel efficient compact SUVs on the market. The Ford Escape Hybrid scores big with eco-conscious buyers thanks to its 2.5-liter, four-cylinder engine and electric motor combo, a pairing that generates 177 horsepower and returns gas mileage of 34 mpg in stop and go driving and 31 mpg on the highway. A continuously-variable automatic transmission is standard, and all-wheel drive can be ordered as an option (bringing with it an additional electric motor). The Ford Escape also manages to deliver nearly identical utility when compared against its gasoline-only sibling, with five passenger seating and 66 cubic feet of total space for hauling gear with the second row folded forward.
03. 2011 Toyota RAV4
The 2011 Toyota RAV4 is a perennial favorite amongst small crossover fans thanks to its ability to provide a well-rounded and extremely practical solution to life's daily grind. The Toyota RAV4 might not be the most exciting vehicle to look at - or even drive - but it's comfortable, competent and can haul as many as seven people thanks to the availability of a third row seat. 73 cubic feet worth of cargo space are also lurking inside the SUV when maximizing interior room behind the driver's position.
The 2011 Toyota RAV4 starts out with a 2.5-liter, four-cylinder engine under the hood that is capable of producing 179 horsepower and 172 lb-ft of torque. A four-speed automatic transmission handles the shifting duties for this edition of the crossover, and fuel economy checks in at 22 mpg city and 28 mpg highway. Upgrading to the RAV4's 3.5-liter V-6 brings 269 horsepower and 246 lb-ft of torque to the table (along with a five-speed automatic tranny) while dropping fuel efficiency by only three and one miles per gallon for each respective measure. All-wheel drive is available with either version of the SUV.
04. 2012 Audi Q5
The 2012 Audi Q5 - like the BMW X3 - leverages a sedan chassis to create the kind of interesting driving dynamics that are uncommon amongst compact crossovers. The Audi Q5 also boasts one of the best turned-out interiors in the luxury business, with an attention to detail that ensures that all five passengers will enjoy their time within its confines. 57 cubic feet of total cargo room also guarantees that the Q5 can serve as a willing mule should the need arise.
The 2012 Audi Q5 benefits from the German brand's popular 2.0-liter, turbocharged four-cylinder engine as its base option. Rated at 211 horsepower and 258 lb-ft of twist, this unit makes use of an eight-speed automatic transmission on its way to fuel economy figures of 20-mpg city and 27-mpg highway - a remarkable feat for an all-wheel drive vehicle. The V-6 edition of the Q5 also includes quattro free of charge, and its 3.2-liters offer up 270 ponies and 243 lb-ft of torque along with fuel economy of 18 mpg city and 23 mpg highway. An eight-speed auto remains the transmission of choice with the six-cylinder Audi crossover.
05. 2012 Mazda CX-5
The 2012 Mazda CX-5 has yet to hit showrooms, but once it does later this year, it will offer driving fans a compact crossover that should satisfy their craving for corner carver without a premium price tag. The Mazda CX-5's enthusiast-oriented suspension system is complemented by the company's new Skyactiv line of engines that promise improved fuel economy minus any sacrifices in grunt. The CX-5 comes with a 2.0-liter, 155 horsepower engine that also produces 150 lb-ft of torque, and thanks to direct injection and Skyactiv technology it is poised to deliver fuel economy of 26 mpg around town and 33 mpg on the highway.
Gearboxes for the 2012 Mazda CX-5 include a mix of six-speed manual and six-speed automatic units, and all-wheel drive editions of the crossover manage to maintain a similarly laudable efficiency rating. The Mazda's high tech drivetrain can transport as many as five passengers and just a tick over 65 total cubic feet of luggage when push comes to shove.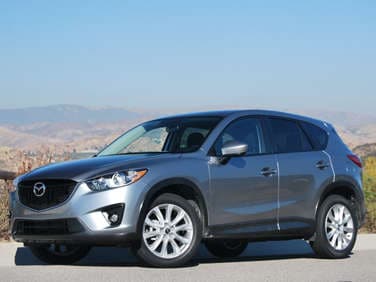 06. 2012 Chevrolet Equinox
The 2012 Chevrolet Equinox proves that a compact crossover can be just as calm and composed on variety of road surfaces when compared against the mid-size sedans that are competing for the family dollar. The Chevrolet Equinox might not turn on a dime but it certainly never calls to mind the truck-like compact SUVs of yore, giving drivers confidence even in foul weather (thanks in part to available all-wheel drive) along with plenty of interior room (five passenger seating and up to 63.7 cubic feet of cargo space with the rear row out of the picture).
The 2012 Chevrolet Equinox is initially outfitted with a 2.4-liter, four-cylinder engine that is good for 182 horsepower and 172 lb-ft of torque. A 3.0-liter V-6 engine (rated at 264 horses and 222 lb-ft of torque) is ready to step in and provide heartier acceleration, if desired. The Equinox features optional all-wheel drive and a standard six-speed self-shifting gearbox, and fuel economy for the entry-level engine shows as 22 mpg city and 32 mpg highway. The V-6 takes these numbers down several notches to 17 mpg around town and 24 mpg highway.
07. 2011 Jeep Compass
The 2011 Jeep Compass gains a new front fascia and a revamped interior that significantly improve its curb appeal and bring it more in line with the styling cues that define the rest of the Jeep family. The Jeep Compass also offers an off-road package that includes items such as a low-range four-wheel drive system, skid plates and knobby tires in order to help transport up to five passengers or 53.6 cubic feet of gear regardless of what obstacles might stand between point A and point B.
The 2011 Jeep Compass provides a 2.4-liter, four-cylinder engine as its most common drivetrain option. Tuned to provide 172 horsepower and 165 lb-ft of torque, this motor can be matched with either a five-speed manual or a continuously-variable automatic transmission, and it delivers 21 mpg in city fuel economy and 26 mpg on the highway. Two four-wheel drive systems - Freedom Drive I and II - are available with this mill. The base Compass can be ordered with a 158 horsepower, 2.0-liter four-cylinder unit that also puts out 165 lb-ft of torque. Transmission choices for this engine remain the same, and fuel mileage for the smaller motor jumps to 23 mpg city and 29 mpg during highway cruising.
08. 2012 Honda CR-V
Like the RAV4, the 2012 Honda CR-V is another compact crossover class leader, and given that it has been redesigned for the 2012 model year, there is now even more to like about this small SUV. The Honda CR-V prides itself on being roomy, and the vehicle's passenger compartment has been upgraded to reflect the improved quality that a greater number of small crossover shoppers are now demanding. Auto-folding rear seats also make it easier to access the CR-V's whopping 70.9 cubic feet of cargo space when not filled to its five passenger capacity.
The 2012 Honda CR-V is unique for not offering a V-6 engine to supplement its 2.4-liter, four-cylinder power plant. The default CR-V motor generates a healthy 185 horses and 163 lb-ft of torque, and this output is sent via a five-speed automatic transmission to either the front or all four wheels (if optional all-wheel drive is ordered). Fuel economy for the CR-V shows as 23 mpg in stop and go driving and 31 mpg on the highway.