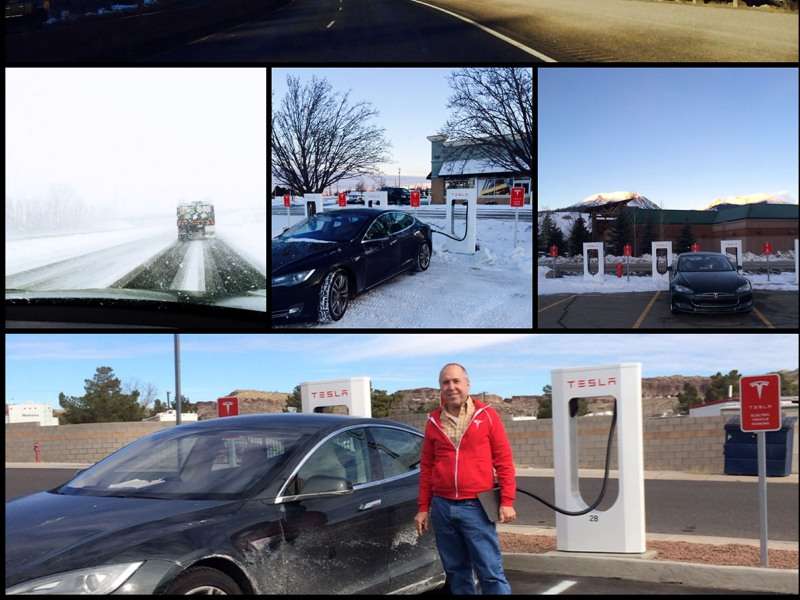 Right now, a pair of Tesla Model S all-electric sport sedans are part-way through an effort to drive from L.A. to New York and back in an effort to set a new Guinness World Record. Just keep this in mind: That factory-backed cross-country run is about achieving a new benchmark for: "lowest charge time for an electric vehicle traveling across the United States." The first folks to actually use Tesla's nation-wide Supercharger network to make that 3,400-mile round trip were Model S owner John Glenney and his daughter, Jill.
And while it probably wasn't their intention, the Glenney's journey didn't just validate the Supercharger program—although it did accomplish that. The network now provides more than 70 Supercharger stations throughout the U.S., including corridors both across the country and up and down the west and east coasts. It's part of Tesla's plan to provide Supercharger coverage for 80 percent of the U.S. population by the end of the year, and for 98 percent by the close of 2015.
The Glenneys stopped at 28 of the Superchargers in 16 states during the trip, taking advantage of the technology's ability to deliver about 170 miles of range on a single, 30-minute charge. It's also worth noting that Tesla is strategically locating the superchargers close to restaurants, malls and other attractions to keep owners entertained during the charging process. Remember, too, that using a Supercharger is currently free, so owners of a Tesla Model S can avoid paying for both gasoline and electricity.
Photo credit: Tesla Blog
Tesla Model S: Supercharged
Now, as mentioned, even though the Glenneys' goal was to validate the Tesla Supercharger system, that actually turned out to be the easy part of the trip. With their travel taking place during a visit from the ol' polar vortex, the Glenneys also were able to show off how well the Tesla Model S can handle some fairly brutal real-world conditions, including sub-zero temperatures and super-sized snowfalls.
The Tesla Model S is on sale now with pricing that begins around $70,000, although the car does qualify for the $7,500 federal tax credit and a growing number of state and local incentives. Of course, it seems that Mr. Glenney has managed to navigate his way around that as well.
An original owner of a Tesla Roadster, Glenney took advantage of a manufacturer trade-in program to gain a credit for his Tesla Model S and then, according to the Tesla blog, purchased "two more of the vehicles using earnings from Tesla stock he had bought when it was priced at $22 a share."