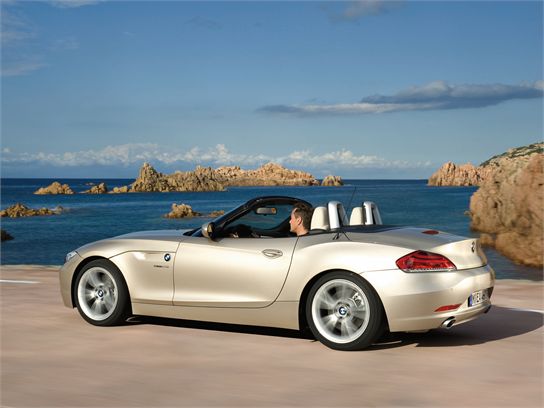 Sexy Summer Sirens
Look, we realize you have work to do. And, really, we admire your nose-to-the grindstone dedication. But listen, we don't have to tell you that summer's warm days and balmy nights won't last forever. And that it would be a darn shame to waste them. Which is why we've spent months personally checking out the sexiest new upscale convertibles we could find. Cars so seductive they might actually convince you to call in sick just so you can enjoy a leisurely cruise along the shore or spend time basking under a star-studded mountain sky. So go ahead, give in to the temptation. Set aside that spreadsheet and spend a few minutes daydreaming about the drop-tops on the pages that follow. And, don't worry, if the boss asks where you went, we'll tell him you weren't feeling well.
Page 2
2009 BMW Z4: All Grown Up
Like that ne'er-do-well nephew who looked so, well, respectable at his wedding—the same one who was sporting a lime-green spiky hairdo the last time you saw him—this all-new BMW Z4 is all grown up. Extensive changes—including less radical exterior styling, a new power retractable hardtop, and a more upscale interior—have created a car that looks more handsome and feels more refined. Serious driving enthusiasts may be disappointed to find it's lost some of its boyish performance-oriented personality, but we think lots of folks will find this more mature Z4 is still plenty of fun to hang around with.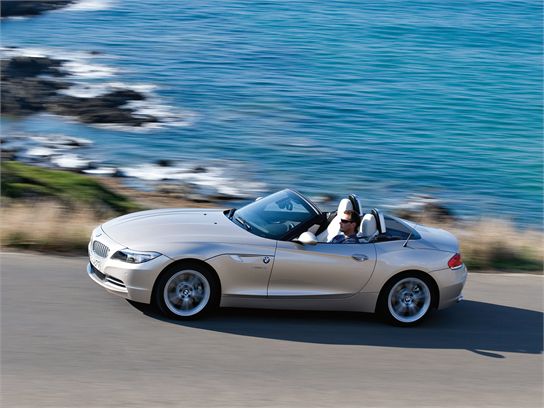 Page 3
2009 Infiniti G37 Convertible: Style and Substance
Anyone who's been around the block a few times knows that style and substance don't always go hand-in-hand. Which is precisely why we find the all-new G37 Convertible so appealing. For starters, one look tells you this newest G model has got the style thing down. Inside, the power-operated retractable hardtop creates a quiet coupe-like driving experience, enhanced by top-quality materials and cutting-edge options. Add the substance provided by the gutsy 325-horsepower V-6 and an available sport-tuned suspension and you have an upscale convertible that's as much fun to drive as it is to look at.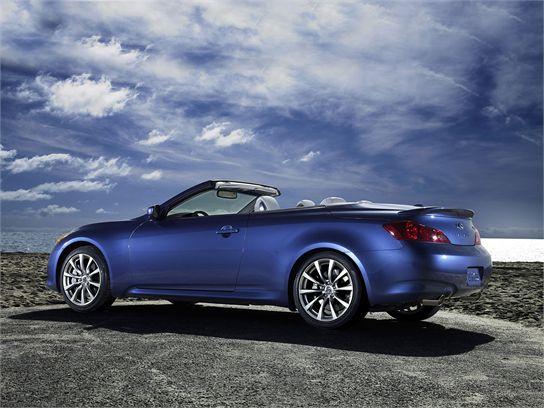 Page 4
2009 Mini Cooper S Convertible: Little Car, Big Grins
Okay, so we're not doctors and can't legally write prescriptions. But that won't stop us from suggesting you take one all-new MINI Cooper Convertible the next time you're having a bad day. You see, personal experience has proven it's pretty darn hard to stay grumpy behind the wheel of this second-generation Mini droptop. In fact, the 172-horsepower turbocharged engine under the bonnet of the Cooper S version actually made us giggle. Add Mini's famous go-kart handling, excellent fuel economy, and playful touches like the new "openometer" and you have a car that might just make those RX-only "happy pills" obsolete.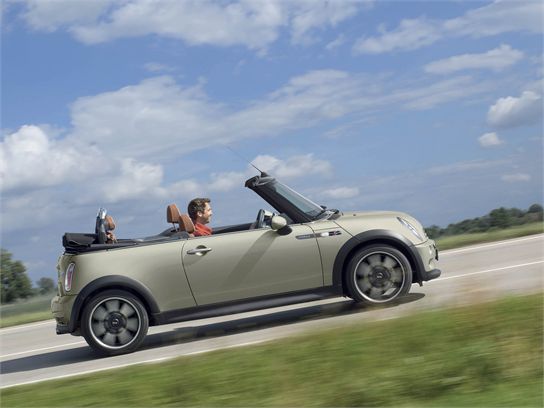 Page 5
2009 Porsche 911 Carrera S Cabriolet: Open-Air Extravagance
No one needs a car like the new Porsche 911 Carrera S Cabriolet. And yet, we still want one desperately. In a futile attempt to make a logical argument in support of this irrational desire, allow us to point out the 3.8-liter engine's new direct-injection system adds 30 horsepower while boosting fuel economy by 12 percent. Then there's the new optional PDK auto-manual transmission's lightning-fast shifts that deliver a 0-60 time of just 4.5 seconds. In fact, of all these impressive numbers, the only one we're having trouble with is where to scrounge up the $101,780 price of entry.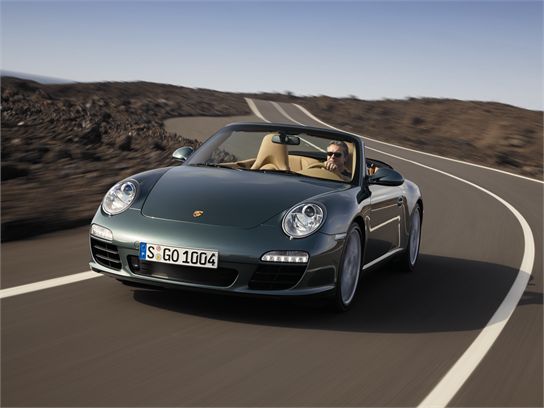 Page 6
2010 Lexus IS 350C: The Ultimate Beauty Treatment
From its broad shoulders to its sculpted backside, this all-new Lexus looks like it's spent hours in the gym with its personal trainer. Its 306-horsepower V-6 and sport-tuned suspension make it a relatively gifted athlete, but its real appeal is the attractive four-passenger interior done up in beautiful materials and filled with sophisticated technology like audio and climate control systems that automatically adjust their settings based on whether the top is up or down. Not to mention the three-piece retractable hardtop that stows itself neatly under the trunk-lid in just 20 seconds, allowing everyone to see how fabulous you look.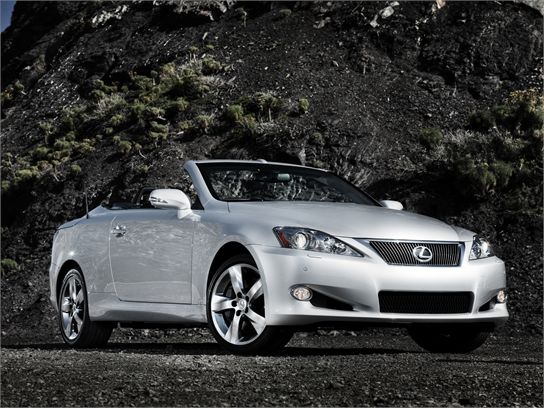 Page 7
2009 Maybach Landaulet: Daydream Big
They say as long as you're going to dream, you might as well dream big. Well, we figure the same goes for daydreams. Which is why we thought we'd round things out with this open-air version of the über-luxury Maybach 62S. Sure, it'll set you back a cool seven-figures—not counting the salary for your chauffer—but imagine the look on your sweetheart's face when you pick her up for lunch in this 604-hp V-12-powered bad boy. Not to mention the commotion the two-passenger rear compartment's reclining seats, sterling silver champagne flutes, and genuine granite trim will cause at the drive-thru window.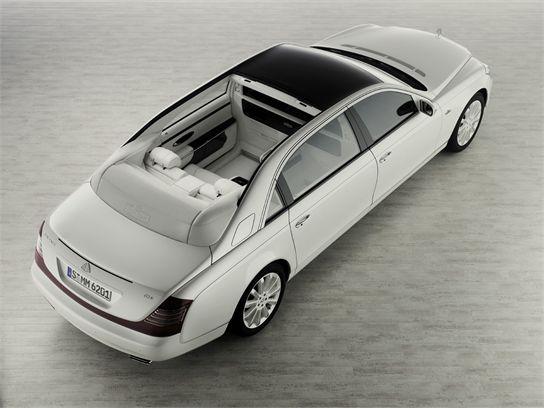 Page 6
You Might Also Consider... Cool Cruisers
Like a weekend in the Hamptons, the C70 is all about casual elegance. From its sleek styling to its snug retractable hardtop, this super-safe Swede offers sophistication and practicality few convertibles can match.
You'd expect a Swedish company that also builds fighter jets to produce a stylish, performance-oriented convertible, and the 9-3 doesn't disappoint. The cutting-edge safety features here are just an added bonus.
If you're looking to turn heads, planting yourself behind the wheel of this sleek British cat ought to do the trick. A 300-horsepower V-8 keeps it from being all-show and no-go.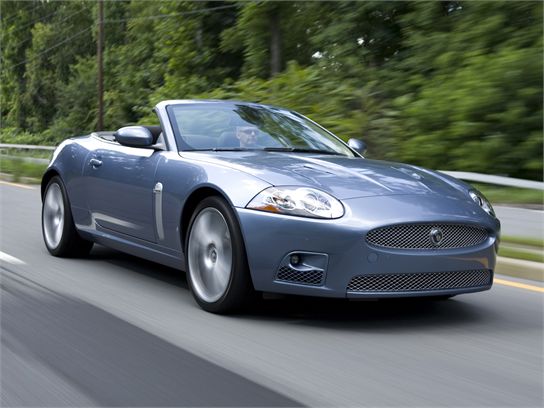 Page 3
With its bellowing 430-horsepower, 6.2-liter V-8 and surprisingly classy interior, this open-air Vette proves that, if you play your cards right, sometimes you actually get more than you pay for.
If you think all-electric automobiles are nothing more than glorified golf carts, prepare to have your mind altered as this zero-emissions sports car rockets you from 0-60 MPH in less than four seconds.