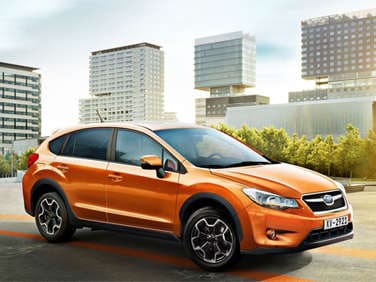 The Subaru XV is the latest crossover from the brand that led all other Japanese automakers into the car-based SUV market in the 1990s through the introduction of the Subaru Outback. Now larger and more capable, the Subaru Outback is still going strong and as the introduction of the Subaru XV at the Frankfurt Motor Show would seem to indicate, Subaru designers maintain an interest in exploring the crossover potential of its existing sedan and hatchback platforms.
The Subaru XV shares its platform with the Subaru Impreza, which means that it offers reasonably compact dimensions when it comes to length and width. Where it pulls ahead of the Impreza is in the ground clearance department, providing 8.6 inches of loft that gives the all-wheel drive crossover not only the ability to creep over small off-road obstacles, but also a more commanding view of the road thanks to a taller driver position. From a visual standpoint, the Subaru XV is clearly linked with the hatchback edition of the Impreza, although accented wheel arches, a more prominent front fascia and a tweaked rear bumper help to separate the two different automobiles.
The version of the Subaru XV on display in Frankfurt was setup to run either a 1.6-liter or 2.0-liter four-cylinder, horizontally opposed "boxer" engine. The latter is currently available in the Impreza, where it generates 148 horsepower and 145 lb-ft of torque. The XV's engine bay is also is also capable of housing a four-cylinder turbodiesel engine as well, and a continuously-variable automatic transmission handles the gear shifting duties for all three units. The improved engine designs from Subaru are already more fuel efficient than their predecessors, but an available automatic start / stop feature promises to deliver a few extra miles per gallon for drivers who frequently find themselves plying urban roads.
The five-passenger Subaru XV is destined to hit European markets first, where the XV nameplate is already associated with a crossover-style trim level on last year's Impreza hatchback. Subaru is considering importing the XV to the United States where it could potentially take the place of the Impreza Outback Sport, which currently fills the entry-level crossover niche for the car company. It seems unlikely that the XV would be sold alongside the Outback Sport, given the mechanical and functional similarities between the two vehicles, indicating that Subaru could be on the verge of re-thinking its current product lineup and expanding it in order to attract a new type of buyer to automaker's showrooms.