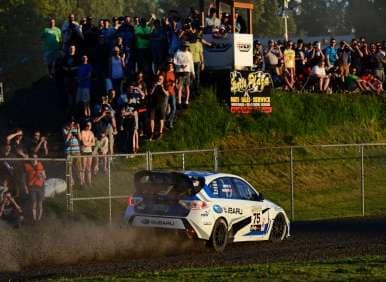 David Higgins, driver of the 75 2013 Subaru WRX STI for Subaru Rally Team USA, took home the win at the 2013 Oregon Trail Rally. This marks Subaru's second win in the 2013 Rally America Championship and Higgins' third straight win at the Oregon Trail Rally.
The Oregon Trail Rally is a three day event that takes place at a special course at Portland International Raceway and the gravel roads of Hood River and Dufur. Higgins built an insurmountable lead on the opening stages thanks to his two key rivals having problems during the event. From there, Higgins drove conservatively and was able to take home the win.
"We didn't experience any reliability issues or make any mistakes like some of our rivals did. I've got to thank Subaru for providing such a reliable, durable and fast car to Craig (Drew) and I. We drove smart, at our own pace, and just avoided trouble. Once we amassed a big lead it afforded us the opportunity to really dial back the speed on Sunday and reduce the risks. We didn't win stages outright but knew it was the right strategy for victory. This is a very challenging event and I enjoy the big mix of character among the stages," said Higgins.